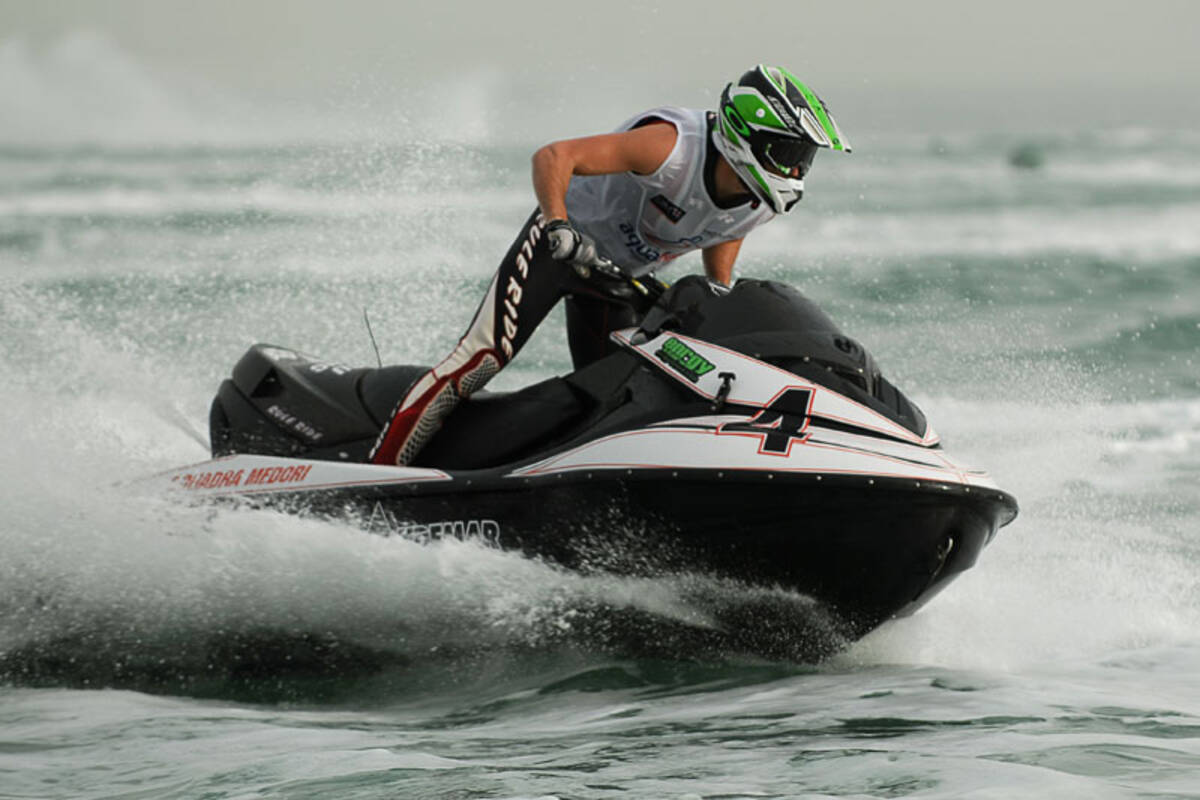 01 March 2012
French Trio in Pole Positions for Heat 1 of the Qatar Grand Prix
Thursday, 1 March, DOHA (Qatar): French stars Francois Medori, Jeremy Poret and Julie Bulteau were the standout riders in official qualifying and will start in pole position in their respective categories, Runabout F1, Ski F1 and Ski Ladies in heat 1 of the Qatar Grand Prix.
An unprecedented line-up of 41 riders in Runabout saw the Championship organisers add two twenty minute pre-qualifying sessions to reduce the field down to 25, with last year�s top 25 split between the two groups.
There were few surprises with the expected protagonists progressing comfortably through to official qualifying; Cyrille Lemoine, Jeremy Perez and Mohamad Burbaye posting top three times in group one and Francois Medori, Franky Zapata and David Chassier fastest in group two.
In qualifying it was Medori who best carried his form over into the 30 minute session, posting his fastest time relatively early in the session to take the pole position, completing the 2000 metre, 32-pin course in 1min 40.36secs.
Despite setting the quickest overall time in pre-qualifying, and putting pressure on and trying to close in on the pole sitters time throughout qualifying, Lemoine missed out by almost four seconds.
Jeremy Perez made it a French one-two-three finishing ahead of Kuwait's Yousef Al Abdulrazzaq, one of the standout riders from a strong line-up of Middle East competitors, posting 1min 44.18secs to go fourth fastest ahead of Rashid Al Mannai, the best of the Qatari riders with Kuwaiti Mohamad Burbayae in sixth.
It was a frustrating start to Mattia Fracasso's title defence, managing only eighth fastest after being forced to switch bikes following a problem in practice. There was greater frustration for Franky Zapata, plagued by problems from the start and failing to post a time.
Any question marks over the fitness of defending World Champion Jeremy Poret, following an operation to fix a cruciate knee ligament injury sustained last year, were soon dispelled as he eased to top spot in qualifying in the 14-strong Ski F1 fleet going four seconds faster than Emanuele Balzer, and taking the pole in 1min22.93secs.
Ludo Caumont produced one of his best runs in recent outings to take third spot ahead of Croatia's Slaven Ivancic, Spain�s Nachete Armillas and Italian Alberto Monti in sixth.
In Ski Ladies the intense rivalry between defending and triple World Champion, Julie Bulteau, Stefania Balzer and Pija Sumer continued, with Bulteau and Balzer trading times early in the session.
But Bulteau's 1min 29.12secs, set on her sixth lap of eight, proved too strong, and whilst Sumer improved to eventually finish third quickest, Balzer slumped to fifth behind Paola Boggi. But it was the season-newcomer Irena Babenko from Russia who produced one of the best performances of the afternoon, on her return to the Championship after a four year absence, to go second fastest.
Romain Stampers kicked-off his Freestyle season in the best possible way - and make it a French clean sweep on the day - to take top spot with a classic routine, making no errors and completing a full programme. Russia's Alexander Kuramshin marked his season debut with a selection of good combinations to finish in second place ahead of Nac Florjancic, who again impressed - a one-handed barrel roll amongst his array of ticks - whilst brother Rok suffered bike problems and stopped mid-session.