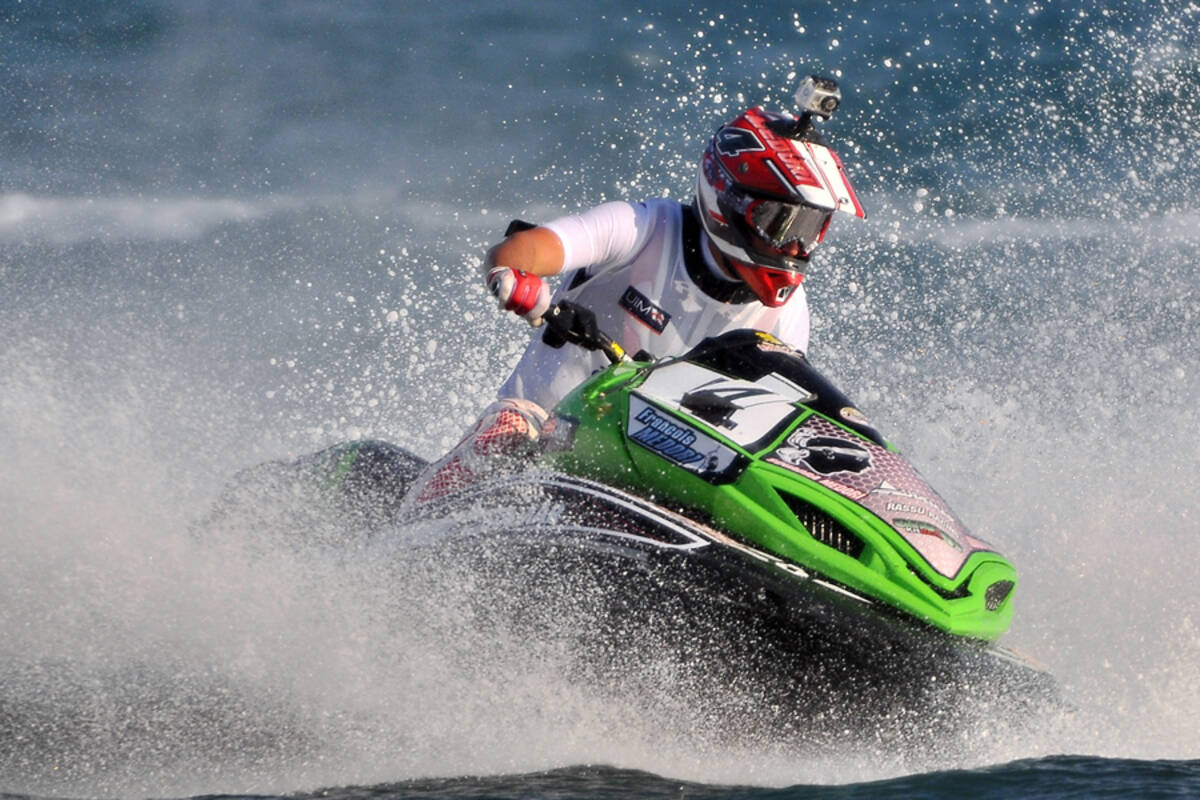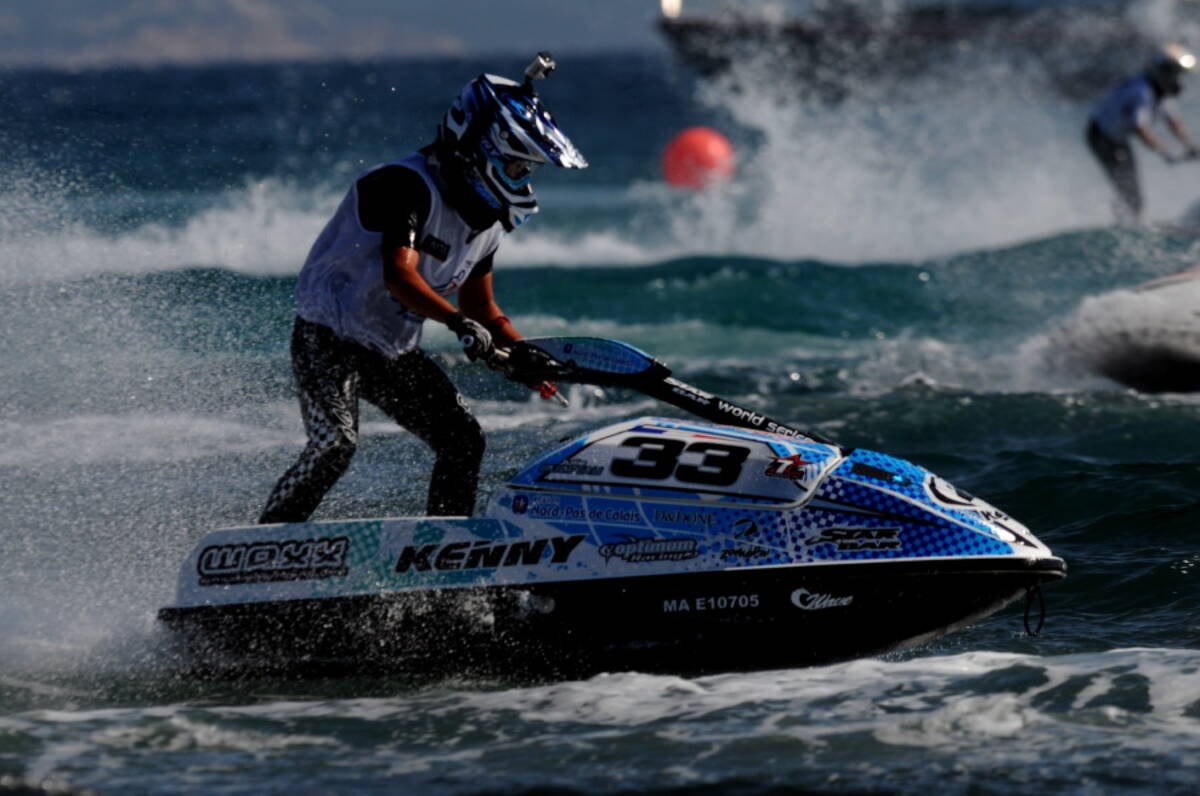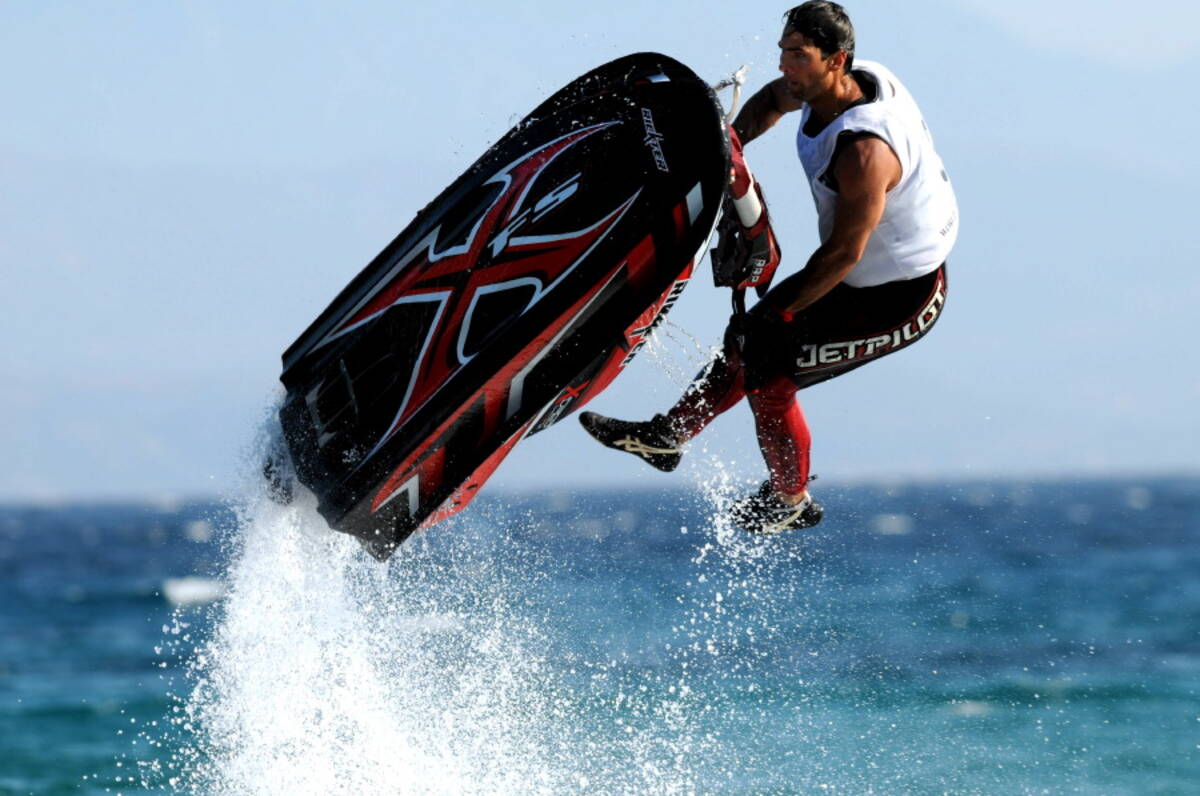 03 June 2012
ITALIAN GRAND PRIX HONOURS FOR MEDORI, PORET, BULTEAU AND ROK FLORJANCIC
*First World Championship podiums for Nachete Armillas and Estelle Poret


Sunday, 3 June, GOLFO ARANCI (Italy): French riders dominated this weekend's Italian Grand in Golfo Aranci lifting a hat-trick of titles; Francois Medori took his second win of the weekend and a first title of the year in Runabout, with Jeremy Poret making it look easy completing his win double in Golfo Aranci to take his second Ski GP1 title of 2012.
Julie Bulteau took overall honours in Ski Ladies, with Slovenia's Rok Florjancic once again dominating the Freestyle event to take his third consecutive Grand Prix win.
Today's win for Medori came at the expense of Cyrille Lemoine, who took the chequered flag ahead of his countryman, only to be handed a costly penalty lap for missing a buoy, dropping him to fourth place behind Mattia Fracasso and Jeremy Perez. "It was a silly mistake by me." said Lemoine simply.
Both Lemoine and Medori made light work of starting from 17th and 22nd on the line - Lemoine hitting the front of the 24-bike fleet by the end of lap one, Medori moving into second place to try chase him down on lap 3.
The pair raced line-astern for the remaining 10 laps with Medori unable to bring the gap down to under 10 seconds. "It was bad luck for Lemoine but it wouldn't have changed the overall result for me."
Italy's Mattia Fracasso produced yet another superhuman performance, and ignoring the handicap of his heavily swollen and strapped wrist, fought his way up from sixth place to finish second in heat 2 and the overall grand prix standings, with Lorenzo Benaglia completing the podium, despite finishing today in seventh place.
Jeremy Perez finally got his Championship challenge off the ground and put points on the board finishing in third in today's heat, with Emmanuel Cantamessa fifth and Louis Rizza in sixth place.
Today's win puts Medori 21 points clear in the title race, with Benaglia moving into second place ahead of Lemoine.
In Ski, Jeremy Poret extended his winning streak to six as he picked up a third consecutive Grand Prix title; the defending World Champion led from the end of the first lap, but was pressured all the way by Spaniard Nachete Armillas, who punched the air as he crossed the line in second place to make his first World Championship podium, finishing second overall.
Morgan Poret joined his brother on the podium to complete a Poret one-three after finishing third, marking a highly successful return to the Championship.
After yesterday's bitter disappointment Slovenia's Pija Sumer responded by taking maximum points in Ski Ladies - despite parting company from her bike and being helped back to it by Estelle Poret who stopped to assist - finishing ahead of Bulteau and Stefania Balzer, but it was Bulteau who took the overall title, with Balzer second and Estelle Poret marking her return to racing with her first Grand Prix podium in third.
Today's result keeps Balzer at the top of the points table with 81 points, but Bulteau has reduced the deficit to 11.
Rok Florjancic was again the star of the Freestyle show producing yet another impressive series of tricks and demonstration of power and remains unbeaten in his last six outings, with brother Nac finishing second in today's heat and second overall in the Grand Prix Rankings ahead of Romain Stampers.
Runabout GP1 - Heat 2
1. 4 MEDORI Francois FRA 0.00 - 25pts
2. 8 FRACASSO Mattia ITA + 1m 54 - 20pts
3. 46 PEREZ Jeremy FRA + 2m 07 - 16pts
4. 9 LEMOINE Cyrille FRA + 1 lap - 13pts
5. 11 CANTAMESSA Emmanuel FRA + 1 lap - 11pts
6. 94 RIZZA PIerre Louis FRA + 1 lap - 10pts
Ski Division GP1 - Heat 2
1. 72 PORET Jeremy FRA 0.00 - 25pts
2. 36 ARMILLAS Nachete ESP + 6.56 - 20pts
3. 7 PORET Morgan FRA + 31.58 - 16pts
4. 30 MONTI Alberto ITA + 56.01 - 13pts
5. 32 BARRET Alexandre FRA + 2m 03 - 11pts
6. 22 BALZER Emanuele ITA + 2m 08 - 10pts
Ski Ladies GP1 - Heat 2
1. 25 SUMER Pija SLO 0.00 - 25pts
2. 33 BULTEAU Julie FRA + 7.68 - 20pts
3. 81 BALZER Stefania ITA + 1 lap - 16pts
4. 97 PORET Estelle FRA + 2 laps - 13pts
5. 11 BOGGI Paola ITA - RET
6. 24 SORRENTINO Marta ITA - DNS
Freestyle - Heat 2
1. 3 FLORJANCIC Rok SLO - 25pts
2. 7 FLORJANCIC Nac SLO - 20pts
3. 20 STAMPERS Romain FRA - 16pts