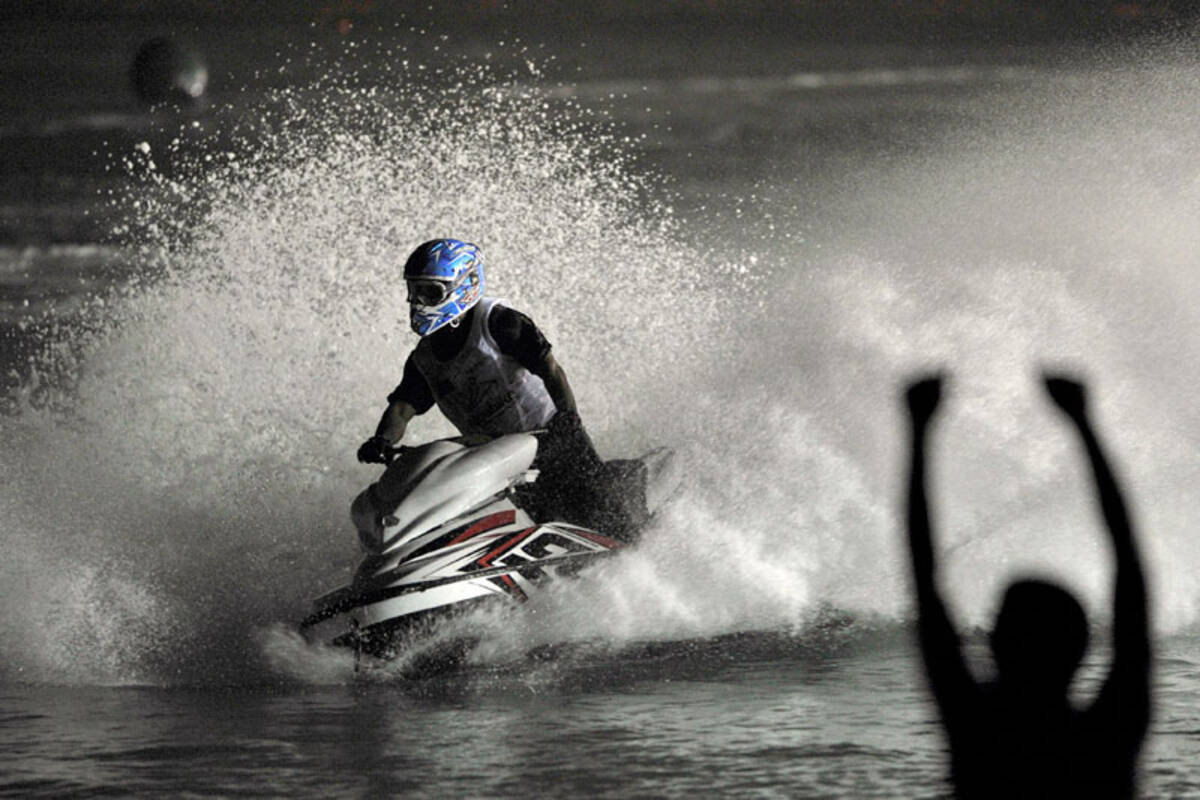 03 March 2012
Qatar Grand Prix Titles for Lemoine, Poret, Balzer and Florjancic
Saturday, 3 March, DOHA (Qatar): French duo Cyrille Lemoine and Jeremy Poret, Italy's Stefania Balzer and Slovenia's Rok Florjancic took overall category honours in the Qatar Grand Prix, Lemoine finishing third in today's heat in Runabout F1, Poret completing the Doha win-double in Ski, with Stefania Balzer taking her second career heat win.
In Freestyle the accolades belonged to Rok Florjancic who produced a stunning performance to also complete the win-double in Doha, to take a second Grand Prix title in as many events, with his brother Nac in second place and Frenchman Romain Stampers third overall.
After yesterday's bitter disappointment, heat 2 in Runabout F1 belonged to Franky Zapata; the Frenchman took the lead on lap 2 and held off a fierce race long challenge from countryman Francois Medori, Zapata eventually running out the winner by four seconds.
Medori's second place put him into second place overall and a controlled ride and third place was enough to give the 2009 World Champion, Cyrille Lemoine, the Grand Prix title and the lead in the World Championship standings.
Italy's Lorenzo Benaglia completed the overall podium line-up, after finishing in fourth place ahead of the top placed Qatari rider, Waled Al Sharshani and France's Didier Chabert.
In Ski F1, France's defending World Champion, Jeremy Poret, produced another command performance to take his second heat win of the weekend and the Qatar Grand Prix title for the second year in a row.
In a repeat of yesterday's heat, Poret found himself trailing in third after the start, but passed the early leader Ludo Caumont to take the lead on lap two. Poret's only real challenge coming from countryman Jean-Baptiste Botti who kept the pressure on the Champion for 10 of the 13 laps, closing the gap to two seconds, but was unable to force the leader into a mistake, with Poret claiming the win and the title.
Third place for Ludo Caumont, his second top three finish in two days, put the Frenchman into second place overall, whilst second place for Botti and his fifth place yesterday moved him into third in the Grand Prix standings.
Behind the leading trio Emanuele Balzer and Nachete Armilas enjoyed a race long fight for fourth spot, the Spanish rider Armillas stealing through on lap 9, with Italian Alberto Monti completing the top six in today's heat.
The outcome of the Ski Ladies Qatar Grand Prix was all but settled on the opening lap, with favourite and defending World Champion Julie Bulteau late out onto the water for the start of the race and retiring almost immediately with a broken engine.
Italy's Stefania Balzer took full advantage of Bulteau's misfortune, leading from the start and dominating the race to run out an easy winner by nearly nine seconds, to take a second career Grand Prix title.
Slovenia's Pija Sumer put in a second solid performance,Mulberry Bags her third place on Friday and second place in heat 2 giving her the runners-up slot,Fake Mulberry Bags with Russia's Irina Babenko finishing third ahead of a distant Marta Sorrentino and Paola Boggi.