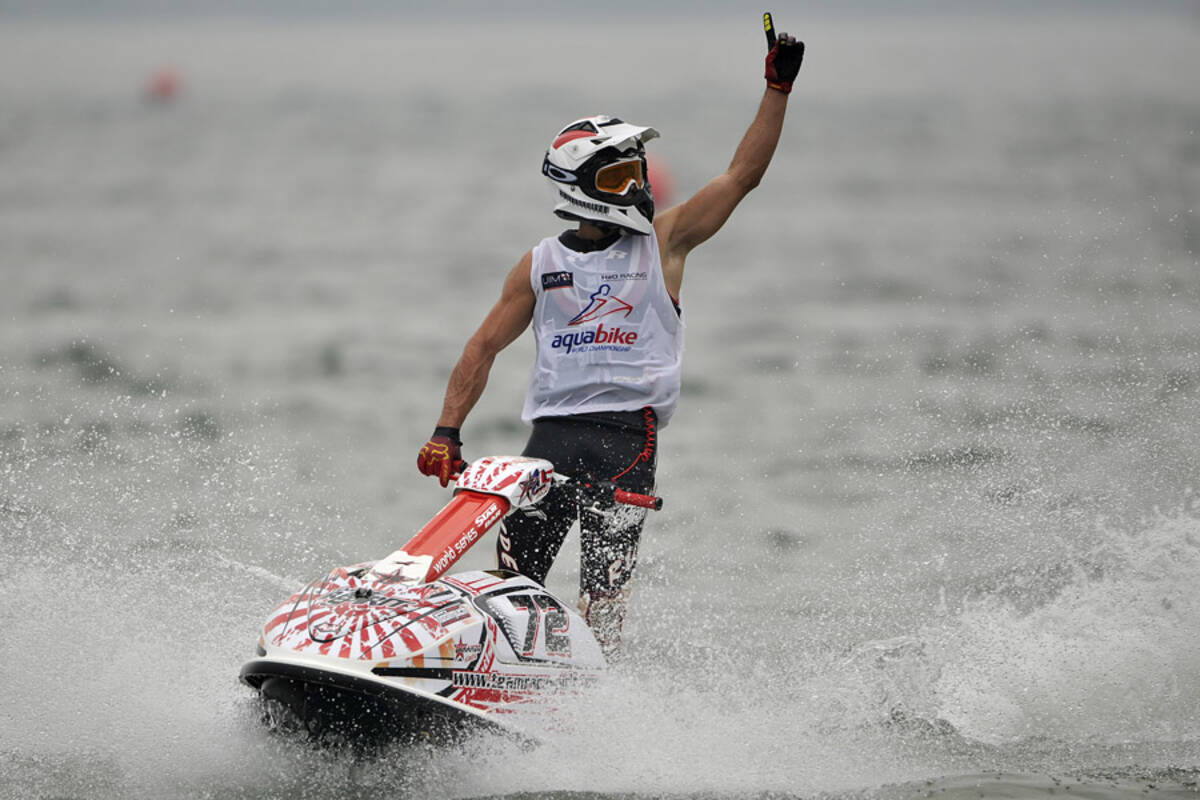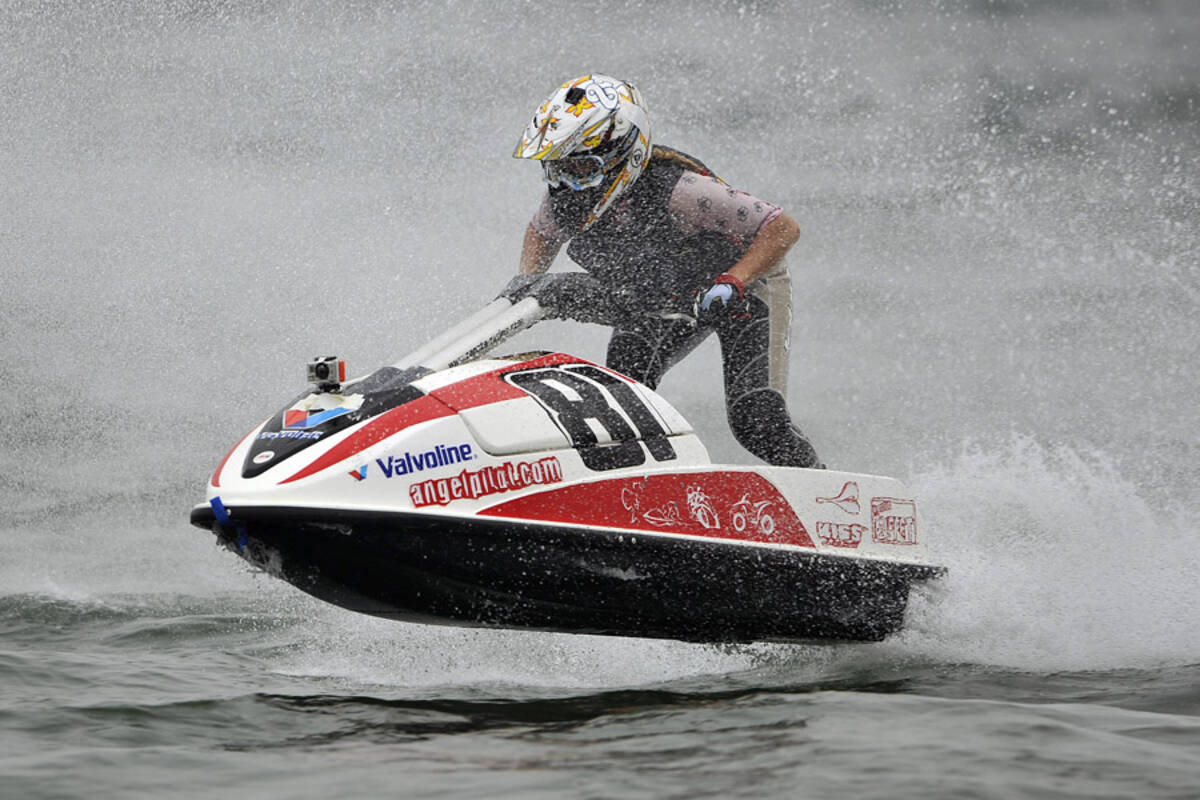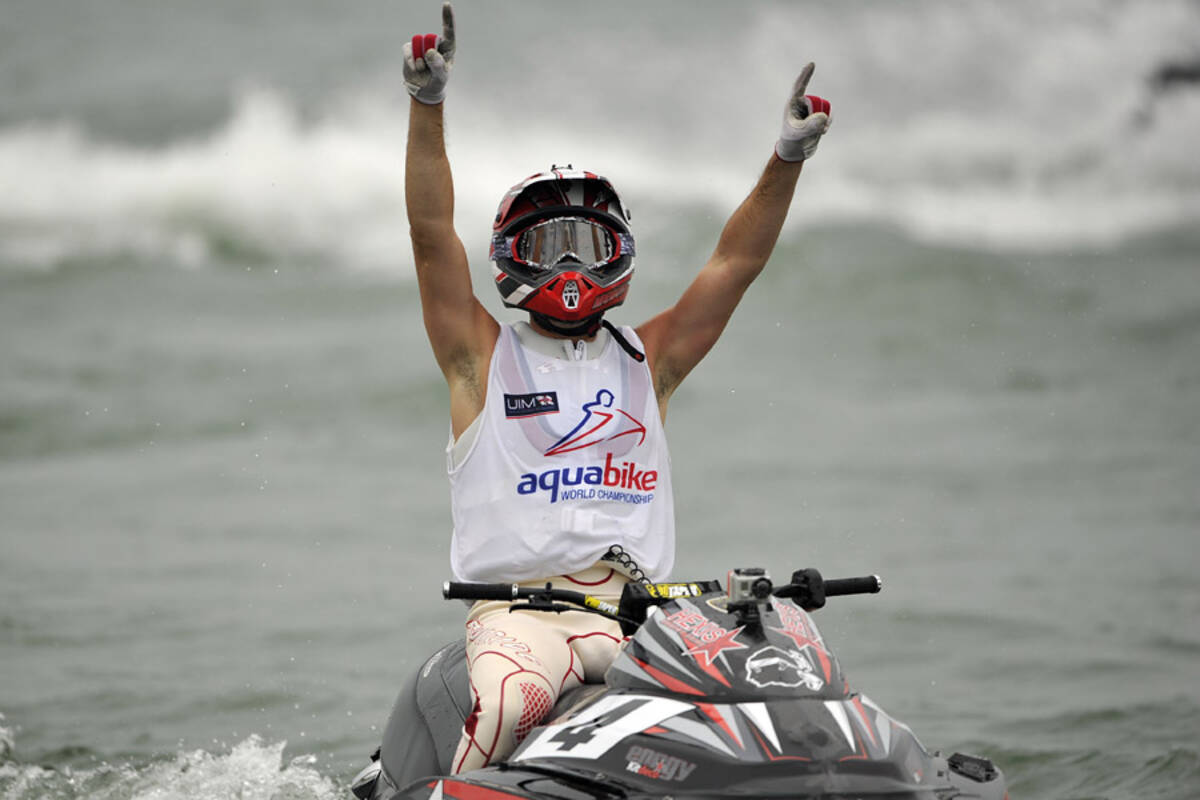 04 October 2012
WINS AND WORLD TITLES FOR PORET AND MEDORI
*Balzer wins and title awaits
Thursday, 4 October, LIUZHOU (China): France's Jeremy Poret punched the air as he took the chequered flag after yet another emphatic performance to win heat 1 at the Grand Prix of China and retain his Ski GP1 World title.
Stefania Balzer all but clinched her first world title with a win in the ladies division and only an absolute catastrophe in heat 2 tomorrow can deny the Italian the crown.
The highlight of the afternoon was a spectacular three-way fight in Runabout GP1 between the title challengers with Francois Medori producing arguably one of the best races of his career to take the heat win and claim his first World Championship, and at the same time lay to rest the ghost of last year's disappointment.
In Ski, Poret was made to work hard for his second consecutive World title and had to come from behind. He trailed the young Spanish rider, Nachete Armillas, from the green flag and for the opening three laps before pulling a spectacular move to go into the lead.
Armillas hung on for the next two laps, keeping the gap to four seconds, closing it to two seconds following an uncharacteristic mistake by the Champion on lap 6.
Poret then decided it was time to push, breaking the Spaniards resistance on lap 8 having opened up an 11 second lead and going on win the 11-lap race by over 20 seconds. "I am delighted to have the second world title in my pocket and now I want to win tomorrow to be unbeaten this season," said Poret. "My bike isn't the quickest in the start and I knew I would have to fight with Armillas who made a great start. But once I got into my rhythm I was able to push and then pass him."
Armillas was gracious in defeat immediately offering congratulations to Poret who he considers to be simply the best in the world. "After three laps I was thinking that I could win this race but then in front of everybody Jeremy made an amazing overtake on me," he said. "He is the best in the world so to finish second is good and I congratulate him."
Behind the lead duo Alberto Monti was a solitary figure running untroubled all race long to finish in third place ahead of Nicola Piscaglia, with Slaven Ivancic and Fabio Neri completing the top six.
For Stefania Balzer it was another impressive afternoon's work as the women once again mixed it up with the men, to take her second win of the year, finishing over 17-seconds ahead of title rival Pija Sumer, with both the Chinese riders Li Qianqian and Zhang Qiong scoring points.
The Runabout riders produced a simply sensational race with the three Championship contenders, Lorenzo Benaglia, Cyrille Lemoine and Medori each leading the race at some point.
Benaglia made a spectacular start and led from the green flag to lead by five seconds at the end of lap 1 from Lemoine and Teddy Pons. Medori was left behind and found himself down in sixth place behind Jimenez and Fan Zhixiong.
Lemoine pressured Bengalia for the next five laps moving in to pass him on lap seven. Pons remained third with Medori up into fifth. Lemoine held the lead for the next seven laps, but behind him Medori was carving his way through the field, moving into third place on lap eight as Pons started to go backwards with an electrical problem.
Three laps later he passed an ailing Benaglia, whose injured knee had taken its toll on the Italian rider, and on lap 15 swept passed Lemoine to take the lead and run out the winner by 6.68 seconds and lift his first world crown. "I made it difficult after a really bad start," said Medori. "I put a lot of pressure on myself but slowly started to move up. When I got near the front I could see Benaglia struggling so I pushed and then Lemoine made some mistakes and I could pass him and finally get the title."
Jordi Jimenez finished in fourth ahead of Emmanuel Cantamessa with the Chinese rider Fan Zhixiong in sixth.
In Freestyle Nac Florjancic moved a step closer to lifting his first World crown, getting the judges votes and take maximum points ahead of Nicolas Denille with Romain Stampers seeing his title hopes fading finishing in third.
GRAND PRIX OF CHINA, LIUZHOU
Ski Division GP1 - Heat 1
1. 72 Jeremy Poret (fra) 0.00 - 25pts
2. 36 Nachete Armillas (esp) + 26.52s - 20pts
3. 30 Alberto Monti (ita) + 53.21s - 16pts
4. 18 Nicola Piscaglia (ita) +1m 44s- 13pts
5. 4 Slaven Inabcic (cro)) +1 lap - 11pts
6. 22 Fabio Neri (ita) + 1 lap - 10pts
Ski Ladies GP1 - Heat 1
1. 81 Stefania Balzer (ita) 0.00 - 25pts
2. 25 Pija Sumer (slo) + 17.50s - 20pts
3. Li Qianqian (chn) + 2 laps - 16pts
4.21 Zhang Qiong (chn) + 2 laps - 13pts
Runabout GP1 - Heat 1
1. 4 Francois Medori (fra) 0.00 - 25pts
2. 9 Cyrille Lemoine (fra) + 6.68s - 20pts
3. 44 Lorenzo Benaglia (ita) + 9.26s - 16pts
4. 99 Jordi Thomas Jimenez (esp) + 1m 7s - 13pts
5. 11 Emmanuel Cantamessa (fra) + 1 lap - 11pts
6. 66 Fan Zhixiong (chn) + 2 laps - 10pts
Freestyle - Heat 1
1. 7 Nac Florjancic (slo) - 25pts
2. 30 Nicolas Denille (fra) - 20pts
3. 20 Romain Stampers (slo) - 16pts