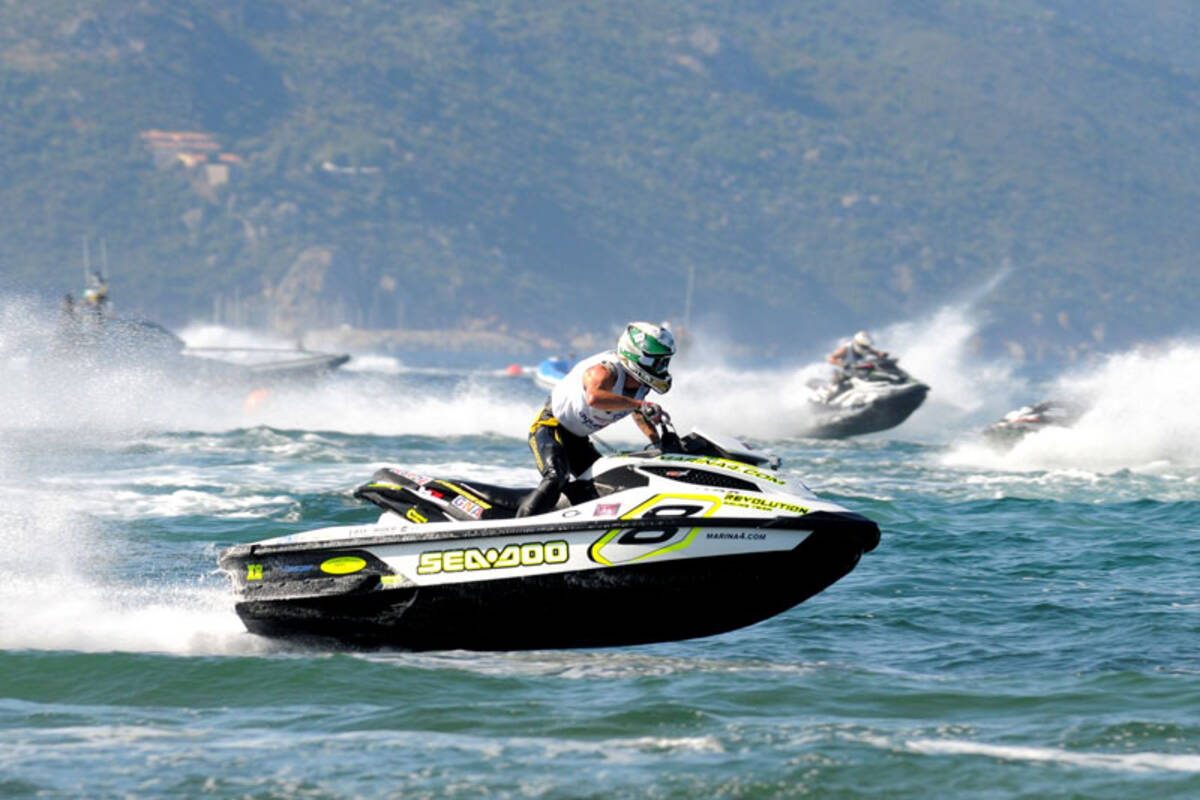 29 February 2012
World Champions Set For Season-Opener In Doha
Wednesday, 29 February, DOHA (Qatar): A raft of World Champions head an impressive list of international riders who will line up on Doha Bay, Qatar for the opening round of the 2012 UIM-ABP Aquabike World Championship in March.
Italy's Mattia Fracasso and Valerio Calderoni and French stars Jeremy Poret and Julie Bulteau will lead the lines to start the defence of their World titles, and are amongst 63 riders from 14 countries with strong representation from the Middle East, including hosts Qatar, as the Championship enters its 18th year running under the flag of the Union Internationale Motonautique (UIM) and starting its season in the Qatari capital for the second year running.
A mouth-watering prospect lies in store in the "blue riband" of the four disciplines Runabout F1 which fields a provisional entry of 34 riders. Defending Champion Mattia Fracasso is likely to face a stern challenge from Frenchman Francois Medori, who will be looking to exact his revenge after seeing what looked to be a certain world title slip away in China last year, with Fracasso stealing through to take the honours in the final race of the season.
Fracasso and Medori traded heat and GP wins in 2011, both taking three heat-wins, with Medori winning two Grands Prix titles to Fracasso's one, and both are likely to come under pressure from double World Champion Cyrille Lemoine and last year's double heat and Qatar Grand Prix winner, Franky Zapata.
Fifteen riders line up in Ski Division F1, with defending Champion Jeremy Poret looking to repeat his heat and Grand Prix win in Qatar last year as he kicks off his campaign for a second world crown, with Jean-Baptiste Botti- third overall in 2011- and Emanuele Balzer and Nachette Armillas who finished fifth and sixth in the title race, as well as Teddy Pons - last year's winner of the 14th Karujet and this year switching from Runabout to Ski - and former Champions Alberto Monti and Ludo Caumont all looking to steal his thunder at the season-opener.
A big task faces Italy's Stefania Balzer, racing under the flag of Portugal, and Slovenia's Pija Sumer this season if they are to unseat the "Queen" of Aquabikes, triple World Champion Julie Bulteau, who dominated in 2011 taking six heat and three Grand Prix wins en route to her third consecutive title in Ski Ladies.
Balzer and Sumer look the most likely threat to Bulteau - both winning a heat apiece in 2011, with Balzer claiming her maiden GP win in the Italian Grand Prix in Arbatax.
The Ladies' division sees a season newcomer in Irina Babenko from Russia, who joins the ranks, with Italians Marta Sorrentino and Paola Boggi completing the entry.
In Freestyle, the defending and double World Champion Valerio Calderoni and last year's runner-up Romain Stampers will both be looking over their shoulders as they face the daunting prospect of coming up against the impressive Florjancic brothers from Slovenia.
The Slovenian duo dominated proceedings in their one and only appearance in the Championship in 2011 in Liuzhou, China, with Rok and Nac finishing one and two in both heats - Rok taking the Grand Prix title.
Stampers will be intent on starting his year strongly and turning the tables on his Italian rival and will not want a repeat of the DNS he incurred in heat 1 in Qatar last year, which, it could be argued, cost him the title as he lost out by just four points despite outperforming Calderoni by taking four heat wins and two GP titles to Calderoni's two heat wins and one GP title. Completing the provisional entry of eight freestylers; Roberto Mariani from Italy, Russia's Alexander Kuramshin and the Qatari duo, Abdulla Al-Suwaidi and Ahmad Gheyathi.
Riders face an intensive three days and a packed programme in Qatar to kick-start their year; proceedings kick off on Thursday, March 1, with morning practice and qualifying in the afternoon. A second practice on Friday morning is followed by heat 1 in all disciplines with a spectacular night show of parallel slalom in Runabout and Ski, capped by the Freestylers. A final practice session on Saturday is followed by heat 2.
Over the course of the year in the four disciplines that make up the UIM-ABP Aquabike World Championship seven World titles are up for grabs, with those for the categories Runabout F1, Ski F1 for both men and women and Freestyle fought out over a maximum of six events, with a limited programme of events deciding the World Championship titles for Runabout F1 Slalom and Ski F1 Slalom for both men and women.
2012 will also see the Introduction of the UIM Aquabike World Rankings to establish the ultimate world number one in the respective categories, with points allocated on a sliding scale from World, Continental, International and National Championships.