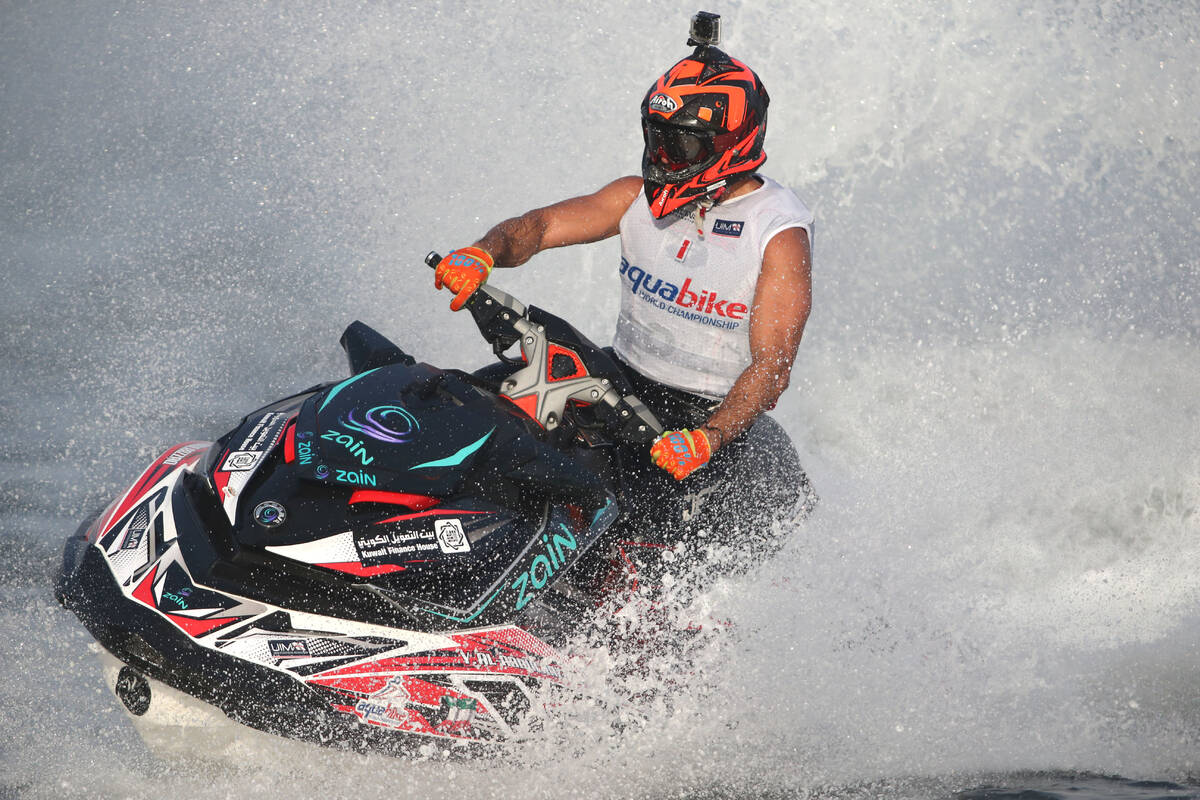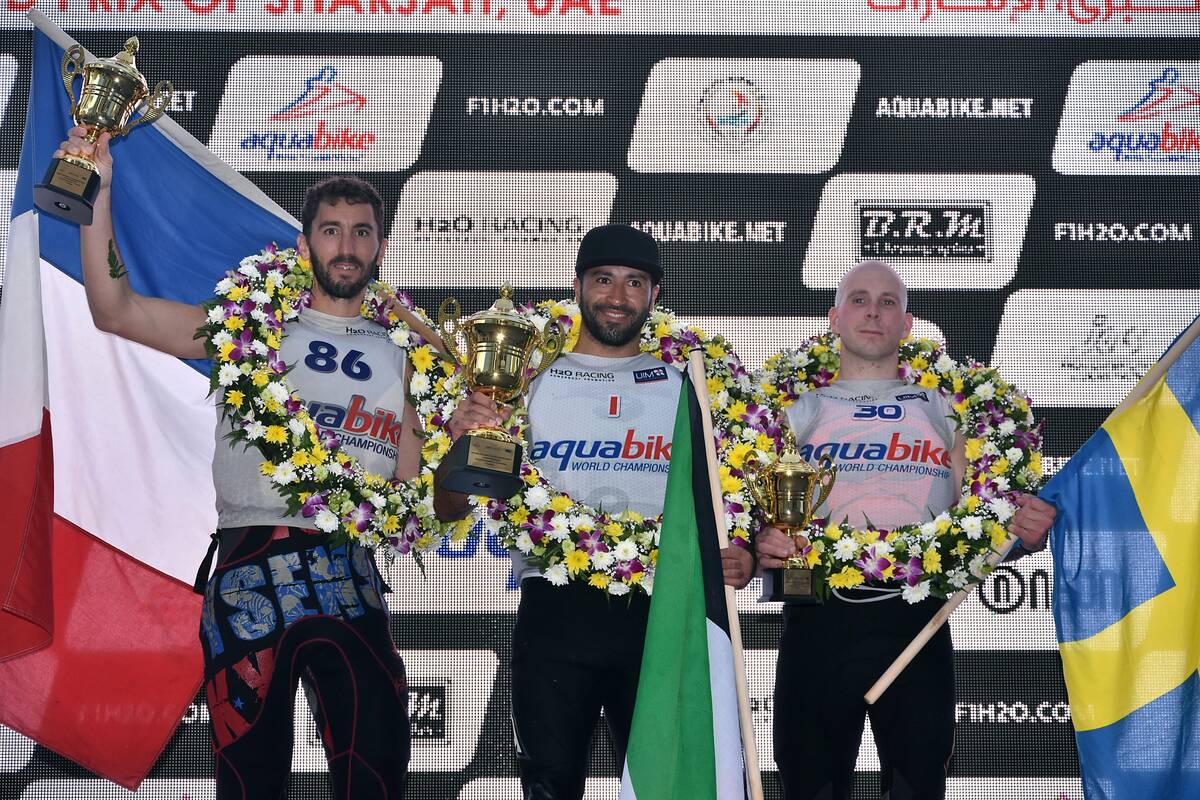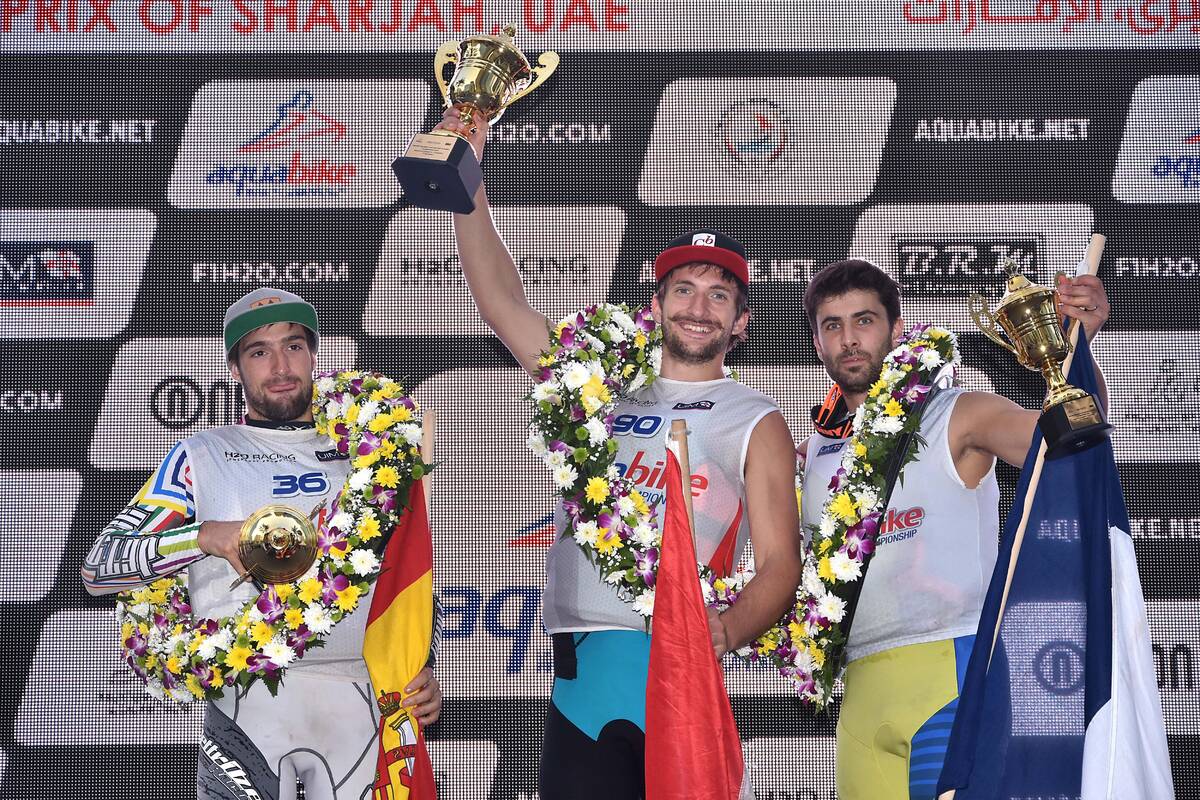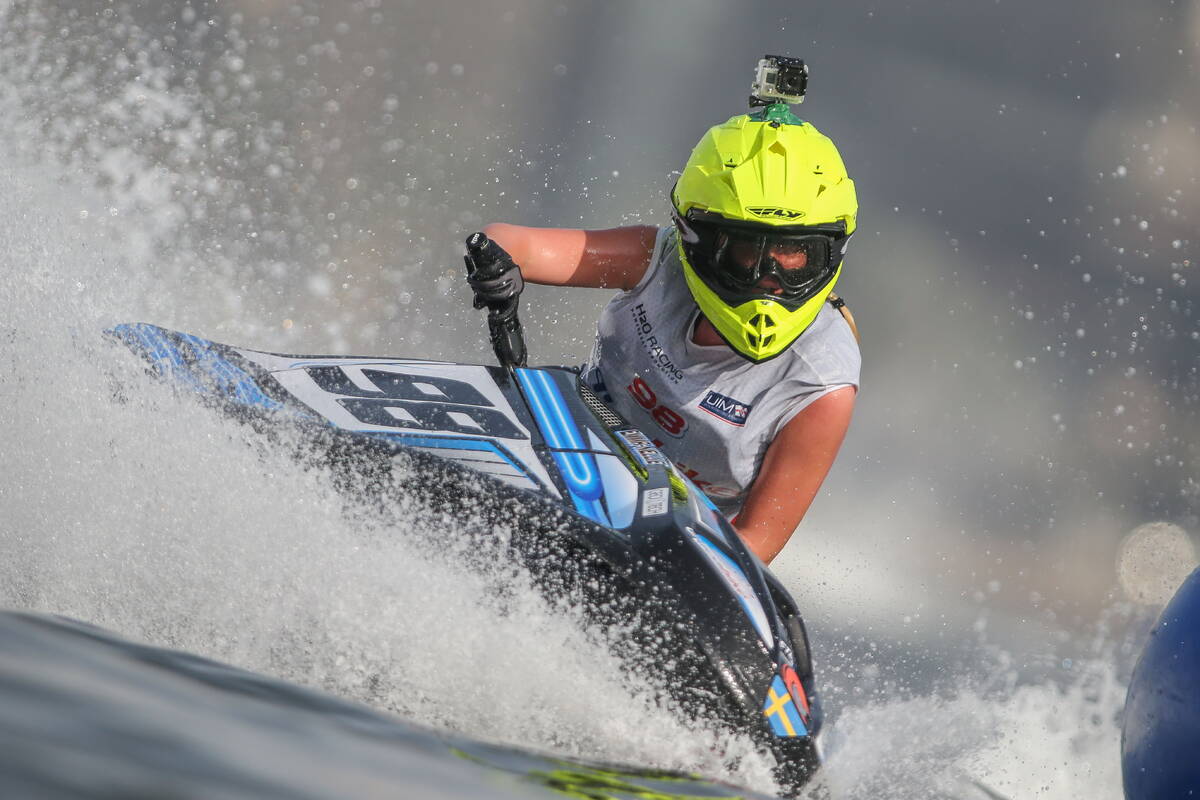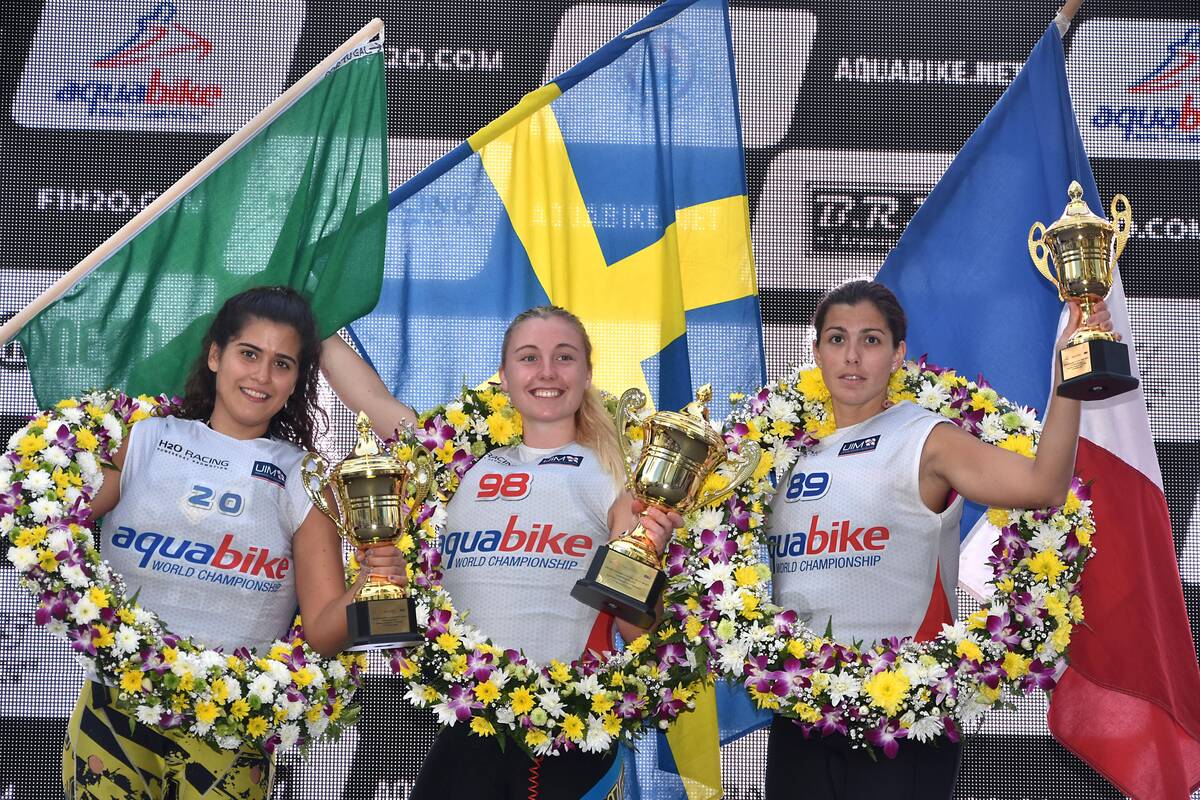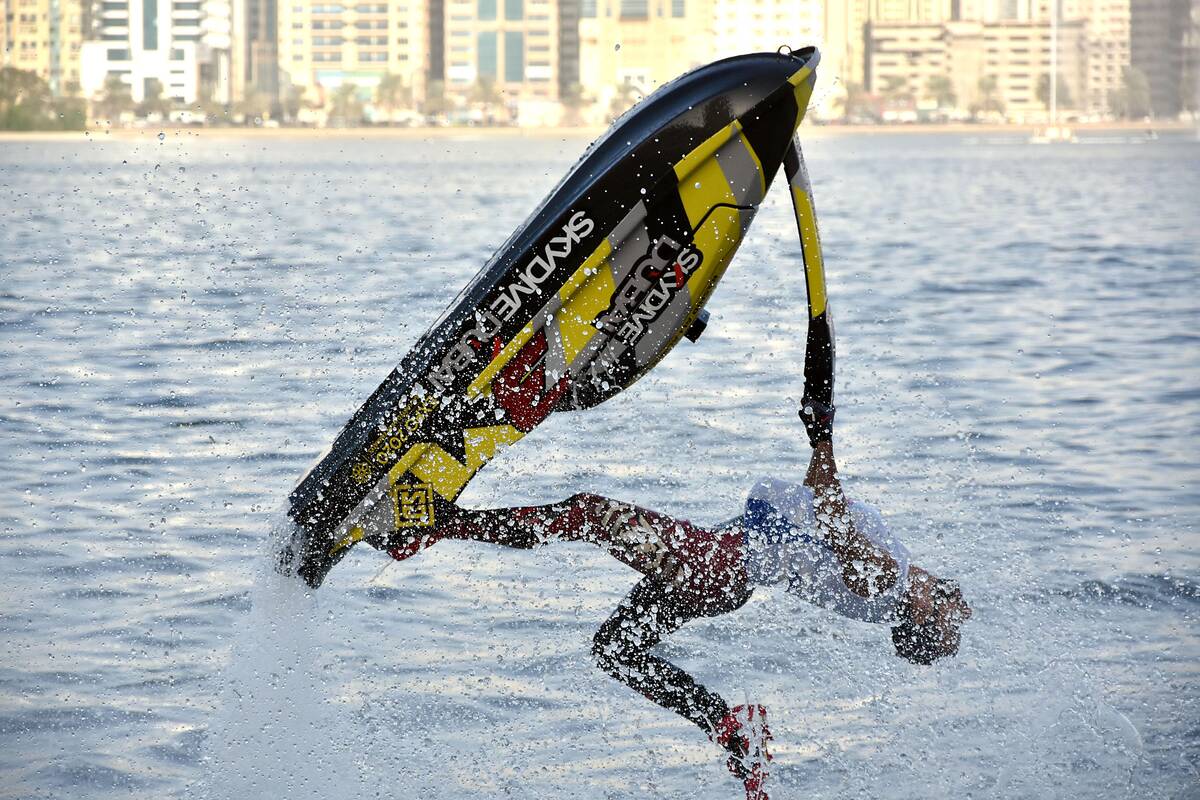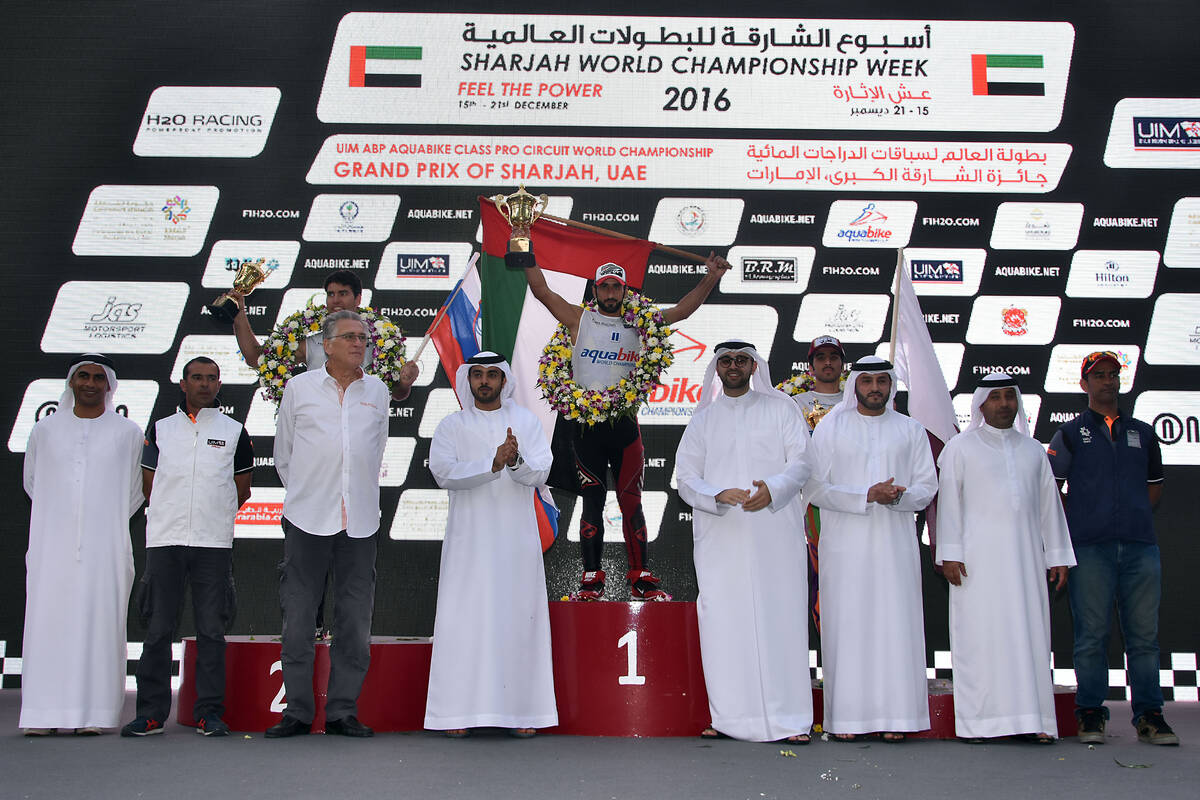 21 December 2016
ABDULRAZZAQ, ORTENDAHL, REITERER AND AL MULLA SHINE IN SHARJAH
Wednesday, 21 December, SHARJAH (UAE): For the second time in two days the quartet of Yousef Al Abdulrazzaq, Kevin Reiterer, Emma-Nellie Ortendahl and Rashed Al Mulla outclassed their rivals to take Grand Prix titles at the final round of the 2016 UIM-ABP Aquabike World Championship at the Grand Prix of Sharjah.
Abdulrazzaq and Ortendahl rubber-stamped their world champions' status and credentials with two command performances and winning with ease in Runabout GP1 and Ski Ladies. Kevin Reiterer posted notice of his intent to regain his crown in 2017 with an unchallenged win in Ski GP1, with Rashed Al Mulla toppling the mighty Florjancic brothers for the second time this season.
Abdulrazzaq celebrated his third world title with ease, leading from the start and was unchallenged for all 14 laps to win by 37.89s, with championship runner-up James Bushell making up for yesterday's disappointment by charging through the field from 15th to take second place.
Fourth place for Jeremy Perez, after taking second yesterday, put him on the second step of the podium, with Lars Akerblom securing the final slot after finishing in third.
Ski GP 1 was dominated by Kevin Reiterer who ended his season with a fifth race win and a third Grand Prix victory to seal second place in the championship standings.
Leading from the green flag the Austrian rider disappeared off in to the distance to take his fourth win on Khalid Lagoon and his second title in Sharjah with a 34.87s winning margin.
Stian Schjetlein made up for yesterday's retirement with a spectacular performance, moving up from 16th place to finish in second but missed out on the podium. Despite dropping down from second to fourth Nacho Armillas took second overall with Morgan Poret upstaging his two older brothers, Mickael and Jeremy, to take his first podium of the season.
In the Ladies division Emma-Nellie Ortendahl rounded out her championship winning year in style with her ninth race win to take overall victory and her fourth Grand Prix title of the season.
The newly crowned champion was once again in a class of her own and simply destroyed the field of 10, leading from start-to-finish to take the win by 16.65 seconds.
In a repeat of race 1 Beatriz Curtinhal chased Jennifer Menard for over half race distance making the telling pass on lap 5 of 7 to secure the GP runners-up slot and third overall in the championship standings.
After yesterday's disappointment Estelle Poret was on a mission and from last placed at the start was up to fifth by the end of the lap 2, passing Menard on lap 7 to take third place, Menard's fourth securing the final podium position and overall championship runners-up slot.
The UAE's Rashed Al Mulla ended his first full season on the UIM-ABP tour with his best result of the year with a pair of wins to take his second Grand Prix title, with world champion Rok Florjancic finishing in second and Qatar's Fahad Al Hamli in third.
For full classifications:www.aquabike.net/results