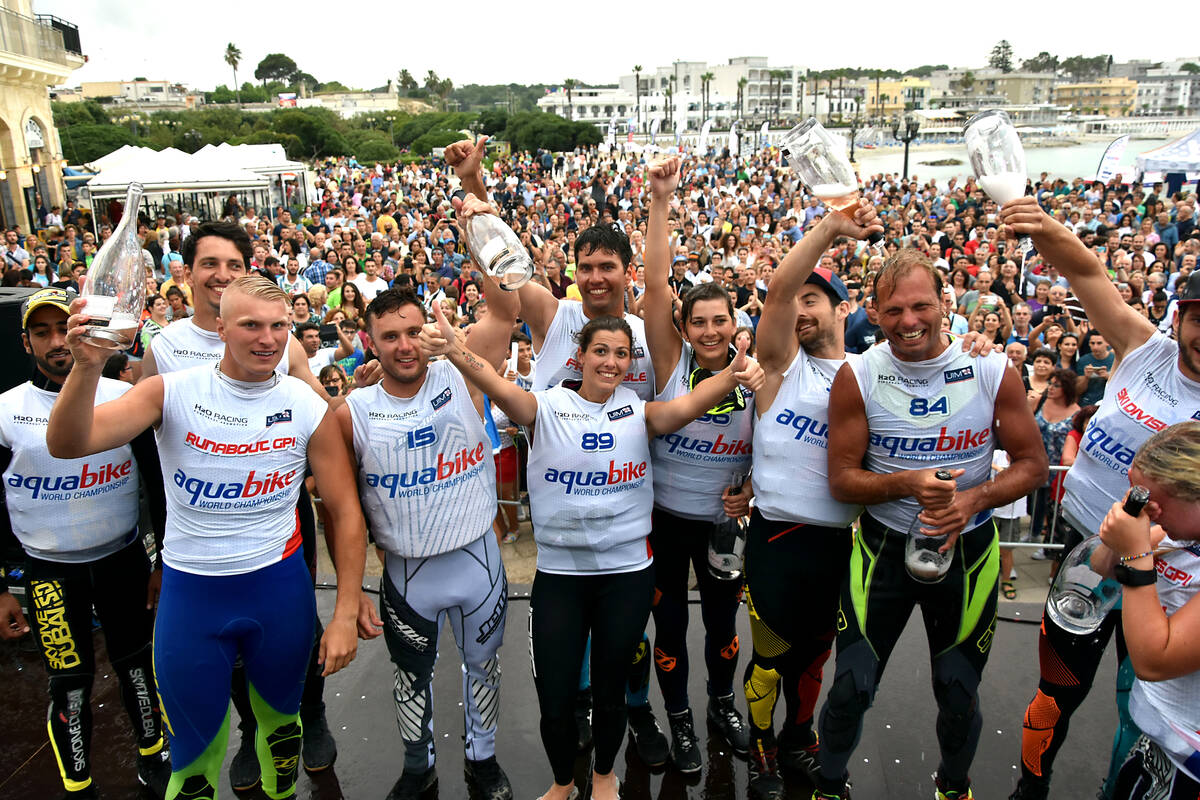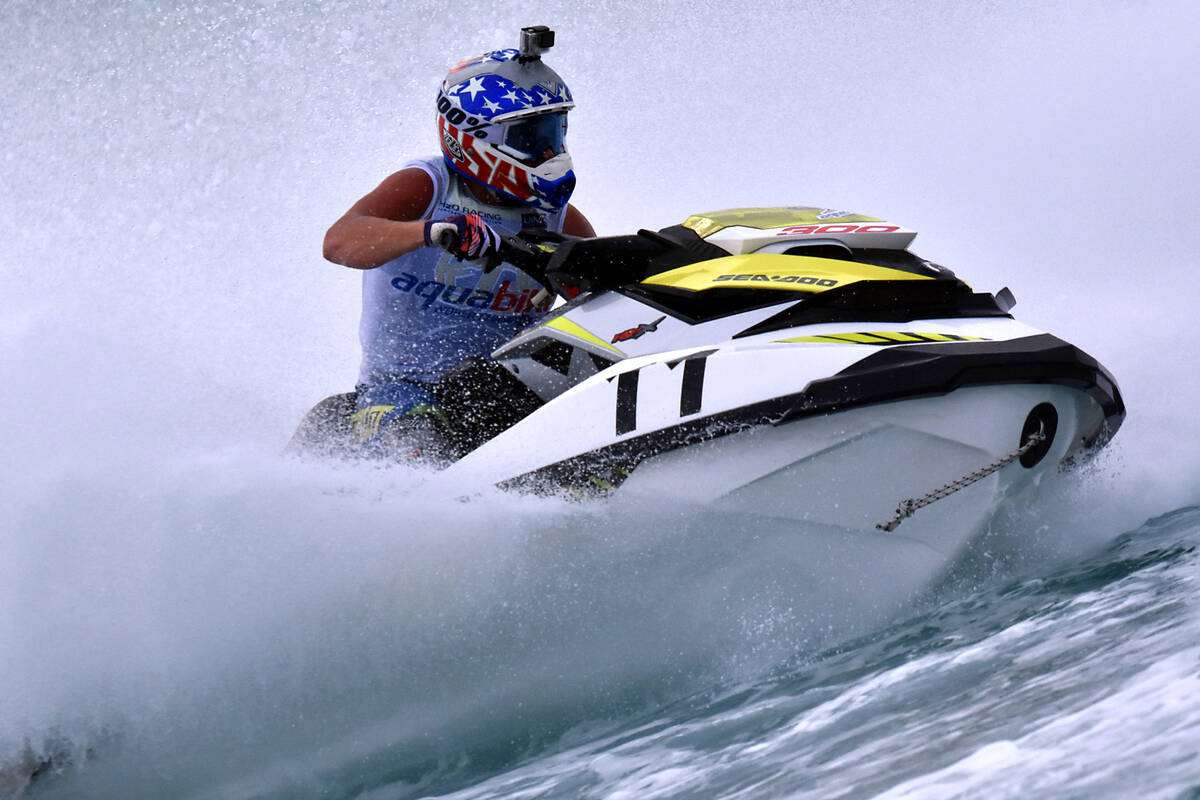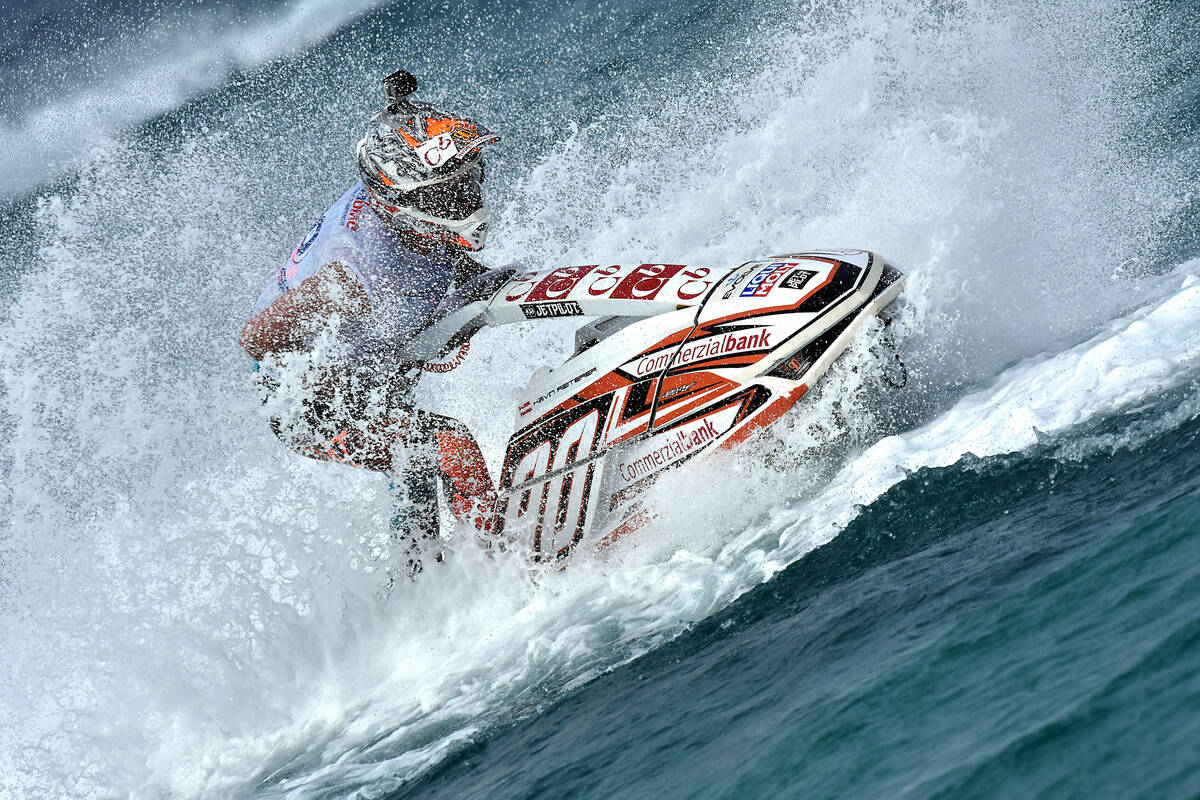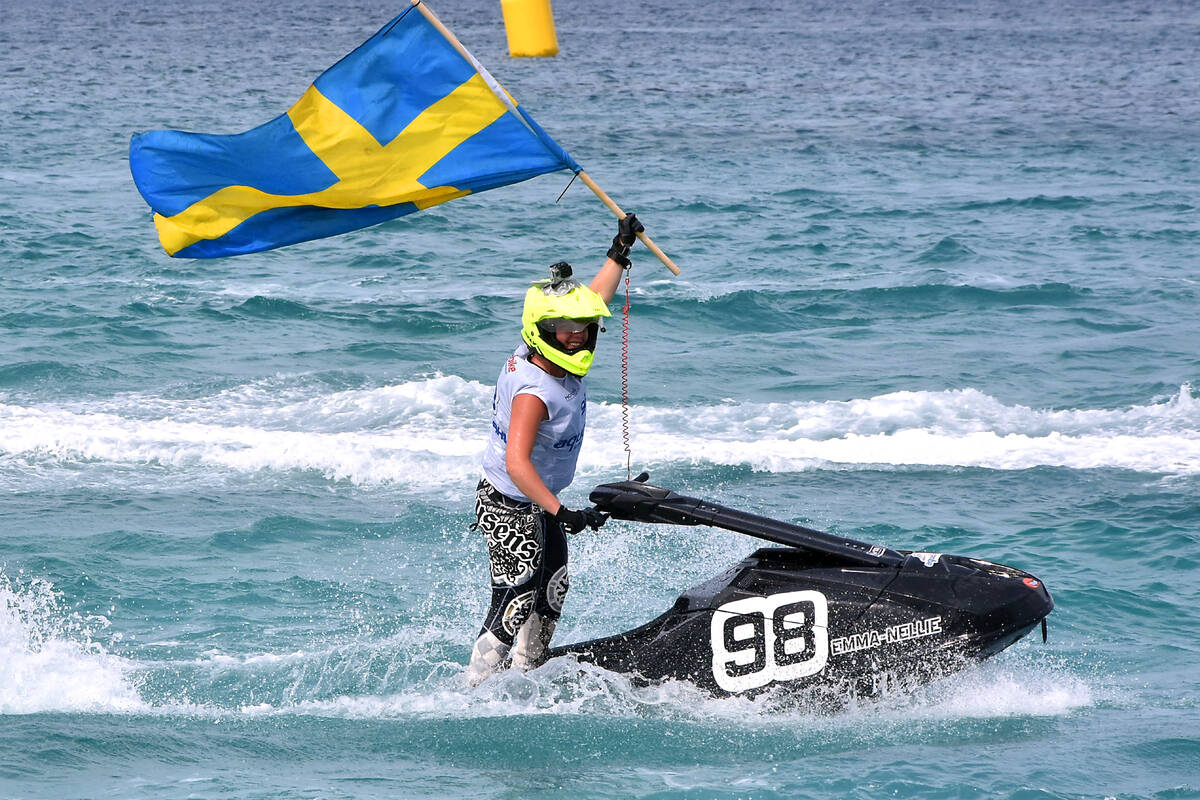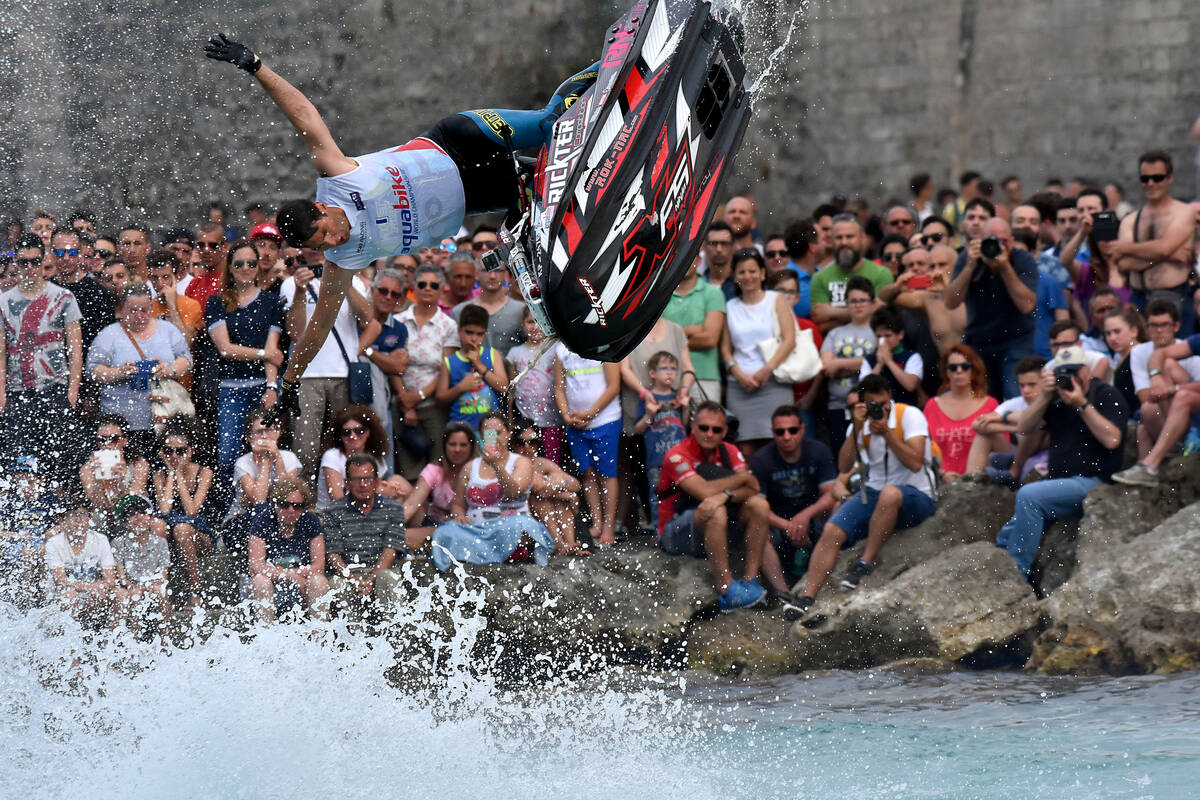 12 June 2016
OTRANTO ENJOYS SPECTACULAR CLIMAX TO UIM-ABP GRAND PRIX OF ITALY
Sunday, 12 June, OTRANTO (Italy): Tens-of-thousands of spectators lined the terraces and rocks around Otranto Harbour to see a spectacular climax to the Grand Prix of Italy, round 1 of the UIM-ABP Aquabike Class Pro World Championship, with titles going to Marcus Jorgensen, Kevin Reiterer, Emma-Nellie Ortendahl and Rok Florjancic.
In Runabout GP1 it was championship debutant Marcus Jorgensen from Denmark who stole the show and accolades, and if his win yesterday in heat 1 was deemed by some to be somewhat lucky, the 21-year-old Copenhagen resident backed himself all the way to the chequered flag today and produced a stunning performance to win again, complete the Otranto double and win his first Grand Prix title in his first outing on the tour.
The newest and obvious rising star of Runabout, who only started competitive racing this year, lost ground at the start dropping two spots to Poland's Andrzej Wisniewski and France's Christophe Agostinho, the polish rider stopping on lap 3, Jorgensen passing Agostinho and hitting the front on lap 6.
Behind the leader a trio of riders, all of whom started at the back after failing to finish heat 1, were on a charge; James Bushell was on a mission after qualifying for pole in heat 1 but having nothing to show for it and closed to within five seconds of Jorgensen by lap 8, but the Dane responded and gradually stretched his lead, going on to win by 8.19s. "It feels really good," said Jorgensen. "I made a slightly better start today and picked off a couple of riders, but then I saw Bushell coming and fast. We had a good fight but I managed to stretch the lead and hold on."
Following Bushell home some 18 seconds adrift was defending world champion Yousef Al Abdulrazzaq, with Jeremy Perez coming home in fourth.
A measured drive to take fifth spot by Sweden's Johan Johanssen, after taking second in heat 1, was good enough to give the Swede his first-ever GP podium, with England's Bushell taking third overall and on the podium on his championship debut.
In Ski GP1 Austria's Kevin Reiterer and race 1 winner Nacho Armillas enjoyed a thrilling opening four laps, Spain's Armillas leading and fending off two huge lunges up the inside by the champion. But the pressure told on the Spaniard, dropping the bike on lap 4 and losing 20 seconds and places to Jeremy Poret and Stian Schjetlein, that he was unable to make up.
Reiterer's win today and fourth in heat 1 tied him on 38 points with Armillas, the heat 2 win affording him overall victory and the title, with Poret completing the podium with two second places. "The weekend didn't start out too well but we made the most of what we had," said the defending champion. "It was a fantastic fight with Nacho. I knew had to up my pace and we made some small changes to the bike. But I knew I had to give 110 per cent and try to force Nacho out of his comfort zone and into a mistake. That's what happened and I took advantage of it."
In the Ladies division, Emma-Nellie Ortendhal delivered a second knock-out punch in as many days, and one that her rivals may not recover from, leaving them bewildered as she once again cruised to an emphatic victory and the Grand Prix title.
The script for heat 2 from the 17-year-old from Alvangen in Sweden was the same as in heat 1; she simply took off when the flag went up and was ten seconds clear of Jennifer Menard at the end of the start lap, with Beatriz Curtinhal in third ahead of Estelle Poret.
The immediate chasing pack had no answer the remainder just looked on, as the world number 2 piled on the agony on her new Pro Force bike stretching her lead lap-by-lap, 30 seconds clear by mid-race, and going on to take the chequered flag and the applause of an appreciative crowd, winning by 71 seconds. "I was hoping for this result so am very happy to do it. I am very well prepared this year and I just love to race," said Ortendahl. "The bike was amazing again. I have a good racing head and my target is the world title, and maybe in a couple of years to compete against the men."
Defending world champion Menard will be wondering what she has to do to close the void and followed her home from a distance for the second time to clinch the overall runners-up slot, with Estelle Poret again slow off the start and losing ground, but her fourth place was enough to put her on the podium in third.
Virginie Morlaes completed a good debut outing in the championship finishing third today and fourth overall. It was a disappointing day for Portugal's Beatriz Curtinhal who despite taking the chequered flag in second place was given a one lap penalty for missing a buoy, dropping her to eighth and costing her a podium slot, with Kylie Ellmers and Marta Sorrentino completing the top six.
In Freestyle the crowds were treated to a stunning show of aerial tricks and acrobatics, with Slovenian brothers Rok and Nac Florjancic going head-to-head yet again, the elder of the two, Rok, coming out on top, with new tour regular Rashed Al Mulla from Dubai, completing the podium in third.