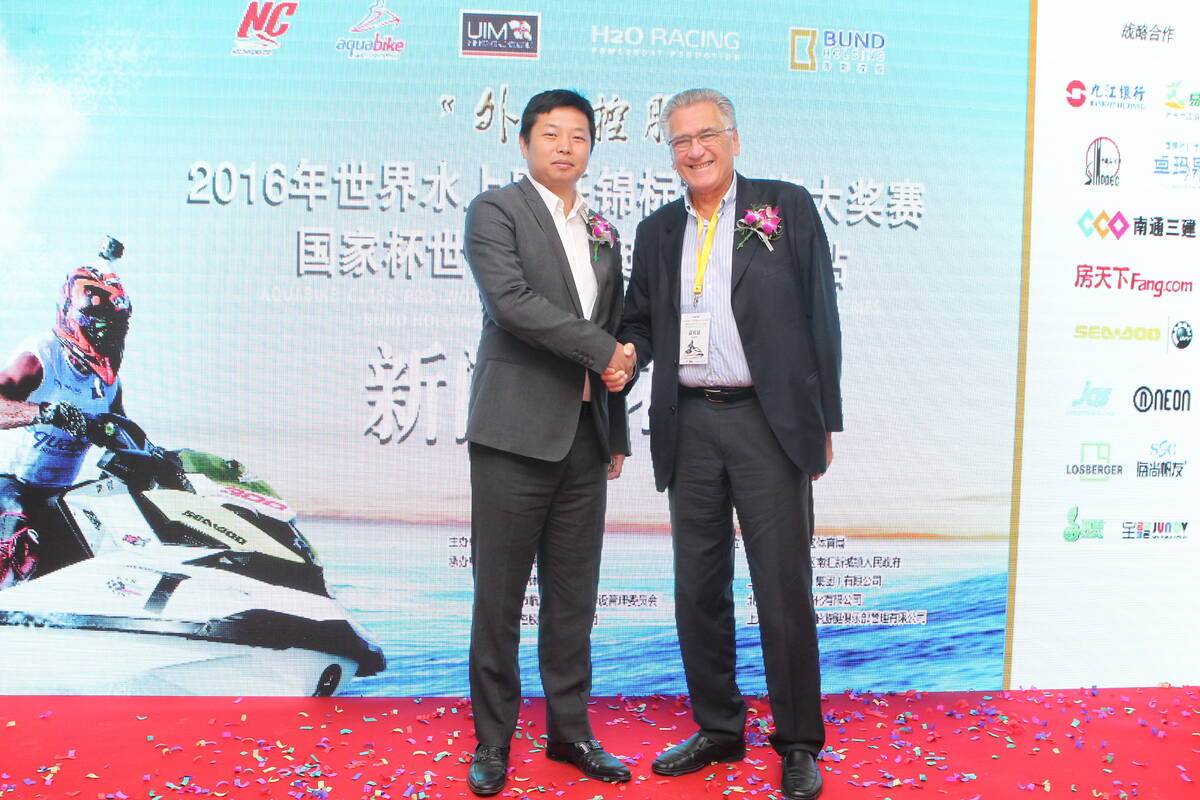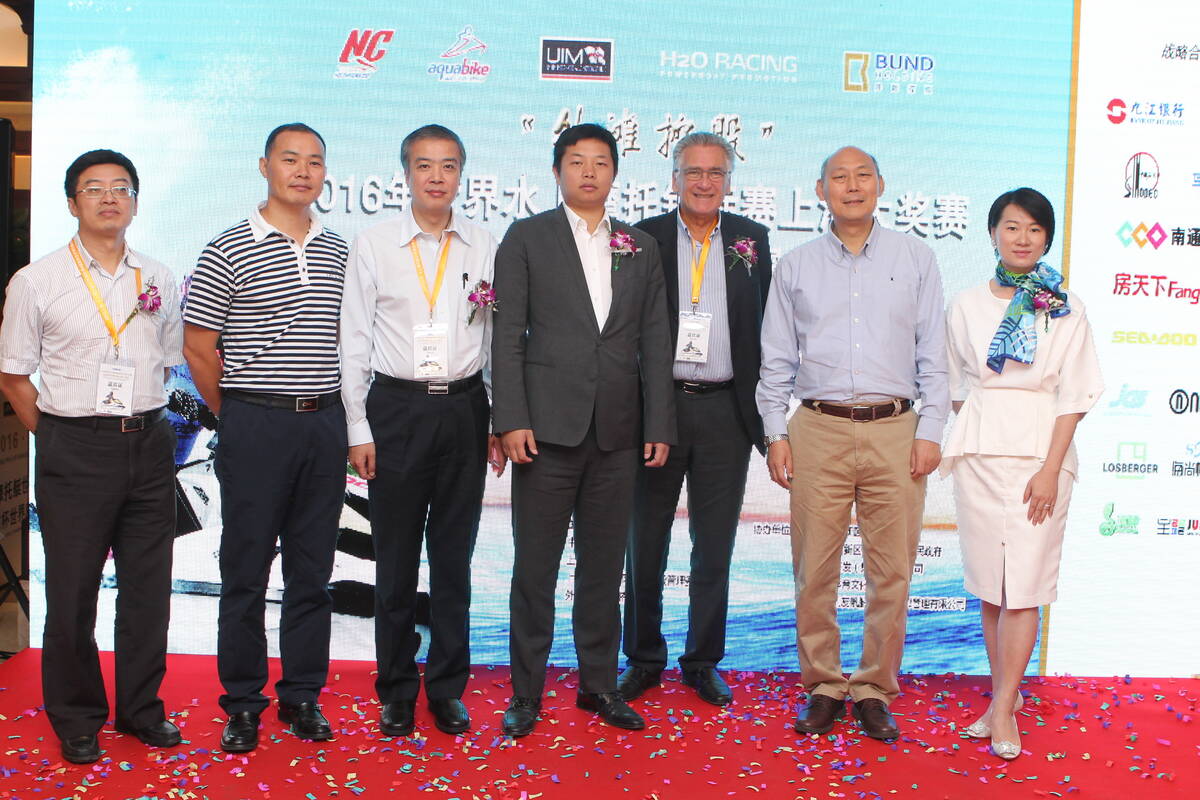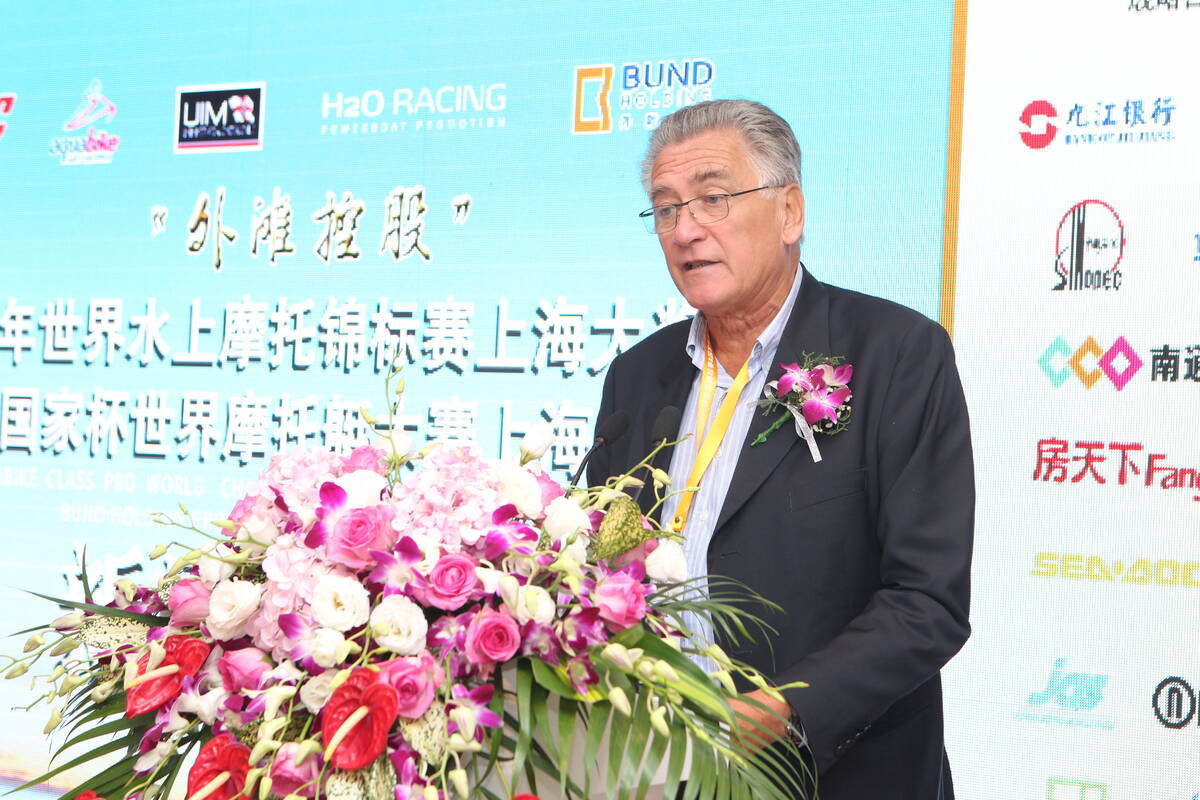 31 August 2016
SHANGHAI GEARING-UP FOR SPECTACULAR UIM NATIONS CUP AND AQUABIKE DOUBLE-HEADER
Wednesday, 31 August, SHANGHAI (China): Shanghai is all set for five days of spectacular action with the UIM H2O Nations Cup and round 3 of the UIM-ABP Aquabike World Championship sharing centre stage on Dishui Lake on 21-22 and 23-25 September.
The back-to-back Grand Prix of Shanghai were officially launched at today's press conference held at the headquarters of the events main sponsor BUND Holding Group in Shanghai.
H2O Racing president Nicolo Di San Germano joined BUND president Xin Chongjie and a host of dignitaries; Yao Xinpei, representing 5th Sports Department of China Water Sports Administration of General Administration of Sport, Wan Hongjun, vice minister of the 5th Sports Department of China Water Sports Administration of General Administration of Sport & Secretary of Chinese Motorboat Association, Sun Weimin, deputy director general of Sports Bureau of Shanghai City & vice president of Shanghai Sports Federation, Zheng Haobin, director of competition Division of Sports Bureua of Shanghai City and Wang Jiongyan, deputy Mayor of Nanhui Xincheng Town, Pudong New District..
Speaking at the launch, Nicolo Di San Germano said. "It is a great pleasure to be here in the People's Republic of China and in Shanghai for the official press conference and launch of two very significant world championship events in our 2016 sporting calendar. We are honoured and proud that for the first time Shanghai will host these two prestigious events."
"I would like to take this opportunity to offer my sincere thanks to the many organisations and people involved who have made it possible and to especially thank Xin Chongjie and his team at BUND for the support and superb collaboration to bring these events to Shanghai."
"We have a enjoyed a wonderful association and a longstanding tradition of racing in China that stretches over three decades during which time we have visited 10 different cities and at all of them we have experienced wonderful hospitality and the warmest of welcomes from the people of China. Our first event was in 1995 in Hangzou with the F1H2O World Championship and since then we have held 19 Grand Prix including our very first visit to Shanghai in 2004 and in 2009 the Aquabike World Championship made its first visit to Liuzhou."
"At all events one thing has been a constant and that is the excellent organisation and wonderful support that we have always received and so once again I would like to offer my sincere thanks to everyone who has worked with us and supported us."
The sixth UIM H2O Nations Cup kick-starts proceedings with eight two-boat teams from China, Australia, Germany, Italy, Malaysia, Russia, the UAE ,and Portugal or the USA taking to the water of Dishui Lake for official practice on Tuesday 21 [September], qualifying and the match race on Wednesday 22 followed by races 1 and 2 on the Thursday.
Fifty-one riders from 20 countries are already confirmed for round 3 of the UIM-ABP Aquabike World Championship with practice and qualifying on Friday 23, heats 1 & 2 taking place on Saturday and Sunday.
Both the Nations Cup match race and both races and heats 1 & 2 of all categories in Aquabike will be broadcast and streamed live on the official web sites; cuph2o.com and aquabike .net
TIMINGS:
UIM H2O NATIONS CUP GRAND PRIX OF SHANGHAI
Wednesday 21 September – match race
14.00 / 06:00 GMT –match race
Thursday 22 September – races
13.30 / 05:30 GMT – race 1
15.30 / 07:30 GMT – race 2
UIM-ABP AQUABIKE WORLD CHAMPIONSHIP GRAND PRIX OF SHANGHAI
Saturday 24 September – heat 1
14.30 / 06:30 GMT – programme titles / intro / heat 1
Sunday 25 September – heat 2
14.30 / 06:30 GMT programme titles / intro / heat 2
For further information visit:
http://cuph2o.com/races/2016/shanghai.php
http://aquabike.net/races/2016/world-circuit/grand-prix-of-shanghai