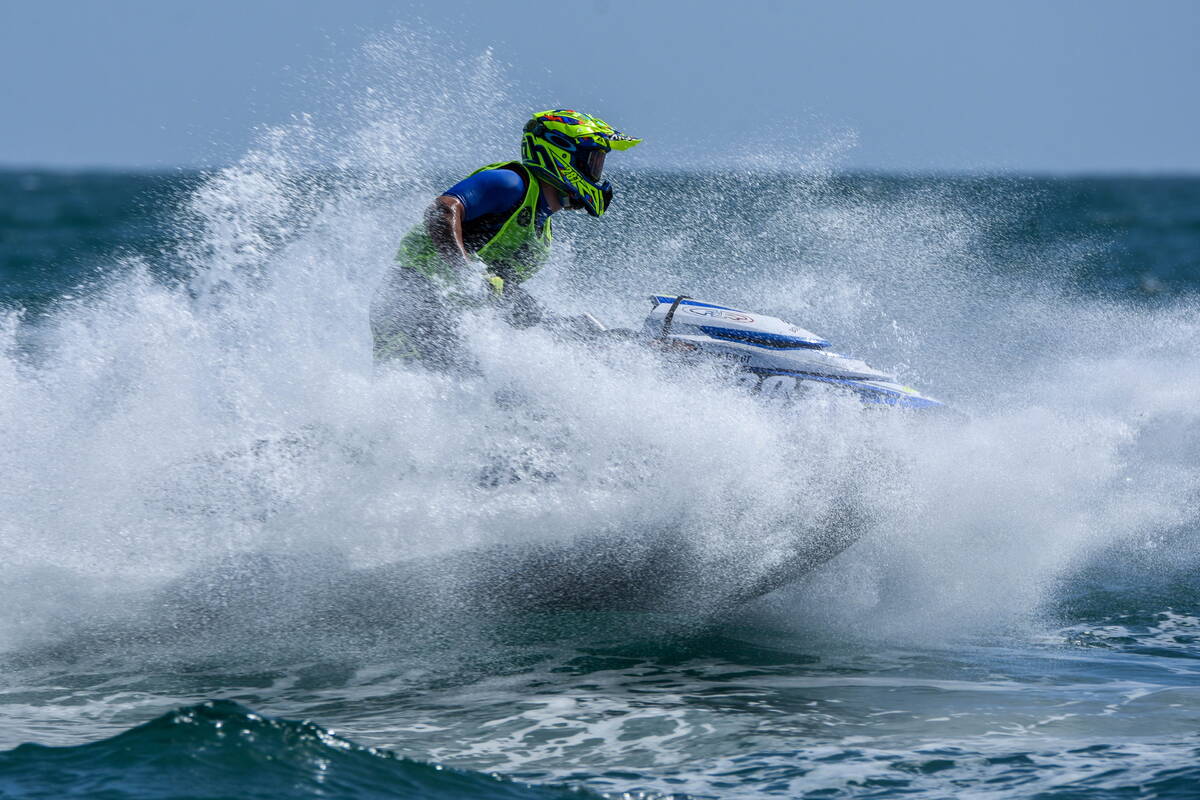 01 April 2018
ADVANTAGE FAVOLLINI IN PORTIMAO HEADING INTO ROUND 2
*Rui and Tiago Sousa on top in Ski
Sunday, 1 April, PORTIMAO (Portugal): Perfect weather and rough seas kick-started the 2018 UIM-ABP Aquabike Continental season at the European Endurance Championship at the popular Algarve resort of Portimao on Portugal's south Atlantic coastline.
An impressive 20-strong line-up in Runabout saw the riders take on a monster 10km circuit off the Praia de Rocha, with a somewhat lesser turnout in Ski running a 2km plus circuit.
In the opening round in Runabout it was sole rider Thomas Favollini from France who mastered the waves, bringing his Yamaha home in first place to grab the immediate advantage heading into today's decisive final round, winning by 20.06seconds and seal class wins in GP1&2.
French duo Morgan Poret and Alex Barret shared duties on their Kawasaki but trailed Favolinni to the chequered flag 20 seconds adrift but hold the advantage in GP3, with the Portuguese pairing of Lino Araujo and Augusto Fernandes on the SeaDoo taking third. Fifth place for France's Roland Couhet and Arnaud Bourreau gives them the upper hand in Veterans.
In Ski Portuguese brothers Rui and Tiago Sousa led home countrymen Andre Barbosa and Martim Gallego, with Spain's Carlos Vella in third and completing a Kawasaki lockout of the top three slots.
RUNABOUT: overall round 1 – top six..
1 Thomas Favolinni (fra) 02:13:09.21
2 Morgan Poret (fra)/Alex Barret (fra) +20.06
3 Lino Araujo (por)/Augusto Fernandes (por) + 3:55.66
4 Christophe Agostinho (por)/Jeremy Poret (fra) + 8:44.74
5 Roland Couhet (fra)/Arnaud Bourreau (fra) + 10:34.74
6 Aitzol Arankistain (esp) + 13:11.05
SKI: overall round 1 – top 3..
1 Rui Sousa (por)/Tiago Sousa (por) 01:01:25.52
2 Andre Barbosa (por)/Martim Gallego (por) + 2:29.37
3 Carlos Vela (esp) + 3:12.29