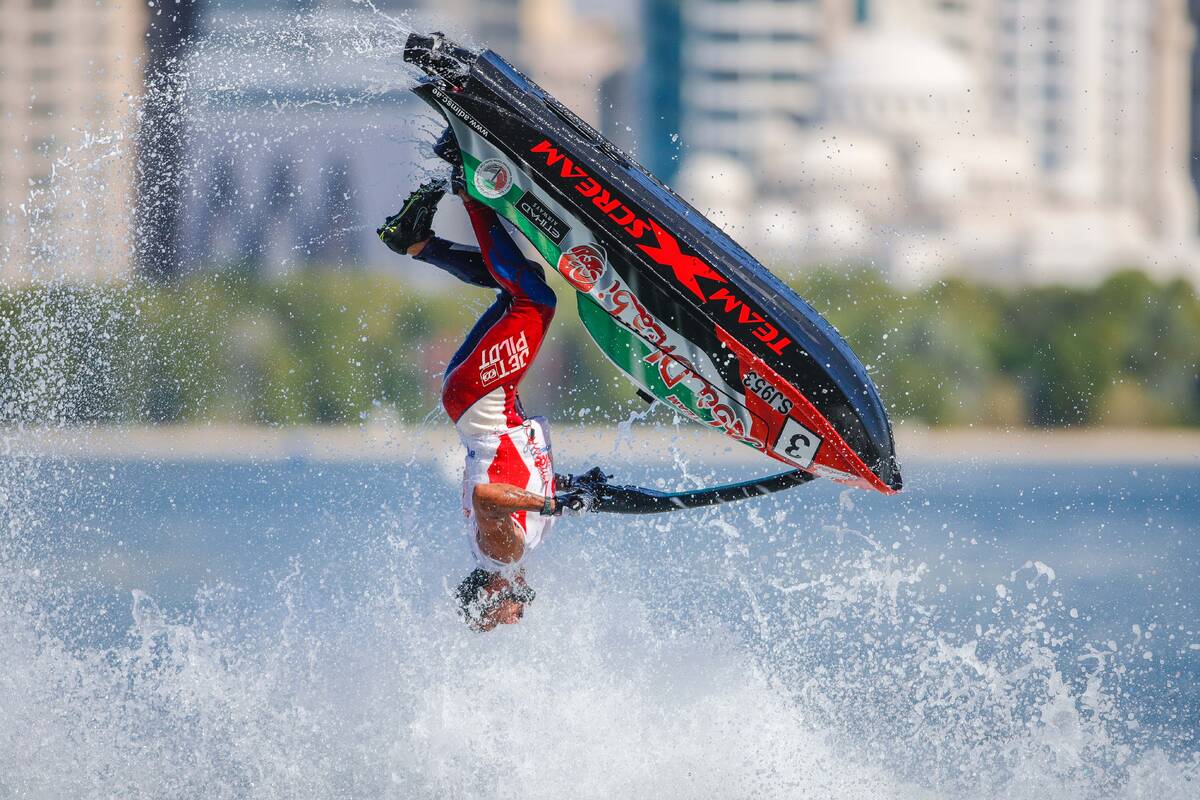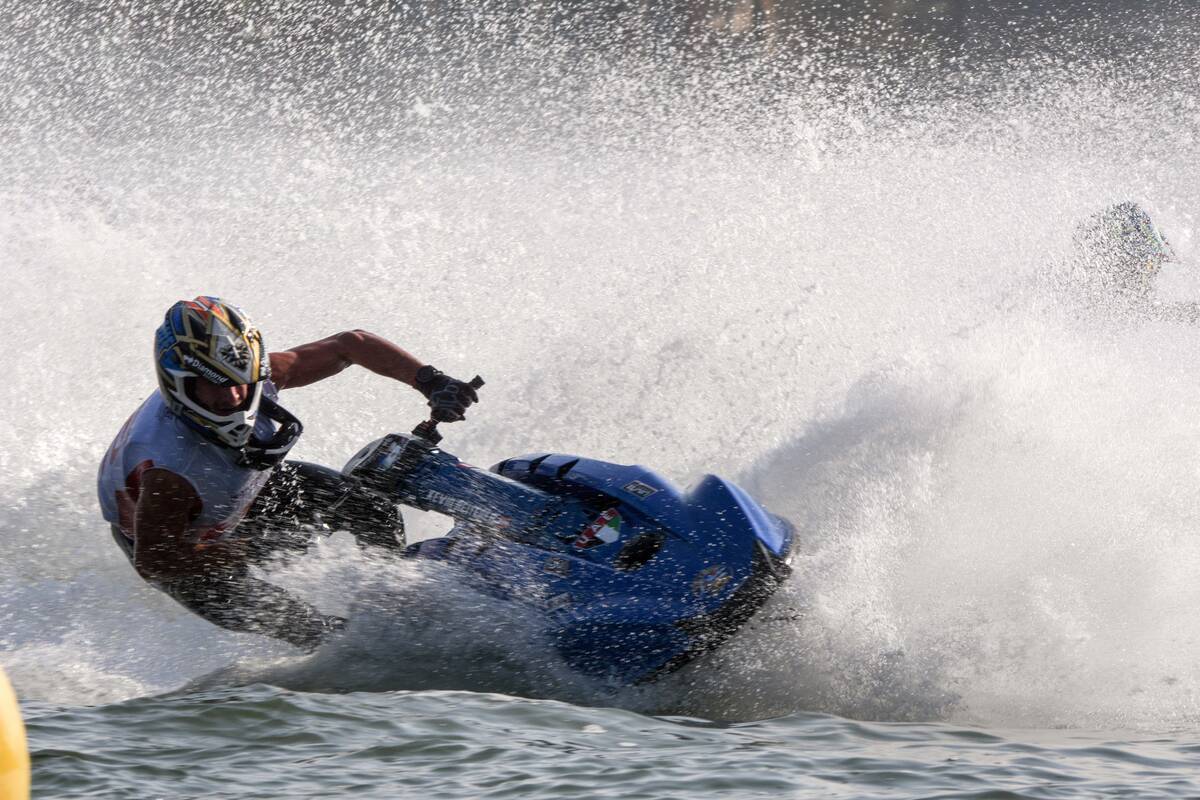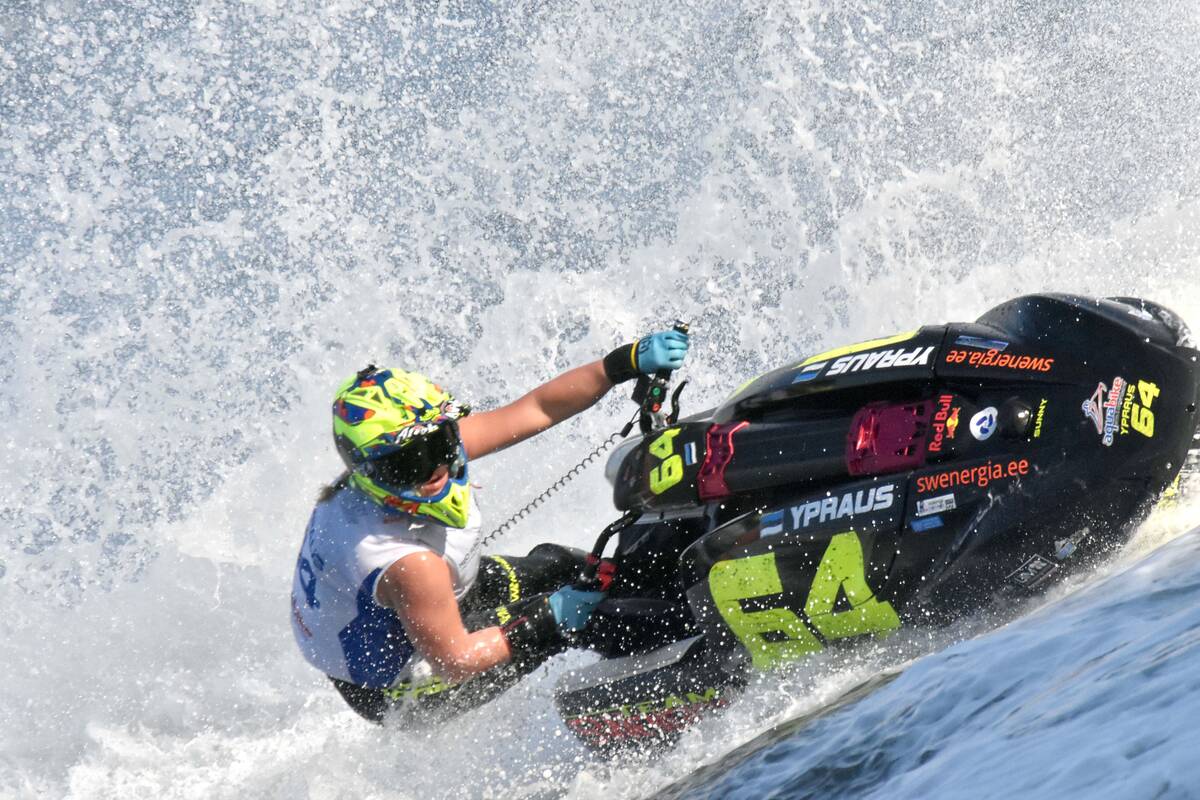 12 December 2018
BRILLIANT AL MULLA CLINCHES UIM-ABP FREESTYLE WORLD CHAMPIONSHIP
*Perez and Reiterer on track for Grand Prix and World Championship double
** Ypraus and Ortendahl trade wins – Uzare maintains championship lead
Wednesday, 12 December, SHARJAH (UAE): Team Abu Dhabi's Rashid Al-Mulla produced yet another outstanding performance to maintain his unbeaten run to win his maiden UIM-ABP Aquabike Freestyle World Championship title on Khalid Lagoon in Sharjah.
Al Mulla's title capped a brilliant day of action with Jeremy Perez and Kevin Reiterer winning both motos in Runabout and Ski and Jasmiin Yprause and Emma-Nellie Ortendahl taking a win apiece in the Ladies division.
The Emirati has totally dominated the Freestyle category this season and victory in both motos gives him an unassailable lead in the points' standings. By winning his maiden title, Al-Mulla becomes the first Freestyler since Italy's Valerio Calderoni in 2011 to etch a name other than Rok and Nac Florjancic on the trophy.
The 31-year-old dominated both motos with an array of barrel-rolls, back-flips, reverse 360s, and combinations, picking up 90 points in each and is now unbeaten in his last six Grand Prix. Portugal's Paulo Nunes claimed two second places with Ali Abdeljalil and Alexander Kuramshin trading third spots. "I have been working on this programme for seven years now and I have continued to develop and improve my display. To win the World Championship is a special feeling. I am so happy for my team. Now I can enjoy the final moto on Friday as the World Champion." Al Mulla said.
In Runabout the day belonged to Jeremy Perez producing two outstanding performances to win both motos, narrowly holding off defending champion Yousef Al Abdulrazzaq in the first but making a huge statement winning the second from his title rival by 51.72s and now heads into the deciding moto of the season with a ten point lead in the Grand Prix standings and 11 clear in the fight for the world title.
Lars Akerblom was unfortunate not to claim two third placed finishes after breaking in moto 2, gifting the place to Jan Jensen.
Victory Team's Kevin Reiterer dominated in Ski and is also on course to complete the double after cruising to victory in both motos and moved to within a point of winning the world title for the second time, with Raphael Maurin unable to match the pace of the Austrian and following him to the chequered flag twice.
Third place in moto 1 went to Anders Keller with outgoing champion Quinten Bossche taking third in the second.
In the Ladies division it is Jasmiin Ypraus who heads the Grand Prix standings after taking her maiden moto win in the first and finishing second to defending champion Emma-Nellie Ortendahl in moto 2.
Championship leader Krista Uzare maintained her grip on the title after finishing in second and third and heads into the decider with a seven point advantage over Ortendahl.
For complete results/classifications:
https://www.aquabike.net/results