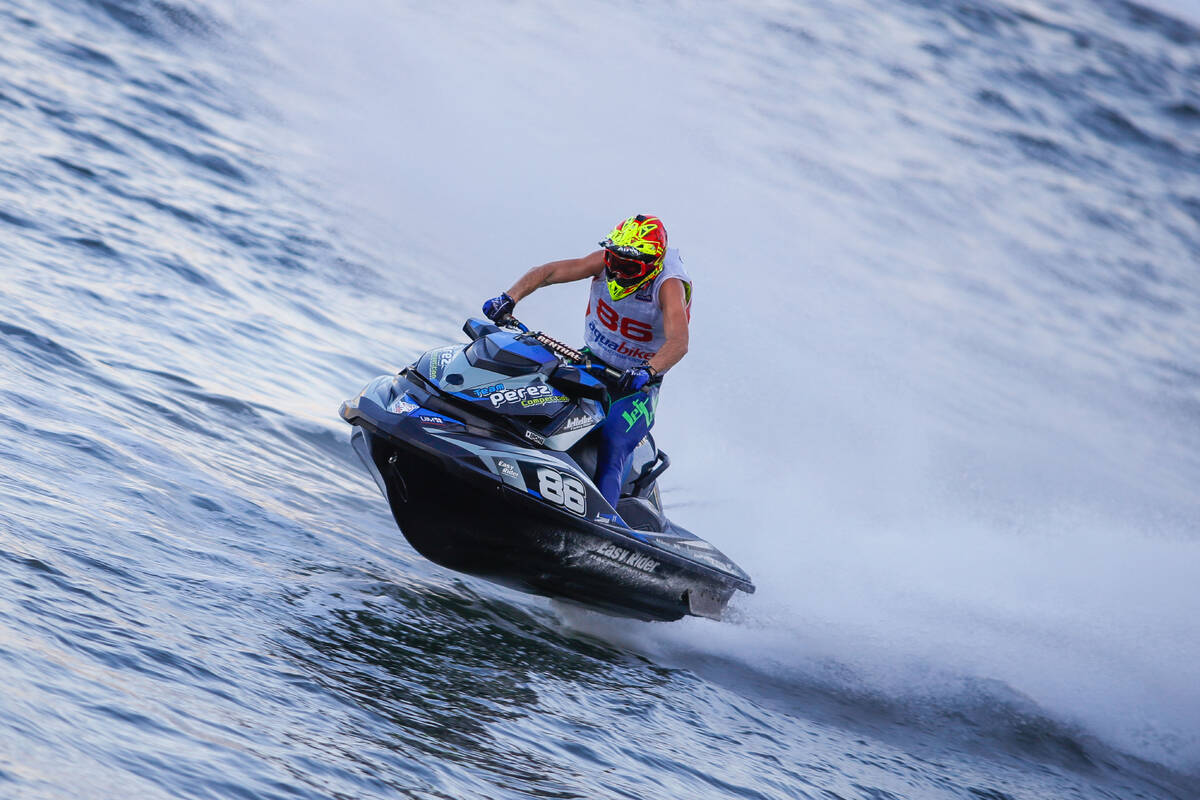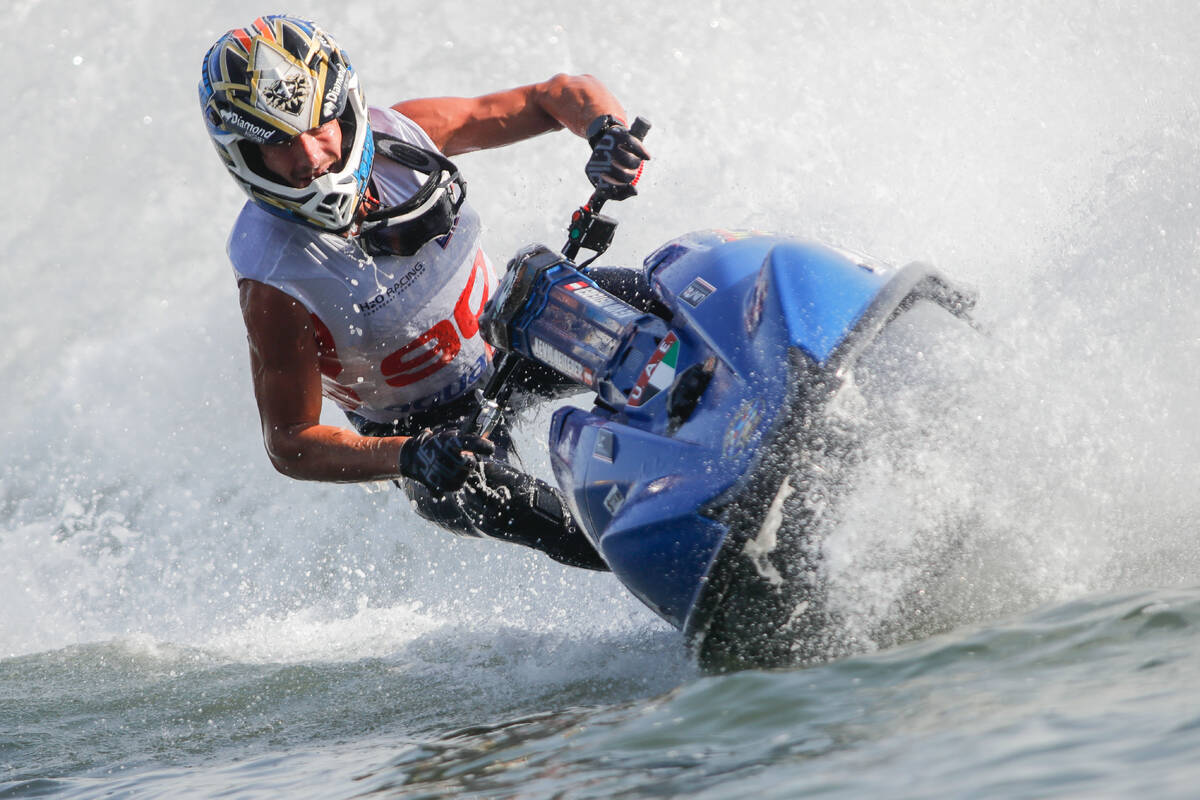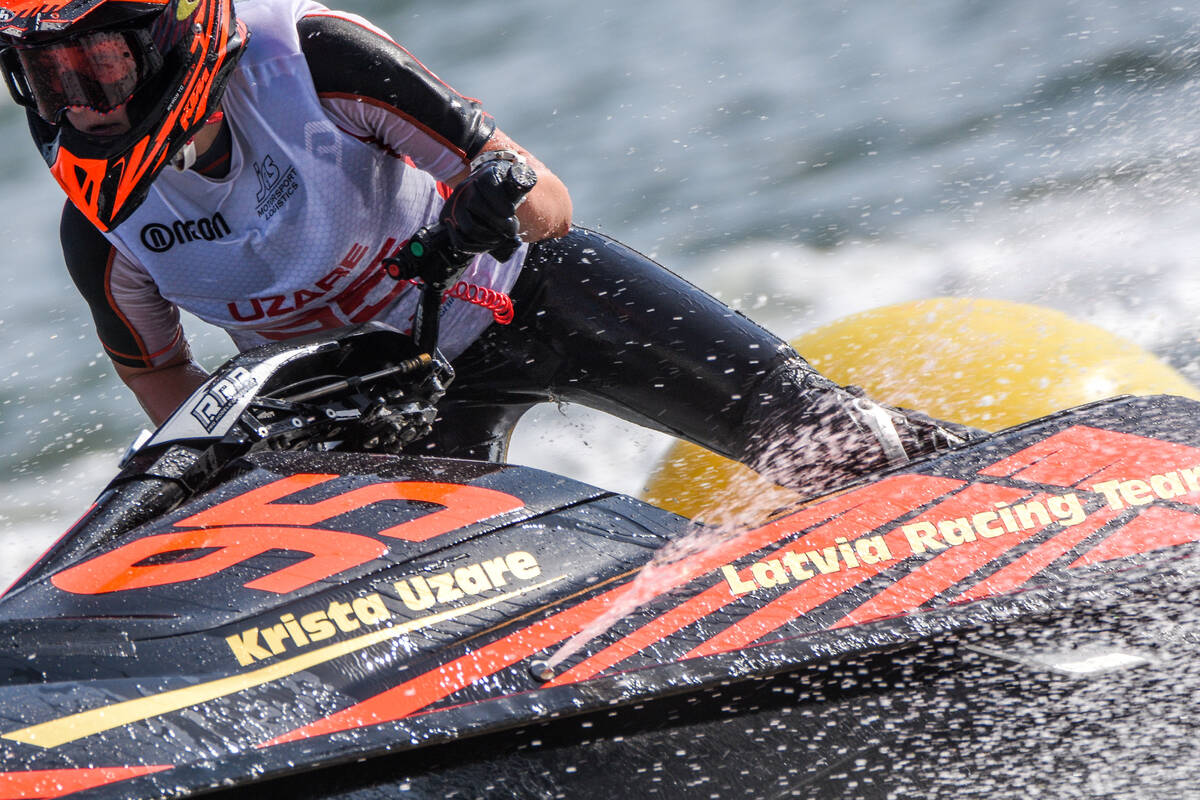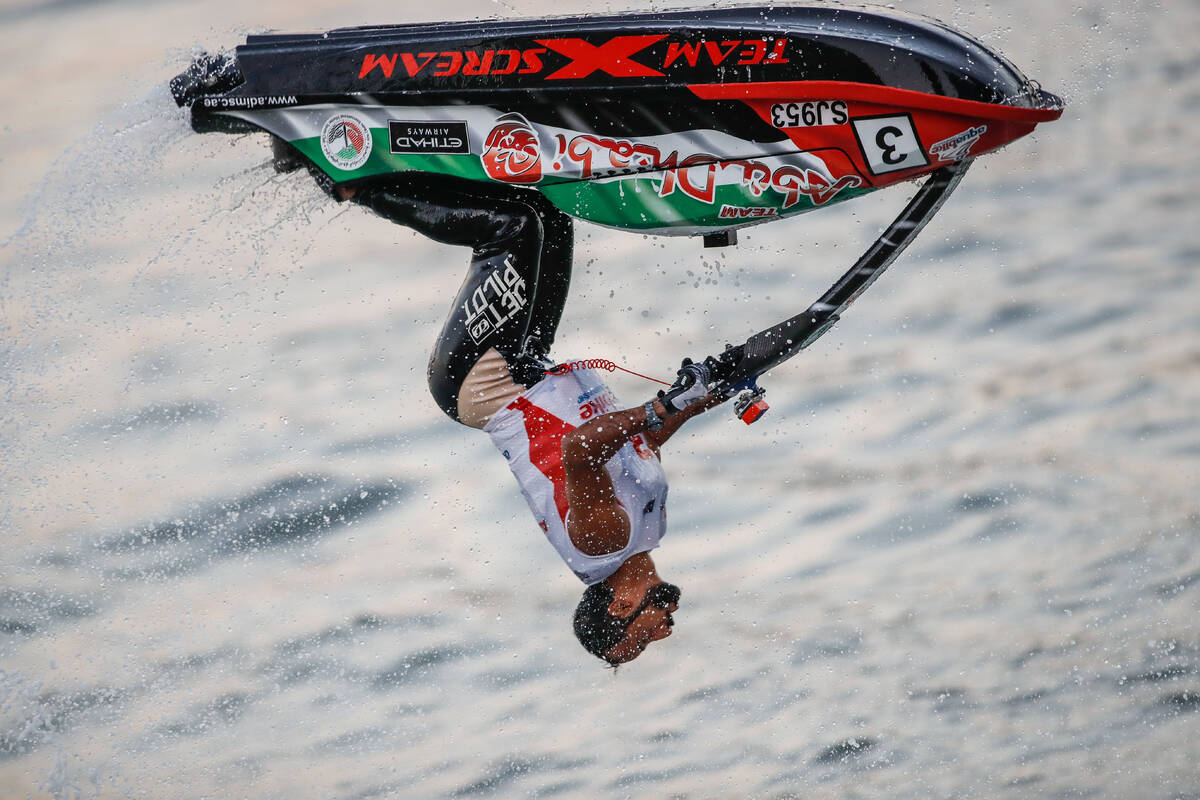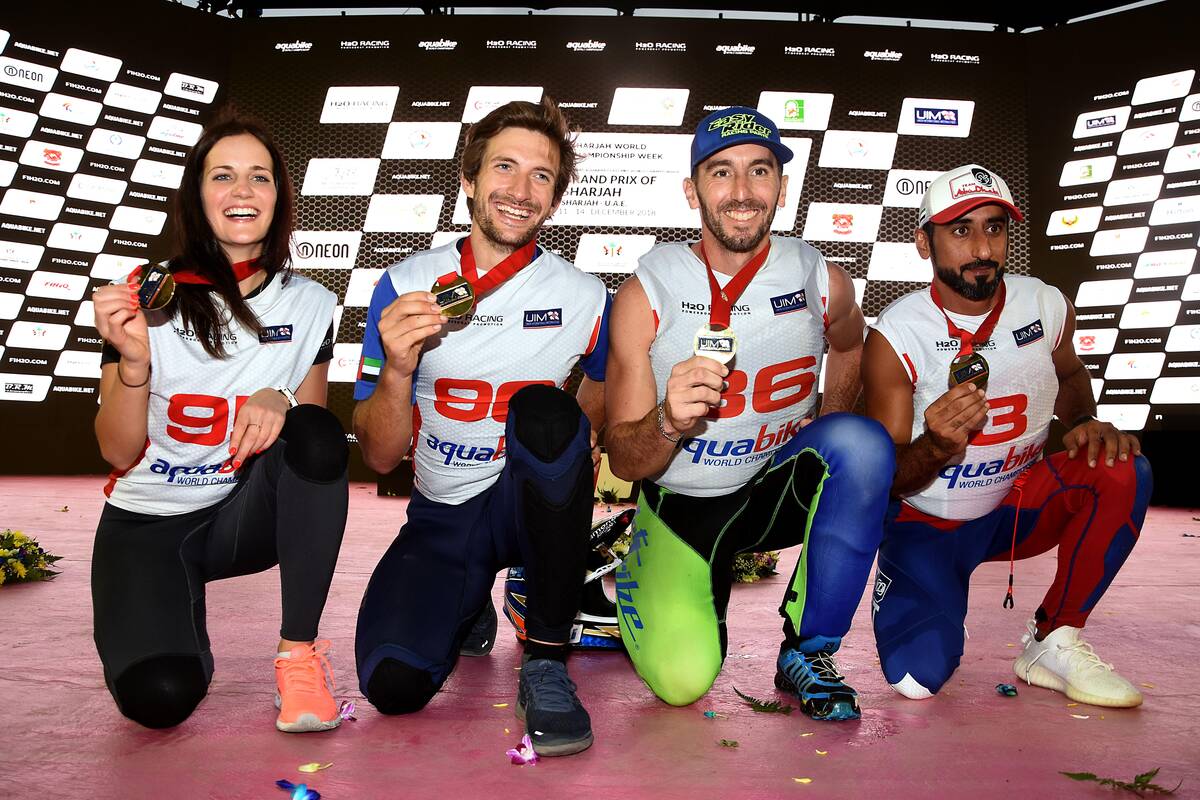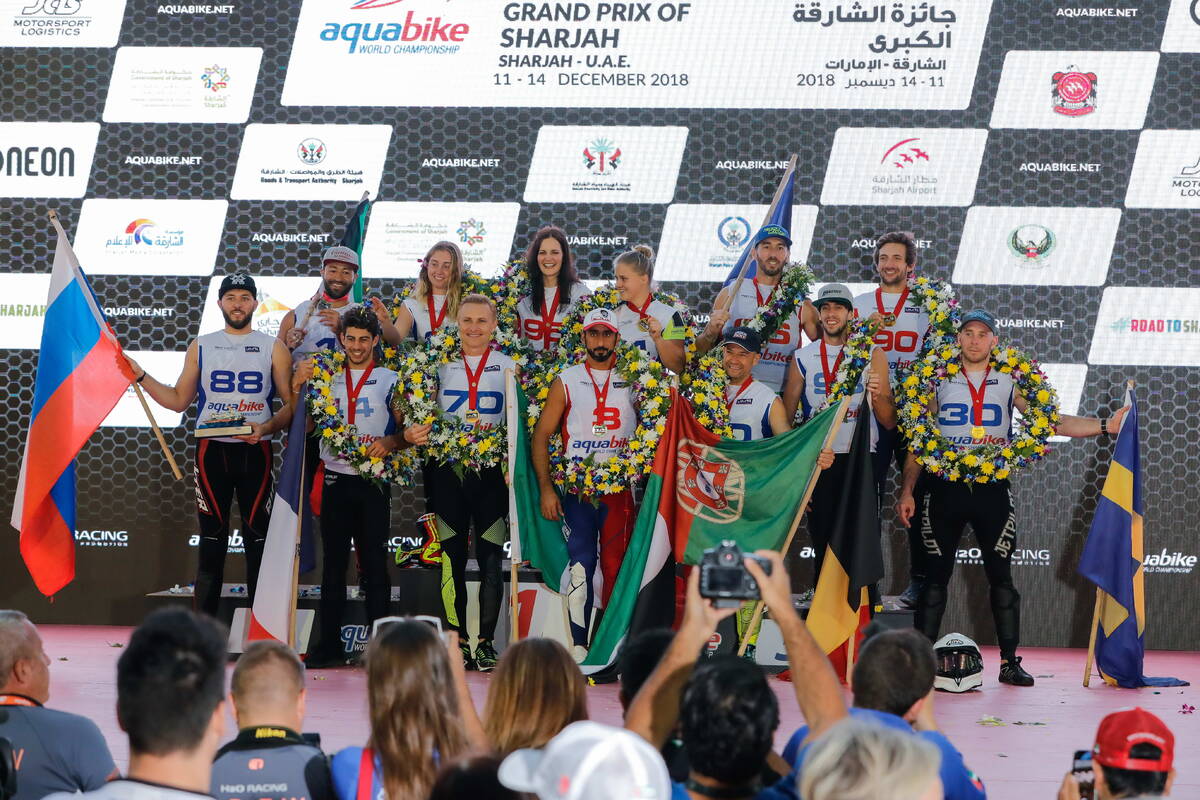 14 December 2018
JEREMY PEREZ WINS WORLD CHAMPIONSHIP WITH OVERALL VICTORY IN SHARJAH GRAND PRIX IN RUNABOUT
*SKI GP1 Grand Prix and world titles for Kevin Reiterer and Krista Uzare
** World Champion Al Mulla adds Grand Prix title
Friday, 14 December, SHARJAH (UAE): France's Jeremy Perez kept his nerve in today's final moto of the year finishing in second to secure overall victory in the Grand Prix of Sharjah and, after ten years of trying, became UIM-ABP Aquabike World Champion.
Perez went into the final moto with an 11 point margin over defending champion Yousef Al Abdulrazzaq and after leading at the end of the start lap let the Kuwaiti through knowing that a top four finish would seal the deal. "Finally after all these years I have done it. I am so happy I just can't explain it," he said. "I let him go because it would not change anything and there was no need for me to push too much and risk everything. The last lap felt like ten minutes but when I cross the line it was amazing."
The two title rivals traded Grand Prix wins in the early part of the season and continued their intense rivalry in Sharjah, Perez finishing ahead of Abdulrazzaq winning motos 1 & 2 with Abdulrazzaq winning today but it was not enough. "At the end Jeremy deserves the title 100%. He has worked so hard for this and he is a really great sportsman. We have made some mistakes but that's racing and we can always come back next season and try to win it back." said four-time champion Abdulrazzaq.
Lars Akerblom fought his way up from starting on the outside of 19 riders to finish in third and secure third overall in the world championship standings, but narrowly missed out on the Grand Prix podium to Lorenzo Benaglia who rounded off a remarkable few days with his best performance of the season finishing fourth, with Andrzej Wisniewski fifth ahead of Mattia Fracasso.
Wu Ronghua looked to be on course for a top three finish but his moto ended on lap 7 of 13, James Bushell's charge from the back to fourth ending on lap 10.
In Ski GP1 Victory Team's Kevin Reiterer was once again in a class of his own producing a faultless performance to win the Grand Prix title and seal his second UIM-ABP Aquabike World Championship.
Second place went to outgoing champion Quinten Bossche to end the year in third place, with Raphael Maurin coming home in third to secure second overall in the Grand Prix and world championship standings.
Reiterer controlled the race from the start and was five seconds clear by the end of lap 1 and disappeared in to the distance to run out the winner by 32.76s. Maurin kept Bossche at bay for 4 laps then made a mistake and dropped a place, Steven Dauliach maintaining fourth throughout the race, with Anders Keller's fifth place putting him onto the podium.
In the Ladies division Latvias's Krista Uzare produced the ride of a champion to win the Grand Prix title with victory in the final moto and clinch her first UIM Aquabike World Championship.
Uzare went into the final moto with a seven point advantage over two-time champion Emma-Nellie Ortendahl and only needed to finish in second but took the title in style, leading from the start to beat her title rival and win by 3.89s. "I don't know what to say at this moment," said Uzare. "I really believed I was going to win the title but I wanted to do it the right way by winning the moto. It has been a wonderful season for me and everyone who has helped me to get to the title."
Third place in today's moto went to Jonna Borgstrom, with the final podium place and third in the championship standings going to Jasmiin Ypraus who finished fourth.
Freestyler Rashed Al Mulla celebrated his world title by closing out his year with another characteristically flamboyant set of tricks to record his highest points' score of the Grand Prix and extended his perfect unbeaten run to six. Portugal's Paulo Nunes recorded his best result of the season finishing second ahead of Alexander Kuramshin, and moved into second overall in the championship standings ahead of Roberto Mariani.
UIM-ABP Grand Prix of Sharjah – overall
Runabout GP1:
1. 86 Jeremy Perez (fra) – 70pts
2. 1 Yousef Al Abdulrazzaq – 65pts
3. 44 Lorenzo Benaglia (ita) – 35ts
Ski GP1:
1. 90 Kevin Reiterer (aut) – 75pts
2. 44 Raphael Maurin (fra) – 56pts
3. Anders Keller (den) – 40pts
Ski GP1 Ladies:
1. 95 Krista Uzare (lat) – 61pts
2. 98 Emma-Nellie Ortendahl (swe) – 58pts
3. 64 Jasmiin Yprause (est) – 58pts
Freestyle
1. 3 Rashed Al Mulla (uae) – 75pts
2. 20 Paulo Nunes (por) – 60pts
3. 88 Alexander Kuramshin – 45pts
UIM-ABP World Championship
Runabout GP1:
1. 86 Jeremy Perez (fra) – 156pts
2. 1 Yousef Al Abdulrazzaq – 150pts
3. Lars Akerblom (swe) – 77pts
Ski GP1:
1. 90 Kevin Reiterer (aut) – 170pts
2. 44 Raphael Maurin (fra) – 137pts
3. 98 Quinten Bossche (bel) – 91pts
Ski GP1 Ladies:
1. 95 Krista Uzare (lat) – 151pts
2. 98 Emma-Nellie Ortendahl (swe) – 139pts
3. 64 Jasmiin Yprause (est) – 93pts
Freestyle:
1. 3 Rashed Al Mulla (uae) – 175pts
2. 20 Paulo Nunes (por) – 110pts
3. Roberto Mariani (ita) – 100pts
For full results/standings:
https://www.aquabike.net/results