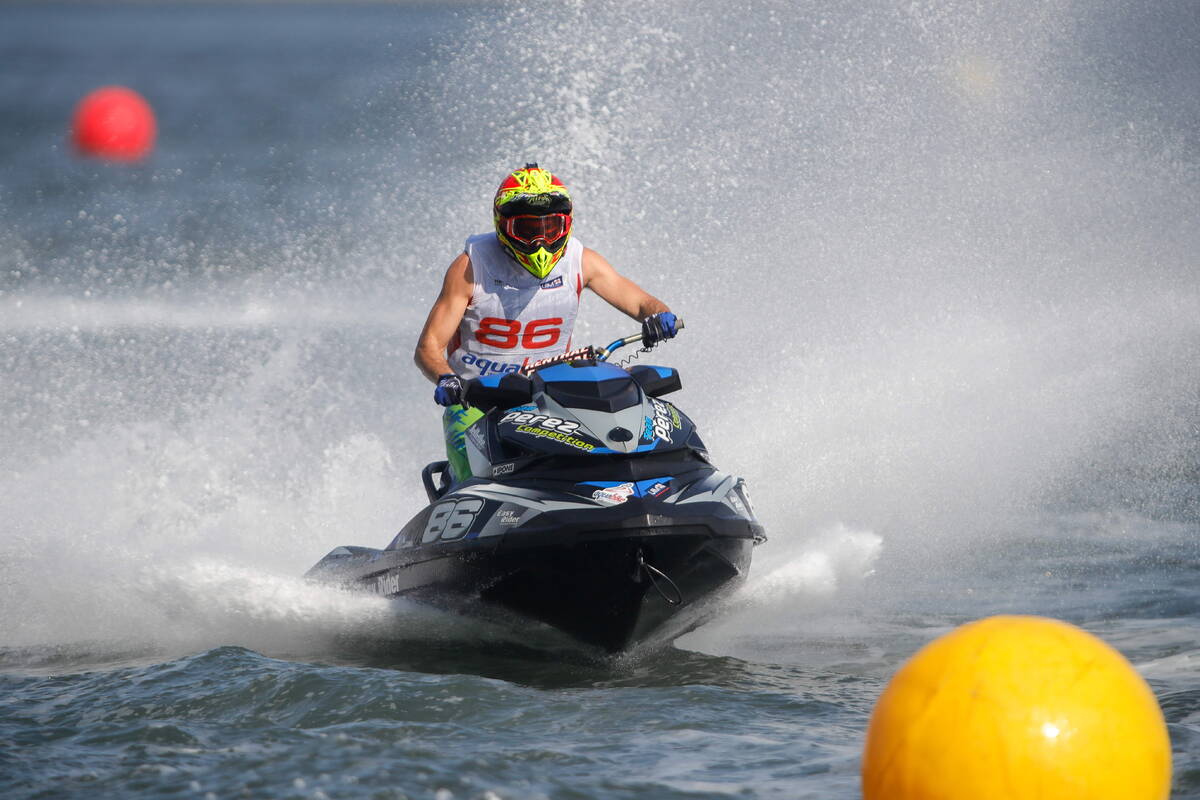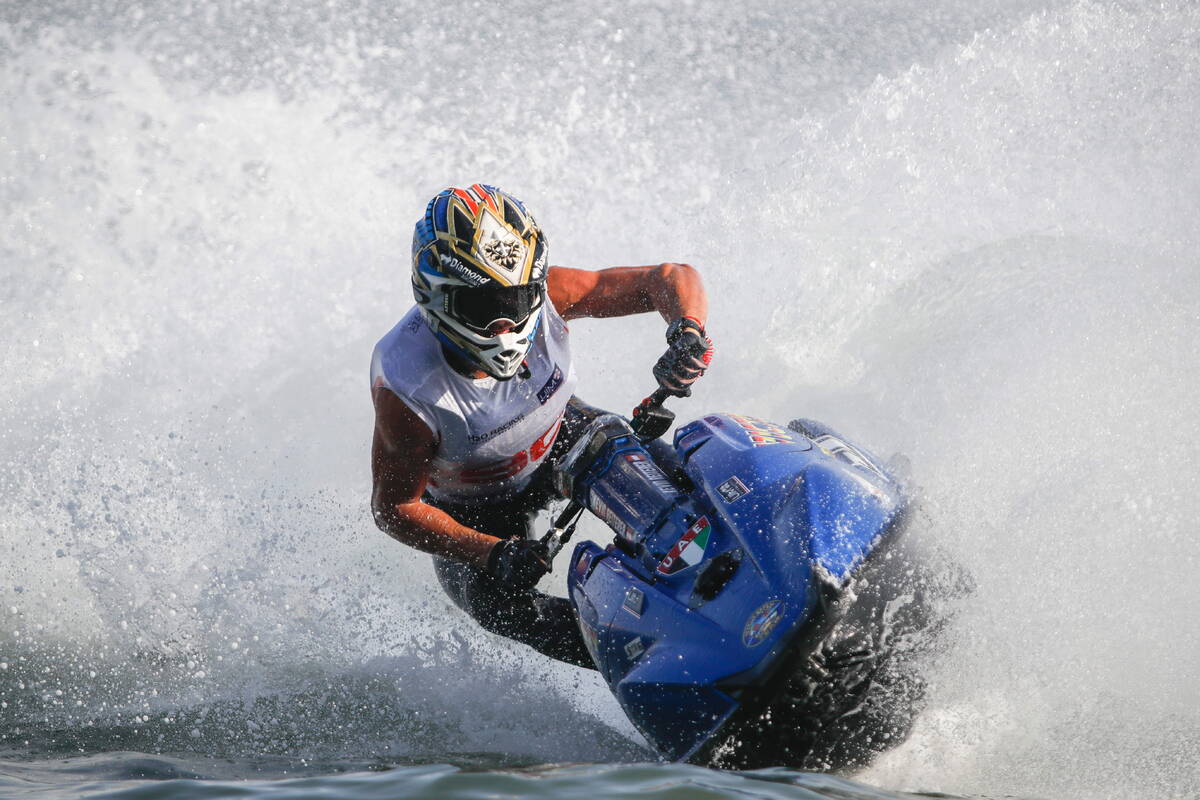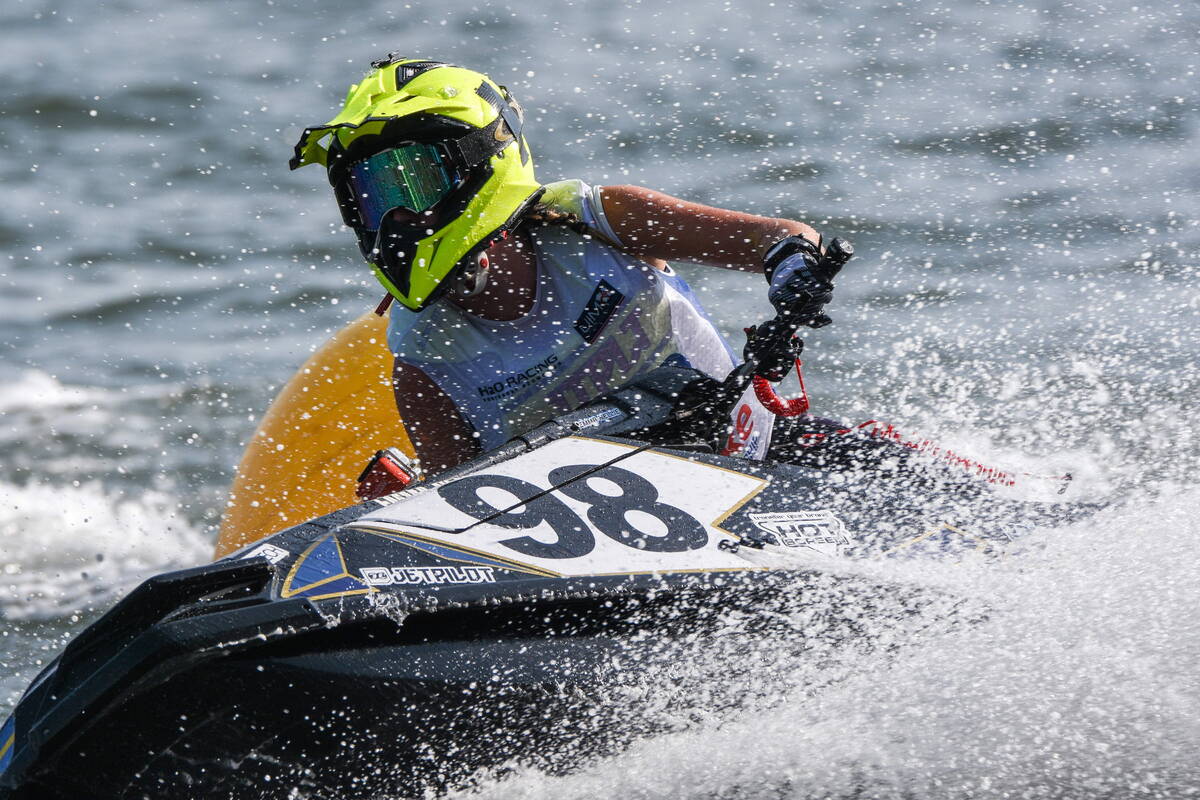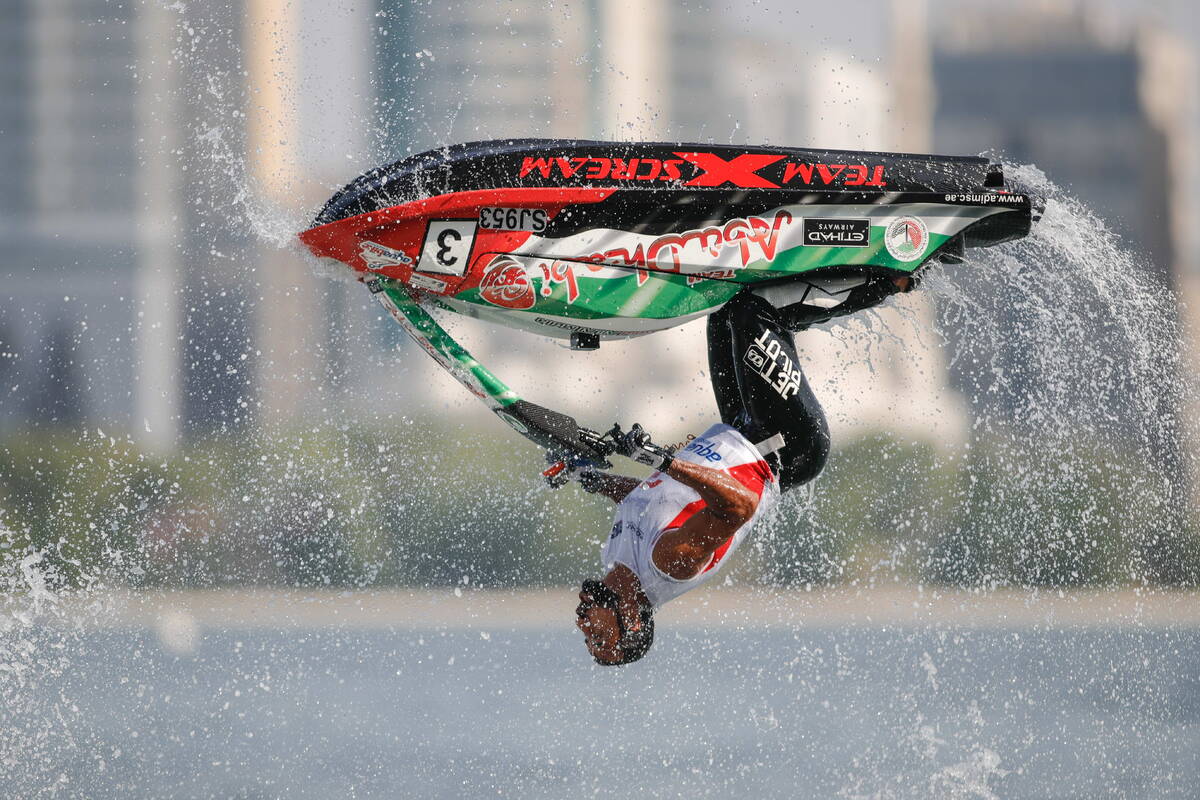 11 December 2018
PEREZ QUICKEST IN RUNABOUT - REITERER TOPS THE TIME SHEETS IN SKI
*Ortendahl maintains perfect record in Sharjah going quickest in Ski Ladies – Al Mulla the star in Freestyle
Tuesday, 11 December, SHARJAH (UAE): It was a good day for two of the championship leaders in today's qualifying session at the UIM ABP Aquabike Grand Prix of Sharjah, with Jeremy Perez and Kevin Reiterer topping the time sheets in their respective categories, Runabout and Ski GP 1.
Of the 59 competitors from 23 countries who registered for the final round of the season, all but three were out on Khalid Lagoon for today's qualifying session.
In Runabout GP1 title rivals Jeremy Perez and Yousef Al Abdulrazzaq slugged it out with Perez coming out on top with a fastest lap of 1:43.73s. In the opening session it was defending champion Abdulrazzaq who, despite competing just days after dislocating his left shoulder, had the edge but Perez turned the tables in Q2 to grab the advantage by 1.85s and will start in P1 tomorrow for the first of two motos, the final moto taking place on Friday. "I did two laps very fast and I got pole position," said Perez. "I feel a lot of stress. It is not easy to be in the lead. Sometimes it is better to be second. I need to keep my position. It will not be easy. My mechanic Teddy Pons has helped me a lot. We have been working together for two years now. I want to win this championship for him as well."
Lars Akerblom reminded all his rivals of his pace with a 1:47.51s lap, with UAE rider Rashed Al Tayer going fourth quickest with 1:48.46s and Anton Pankratov fifth.
Runabout GP 2 world champion Samuel Johansson was impressive on his GP1 debut and at the expense of his father Johan after squeezing into Q2 in tenth spot at the expense of the elder Johannson, then posting the sixth best time of 1:54.64s
Championship leader Kevin Reiterer rounded out a perfect day on Khalid Lagoon topping the timesheets in Ski GP1 in qualifying and both of the morning's practice sessions.
The Victory Team rider owned qualifying, comfortably quickest in the first 15 minute session and then blitzing the field in Q2, with a 1:58.91s lap to go 4.84s quicker than defending champion Quinten Bossche. "The conditions and the circuit were really good today," said Reiterer. "Now I have a Ski that I am able to ride to my full potential and when all the pieces of the puzzle come together it makes for an amazing ride."
Nacho Armillas made an impressive return to the UIM-ABP tour after being side lined for more than a year after breaking his left leg in 2017, pulling out a 2:04.21s lap to seal third place, but was towed in at the end of the session, with Raphael Maurin in fourth.
In the ladies division defending world champion Emma-Nellie Ortendahl kept up her perfect record on Khalid Lagoon taking her third successive pole position.
The Swedish two-time champion was edged into second spot in Q1 by Jasmiin Yprause but hit back when it mattered to post a fastest 2:04.29s lap in Q2, with Yprause in second with 2:06.19. "This is a really important race weekend for me for many reasons," Ortendahl said. "Today was good and although I have nine points to make up we have three motos and I am supermotivated to do it and will do everything to win and keep my title."
Championship leader Krista Uzare posted a 2:10.46s lap to go third fastest but was over six seconds slower than her title rival Ortendahl, with Jonna Borgstrom in fourth and back to settle a score with the lagoon after breaking her arm here last year.
Rashed Al Mulla, the odds on favourite to take the Freestyle title, was once again in a class of his own outscoring his nearest rival Roberto Mariani 90 points to 77, with UIM-ABP debutant Ali Abdeljalil in third with 58 points.
UIM-ABP Aquabike Grand Prix of Sharjah - Qualifying Results (top 4):
Runabout GP1
1. Jeremy Perez (fra) – 1:43.73s
2. Yousef Al Abdulrazzaq (kuw) – 1:45.58s
3. Lars Akerblom (swe) – 1:47.51s
4. Rashed Al Tayer (uae) – 1:48.46s
SkiGP1
1. Kevin Reiterer (aut) – 1:58.91s
2. Quinten Bossche (bel) – 2:03.75s
3. Nacha Armillas (esp) – 2:02.21s
4. Raphael Maurin (fra) – 2:05.38s
Ski Gp1 Ladies
1. Emma-Nellie Ortendahl (swe) – 2:04.29s
2. Jasmiin Yprause (est) – 2:0619s
3. Krista Uzare (lat) – 2:10.46
4. Jonna Borgstrom (swe) – 2:12.28s
Freestyle
1. Rashed Al Mulla (uae) – 90pts
2. Roberto Mariani (ita) – 77pts
3. Ali Abdeljalil (uae) – 58pts
4. Paolo Nunes (por) – 53pts
For full classifications: