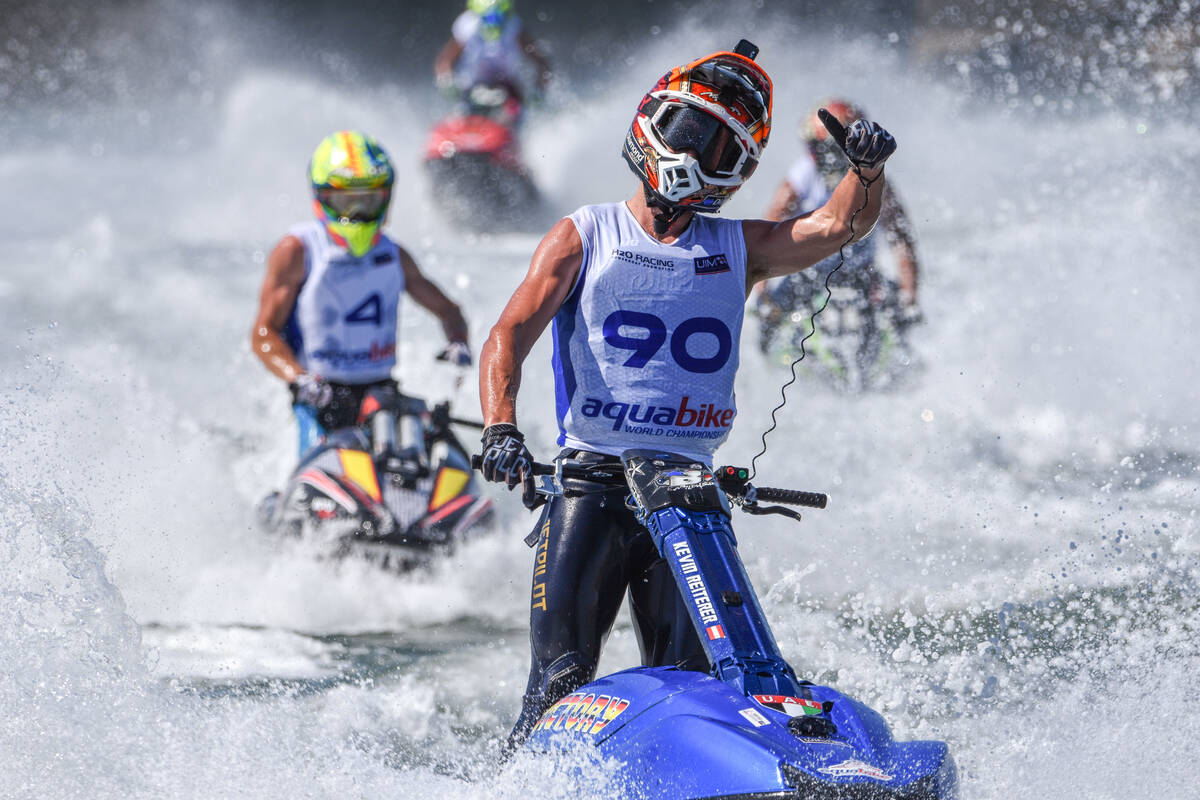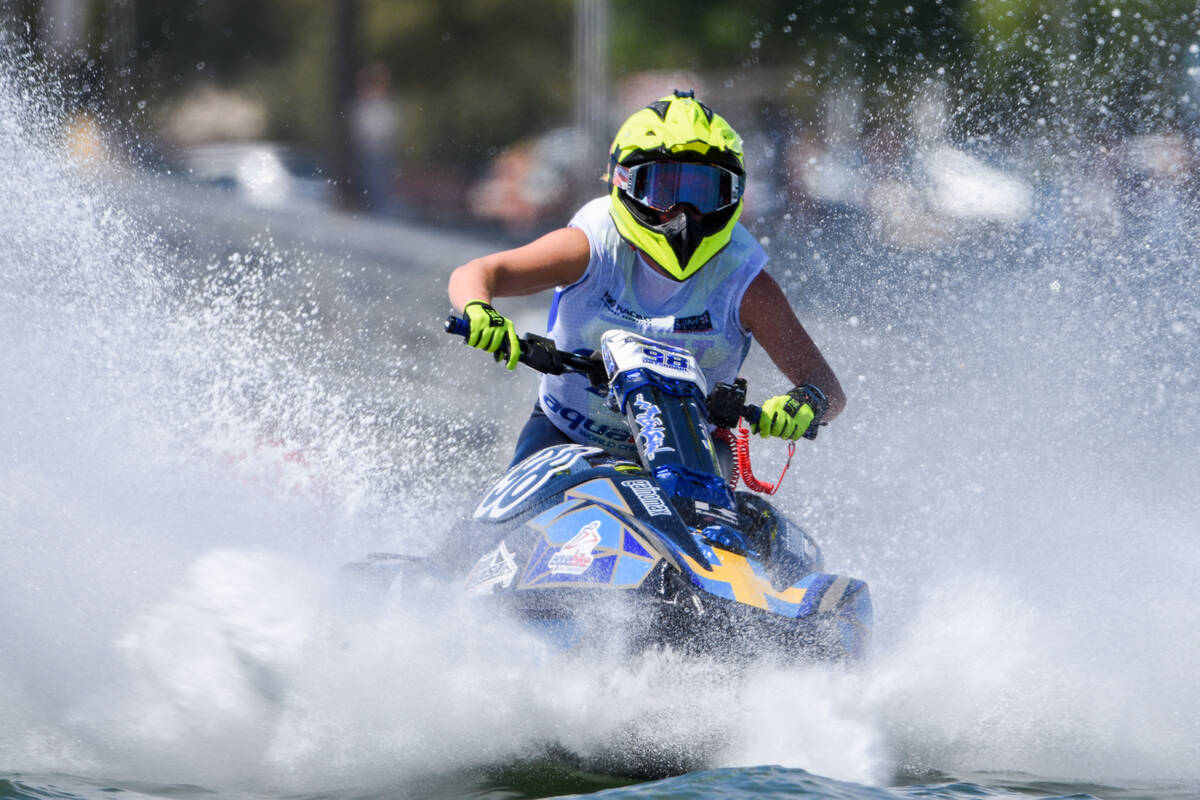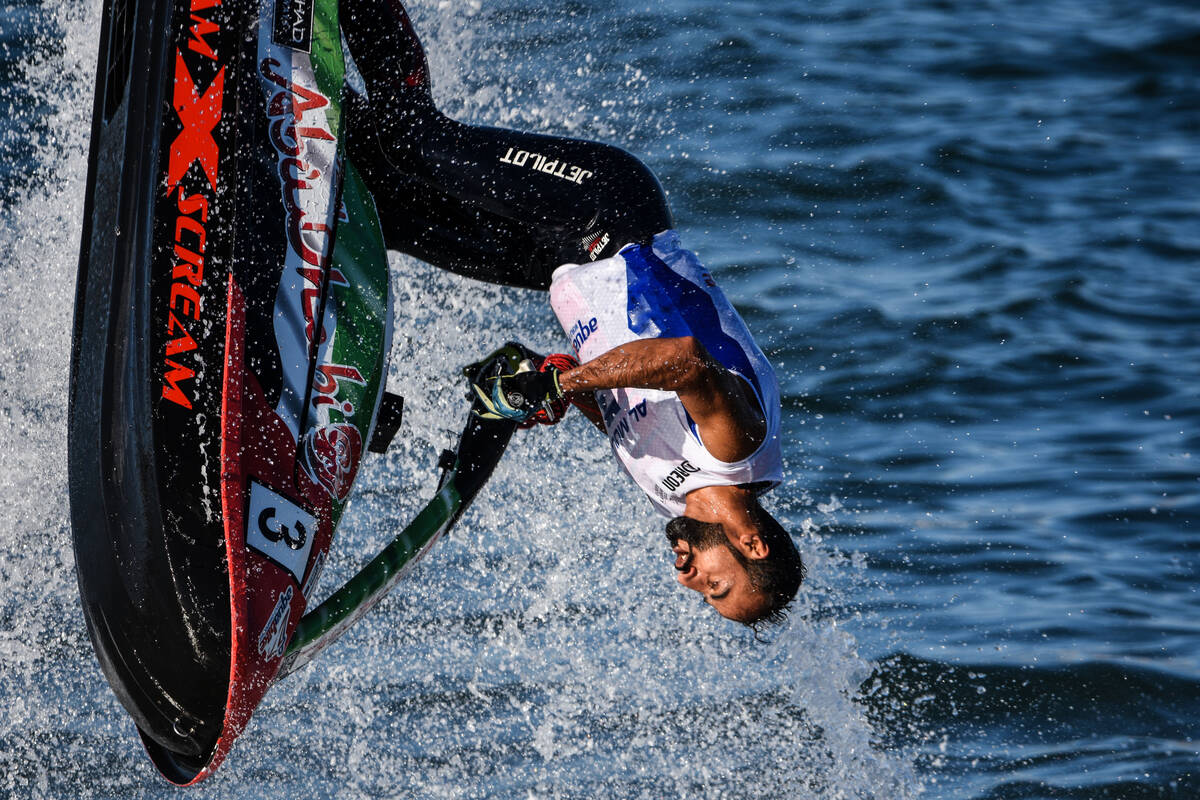 11 May 2019
WORLD CHAMPION JEREMY PEREZ WINS DRAMATIC FIRST MOTO IN RUNABOUT GP1
*Reiterer and Ortendahl grab two wins apiece and in control in Ski GP1 heading into decider
Saturday, 11 May, PORTIMAO (Portugal): World Champion Jeremy Perez made the perfect start to his title defence, coming from behind to take a brilliant win in a dramatic first Moto in Runabout GP1 at the Grand Prix of Portugal, the opening round of the UIM-ABP Aquabike World Championship.
Second place went to the early race leader Rashed Al Tayer, with the young Swedish rider Samuel Johansson producing an impressive performance in third.
There was drama immediately with the start aborted twice as a handful of riders took off before the flag was raised by race marshals, with Danish rider Jan Jensen's afternoon coming to a premature end after being involved in a collision during the second restart.
At the third attempt the Moto finally got underway and it was Al Tayer who got the better start, coming from P4 to overhaul pole–sitter Yousef Al Abdulrazzaq, Perez and Johansson.
On lap 4 Abdulrazzaq hit trouble and started to drop back with mechanical issues, his afternoon ending in 17th place, with Al Tayer maintaining a frantic pace at the front and opening out a 14 second lead by lap 14 when Perez started to make his charge and gradually haul him in, his lead cut to under a second by lap 12 with the champion hitting the front a lap later.
Perez was immediately able to pull away, completing the 15 laps to take the win by 4.33s. "It was crazy at the start and I got blocked a bit dropping a place to third and decided to stay within touch of Yousef until he had a problem," Perez said. "I thought Al Tayer might tire and in the middle of the race I started to push and was able to close the gap and then get past. It's a good start for me and I want to win tomorrow but it is a long championship so we see how it goes."
Despite losing out on the win Al Tayer was okay with second, though admitted to being surprised by Perez as he closed him down. "I made a great start and could see that I had built a good lead and eased off a bit and then suddenly towards the end he was right there with me. I tried to respond and push but I got caught out in traffic and he took advantage."
Johansson's third place and qualifying third was an impressive marker by the 17-year-old in his first full season on the UIM-ABP tour. "It was great to be up there and I look forward to tomorrow," he said. "It was a bit of a lonely race because Perez and Al Tayer were too quick and long gone and with a big gap to the rider behind me I was happy to take it easy and save the engine".
Poland's Andrzej Wisniewski made up places immediately, moving up from seventh to fifth at the start and into fourth on lap 5 and was able to hold off a late charge from Portugal's Christophe Agostinho, with Marcus Jorgensen completing a remarkable charge from the back of the 22 rider line-up to finish sixth, newcomer Andrea Dominguez picking up her first championship points in 15th.
Two standout performances in today's two Motos in Ski GP1 puts Kevin Reiterer and Emma-Nellie Ortendahl firmly in control heading into tomorrow's decider, both riders starting from pole and easing to two wins apiece and an eight point advantage.
Reiterer was in a class of his own of the 20 rider turnout, winning the first Moto by 59.29s from an impressive run by Daniel Svae Anderssen and Gabor Szabo and the second by over a minute from Axel Courtois with Andersson again producing a strong performance to end the day in second overall ahead of Courtois. "It's great after a couple of years to finally have a Ski that I feel totally at ease with and racing it is just so natural," said Reiterer. "Tomorrow I will go out there and try to do the same again. We are always improving, always testing different things and we want to get better and push the sport."
Ortendahl's performances over both Motos was equally as dominant, cruising to victory in the first by over 30 seconds from Jonna Borgstrom and Yasmiin Ypraus with the ever improving Sofie Borgstrom fourth and by 20 seconds from Ypraus, Estelle Poret and Jonna Borgstrom in the second. "I had to make up for the start with my riding because my Ski is not the quickest in terms of acceleration but once I got ahead I felt really in control," said Ortendahl. "Tomorrow is another day and you cannot assume anything. I will have to push. The standard is really high and there are several riders who are easily capable of challenging me for the win."
In Freestyle Rashed Al Mullas's brilliance and dominance continued scoring 94 points out of 100 for his array of tricks, out-scoring his rivals for variety and style, with Roberto Mariani in second place and edging out Jaroslav Tirner by one point, 81 to 80.