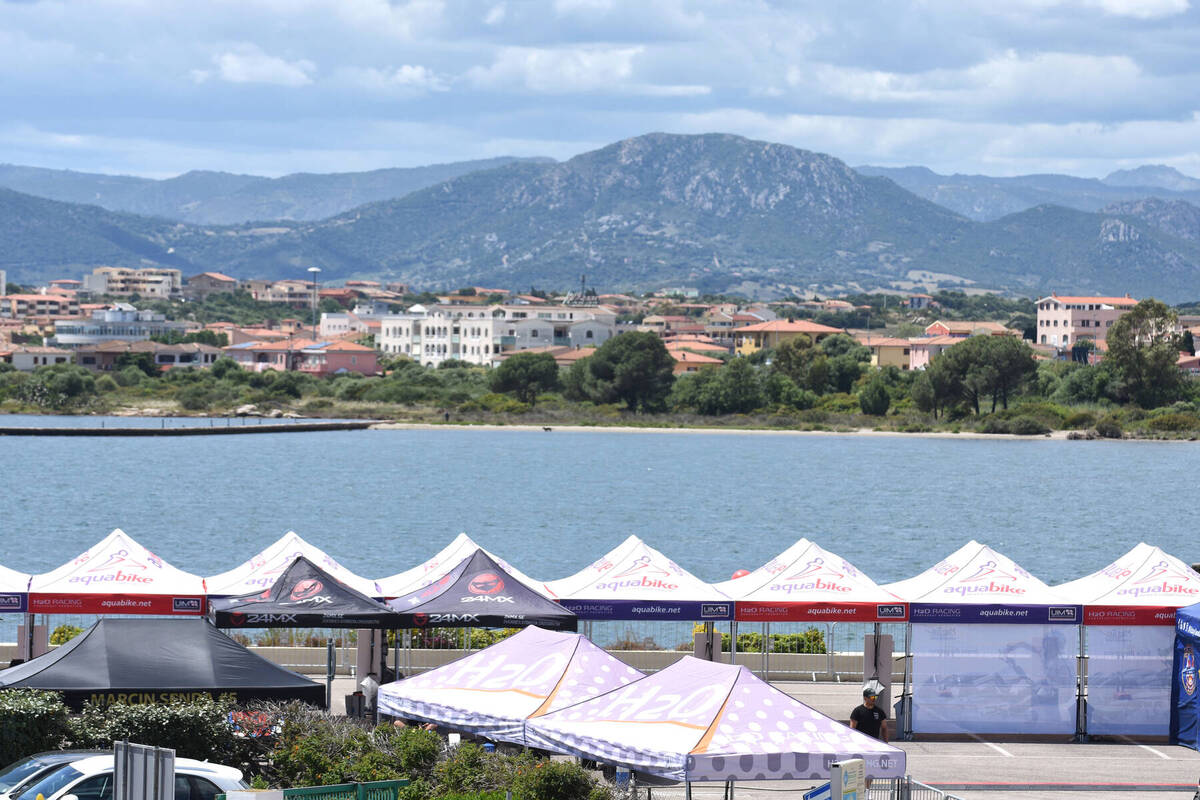 16 September 2021
EXPECTATIONS HIGH FOR SPECTACULAR SEASON OPENER IN OLBIA
Thursday, 16 September, Olbia (Italy): The eagerly anticipated start to the 2021 UIM-ABP Aquabike Class Pro World Championship launches in Olbia, Italy this weekend [17-19 September] for the Regione Sardegna-Grand Prix of Italy.
Expectations are running high for a spectacular season with competitors and organisers looking to start out with the same high octane action and levels of intensity that rounded out 2019 so spectacularly.
Heading up the line ups in Olbia is a trio of riders setting out on the road to defend their world titles; Kuwait's Yousef Al Abdulrazzaq in Runabout, Austria's Stian Schjetlein in Ski division and UAE's Rashid Al Mulla in Freestyle.
All of them won the championship in the only Grand Prix disputaded in 2020 before the forced stop, Grand Prix of Kuwait and they will be the target for a raft of riders, amongst those lining up alongside the Kuwaiti is the four-time UIM World Champion Jeremy Perez who is a star in Sardinia being married to the "local" driver Marta Sorrentino.
Also looking to be in the mix in Olbia are Poland's first World Ranking Andrzej Wisniewski, the 2021 European Champion Denmark's Rasmus Koch Hansen and Hungary's Marcus Jorgensen.
Italian interest will focus on 2011 World Champion Mattia Fracasso and former European and Italian Champion Lorenzo Benaglia.
In Ski the competition will be equally fierce and, together with Stian Schjetlein, the three-time World Champion Hungary's Kevin Reiterer will be the man with the target on his back after making a massive impact, dominating the class and winning 2021 European Championship title. Gunning for the two will be, among the others, Hungary's Barnababas Szabo , Spain's Nacho Armillas and Norway's Daniel Svae Andersen with Italian Andrea Guidi running in his home country.
As fierce will be the fight for top spot in the Ladies division which, even if without the 2020 World Champion France's Jessica Chavanne who will still be on line-up in GP2, rolls out one of its strongest fields of recent European season.
Swedish European Champion and number 1 World Ranking Emma-Nellie Ortendahl is eager to get back her world "crown" with her fellow country woman Joanna Borgstrom, who narrow missed the European Title, looking for revenge.
Younger sister Sofie Borgstrom is another likely to be amongst the front runners trying to steal the title together with Estonia's Jasmin Ypraus and Monaco's Lisa Caussin Battaglia.
In the upside down rather unique world of the Freestylers the exciting three-time World Champion Rashed Al Mulla from the UAE is the "man to beat". Facing his again this year is the ever-present and very colourful Italian Roberto Mariani, defending European Champion with Portugal's Paulo Nunes and Italy's Alberto Camerlengo completing the line-up.
Ski GP2 , GP3, Runabout GP2, GP4 and the new entry class in UIM World Championship Runabout GP4 Ladies complete the categories of Regione Sardegna - Grand Prix of Italy.
RACING CATEGORIES
Ski Division GP1, 2, 3
Ski Ladies GP1
Runabout GP1, 2, 4
Runabout GP4 Ladies
Freestyle