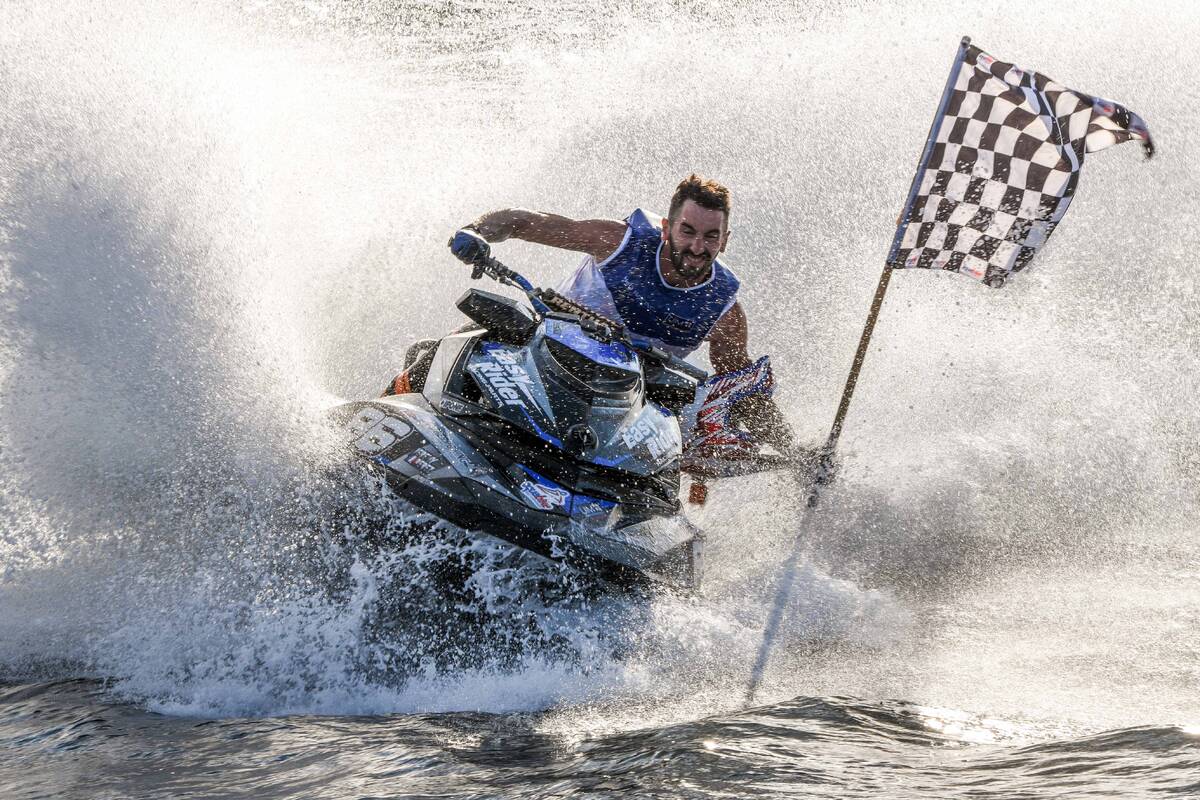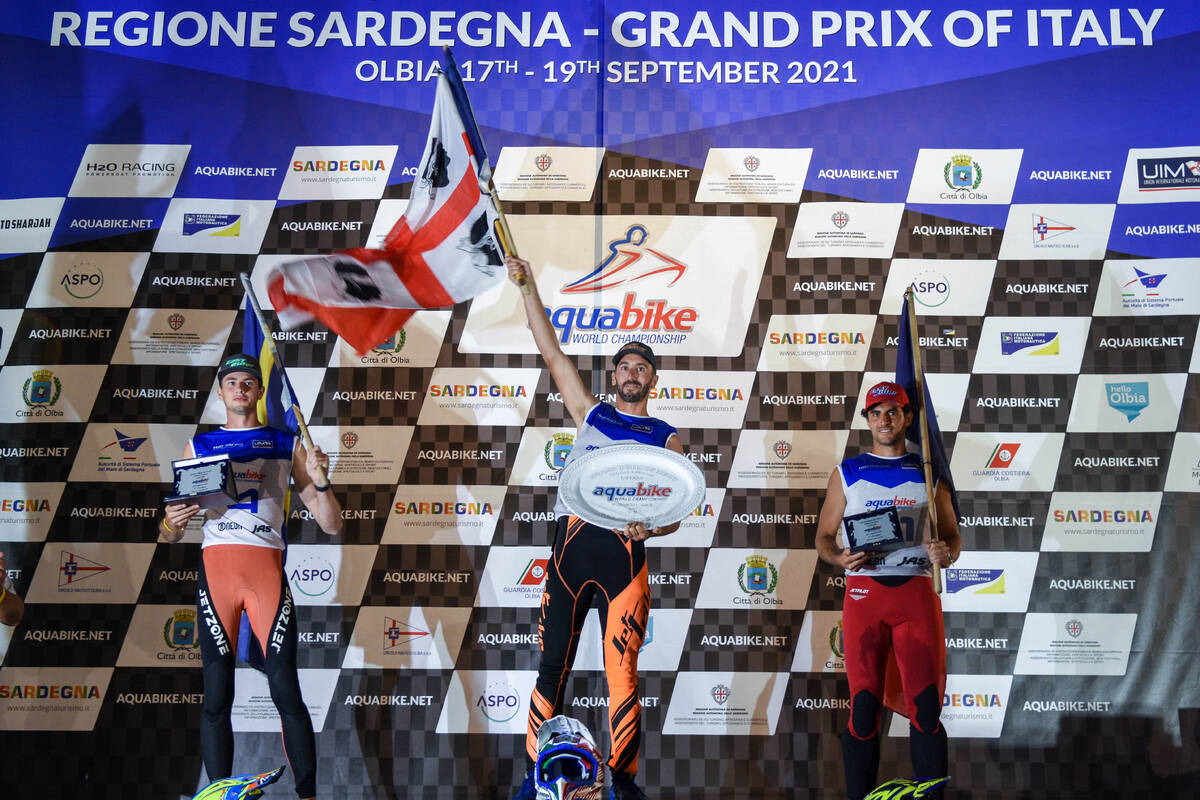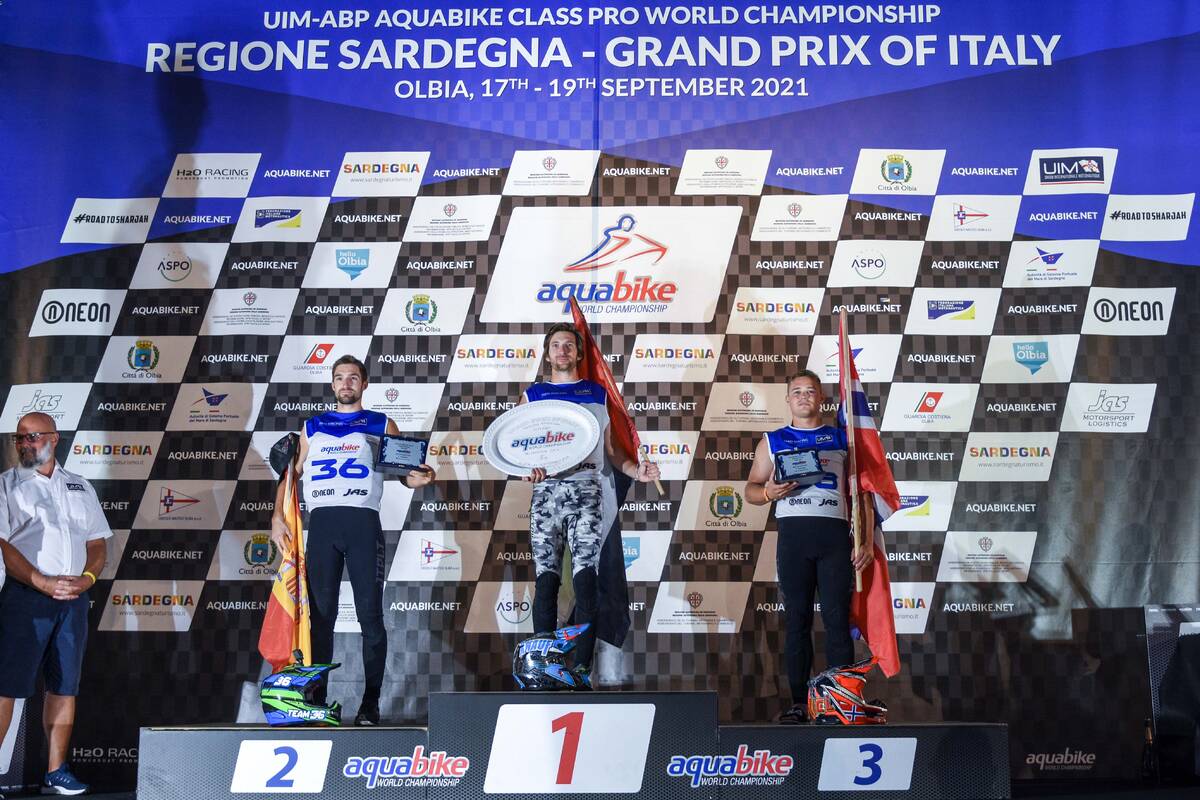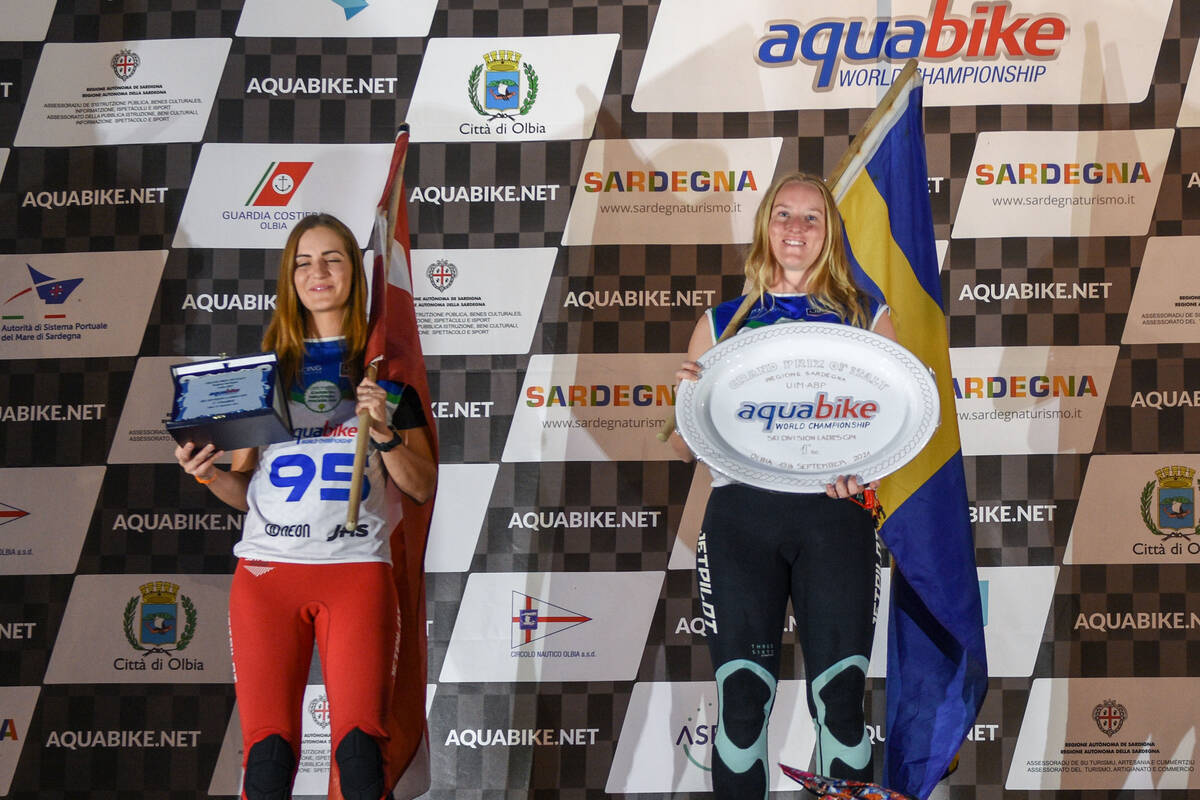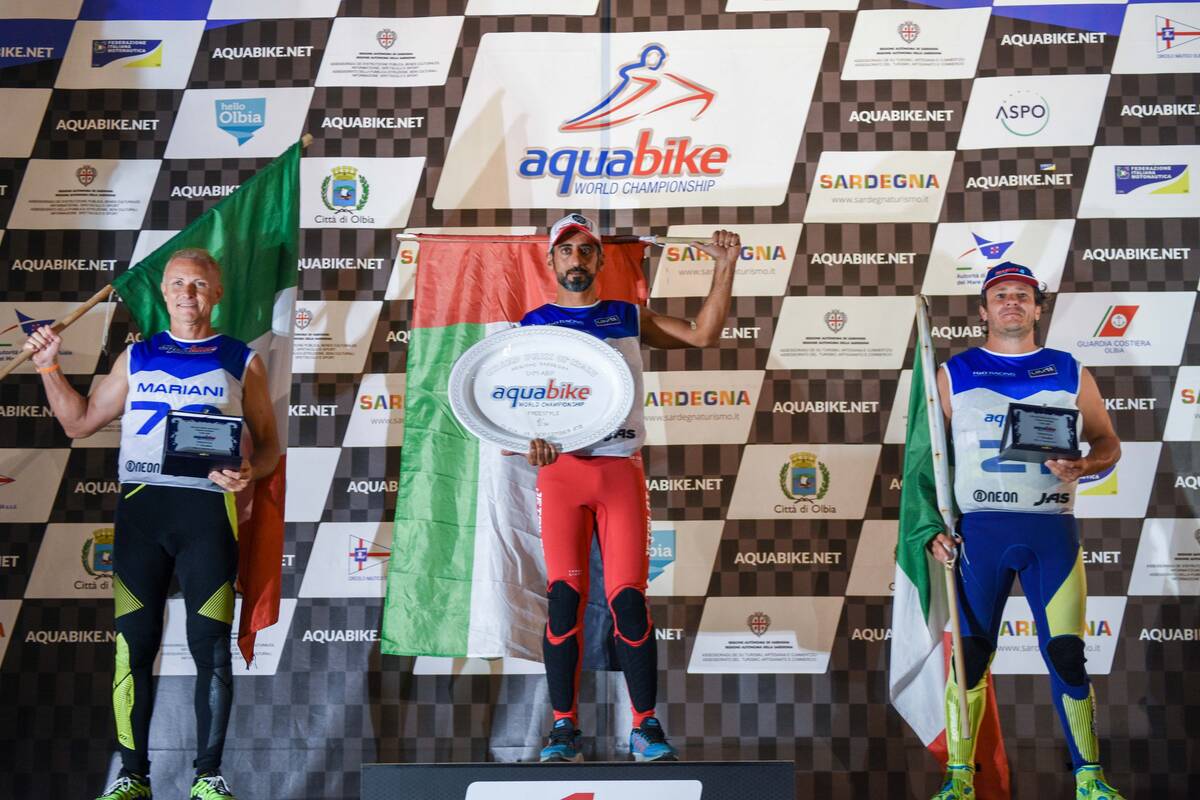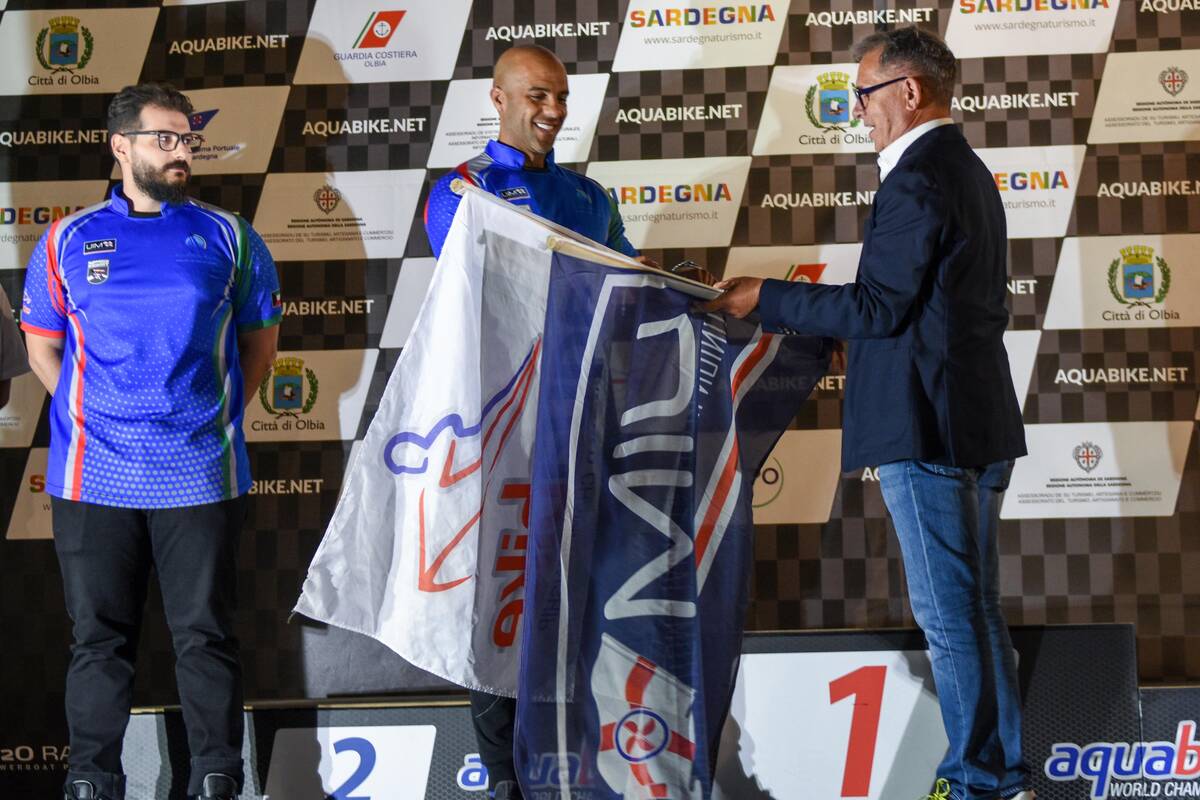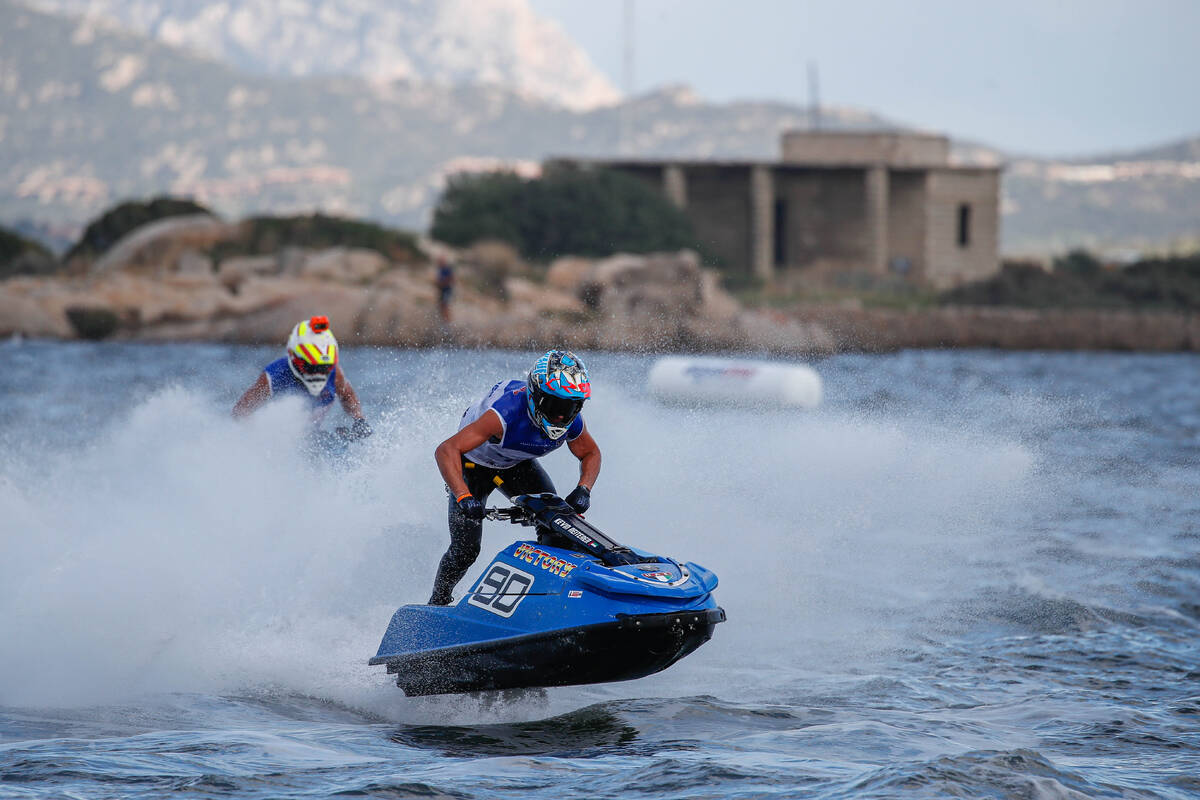 19 September 2021
GRAND PRIX WIN FOR JEREMY PEREZ
*Reiterer pulls a hat trick- Jonna jumps on the lead
Sunday, 19 September, Olbia (Italy): Jeremy Perez rounded out a thrilling and incident-filled day of racing at the UIM-ABP Aquabike Regione Sardegna-Grand Prix of Italy in Olbia, cruising to victory in today's last Moto in Runabout GP1 to kick-start his season and put himself back in the title race.
Second place went to UIM-ABP tour rookie Samuel Johansson producing a good performance with France's Francois Medori coming home in third place.
Defending World Champion Kuwaiti Yousef Al Abdulrazzak suffered a blow to his campaign after being forced to retire on lap 8 for technical problems as well as Marcus Jorgensen on lap 13.
"I am very happy to win in Sardinia again: this is my second home. I didn't expect it before the race. I am happy also for my team" said Perez who went on the podium with the Sardinia's flag together with the France's one.
Fourth place went to Lino Araujo with Italy's Lorenzo benaglia in fifth.
In Ski GP1 Kevin Reiterer rounded out his weekend serving up another master class to seal his Grand Prix victoriy, carding the perfect scorecard, following up pole positions with three Moto wins apiece and maximum points.
Reiterer was unfazed by the rougher conditions and was in command from the start building his now customary lead lap-by-lap and going on to complete the 9 lap Moto to win by 46.41s. "I like conditions like this some waves and a lot of wind which makes it more interesting and makes the riders' job, his skill more important".
Nacho Armillas completed his great weekend on the UIM-ABP tour with another second place to seal his first podium and the runners-up slot, with Daniel Svae Andersen onto the third step of the podium.
In the Ladies division it was all about Sweden with Emma-Nellie Ortendahl chasing a fourth successive world crown this season, and the defending Ski Ladies GP1 champion looked set for a victory in today's third and final moto.
But the Swedish star ended up in the water after a collision with Jasmiin Ypraus on the eighth of ten laps.
The Estonian rider ended first in Moto 3 with Jonna Borgstrom, making light work of the conditions and maintaining a strong pace throughout to run out a second place what gave her the overal victory in Ski Ladies division with Latvia Krista Uzare second and Emma-Nellie Ortendahl coming home in third to complete the podium and making it a double celebration for Sweden.
Podium in Ski GP2 for Mattias Reinaas ( who was also leader in Ski GP3) with Italy's Matteo Benini, with a great perfomance in Moto3, taking the second place and another italian Daniele Piscaglia completing the championship podium.
Mattias Reinaas led from start-to-finish to take his second win of the weekend in Ski GP3 winning the world title at the UIM-APB Aquabike Regione Sardegna- Grand Prix of Italy in style.
The estonian rider dominated from the start completing the nine laps to win by 0.05s over Norway's Dag Martin Drange.
Third place in today's Moto was good enough to keep the 17 years old Norway's Theodor Liseth in the runners-up spot, taking the final step on the championship podium.
In Freestyle Rashed Al Mulla's relentless superiority of tricks continued as he extended his Grand Prix winning streak, topping the points for variety and style and carding 94 out of 100, Roberto Mariani finishing second and taking second overall ahead of with other italian Alberto Camerlengo in third position.
Mattias Siimann clinched the Runabout GP2 world title after finishing first in today's third and deciding Moto with Spain Molina Miranda who was second at the chequered flag and keeping Poland's Marcin Senda behind him in third.
In Runabout GP4 Moto 3 Mattias Siiman with the second winning of the weekend successfully defends his world title winning the Grand Prix and his second podium of the weekend.
Spaniard Juan Carlos Palau , second in Moto 3, take the second place of the podium with his fellow countryman Alejandro Pratz Palau.
The french rider Clara Muchembled was the undisputed leader in Runabout GP4 ladies winning the 3 Motos and conquering the Grand Prix title. Spain's Cristina Lazarraga finished in second to take second overall with Anna Jachimek completing the championship podium.
The Aquabike flag now goes to Kuwait for the next Grand Prix of Kuwait in November.