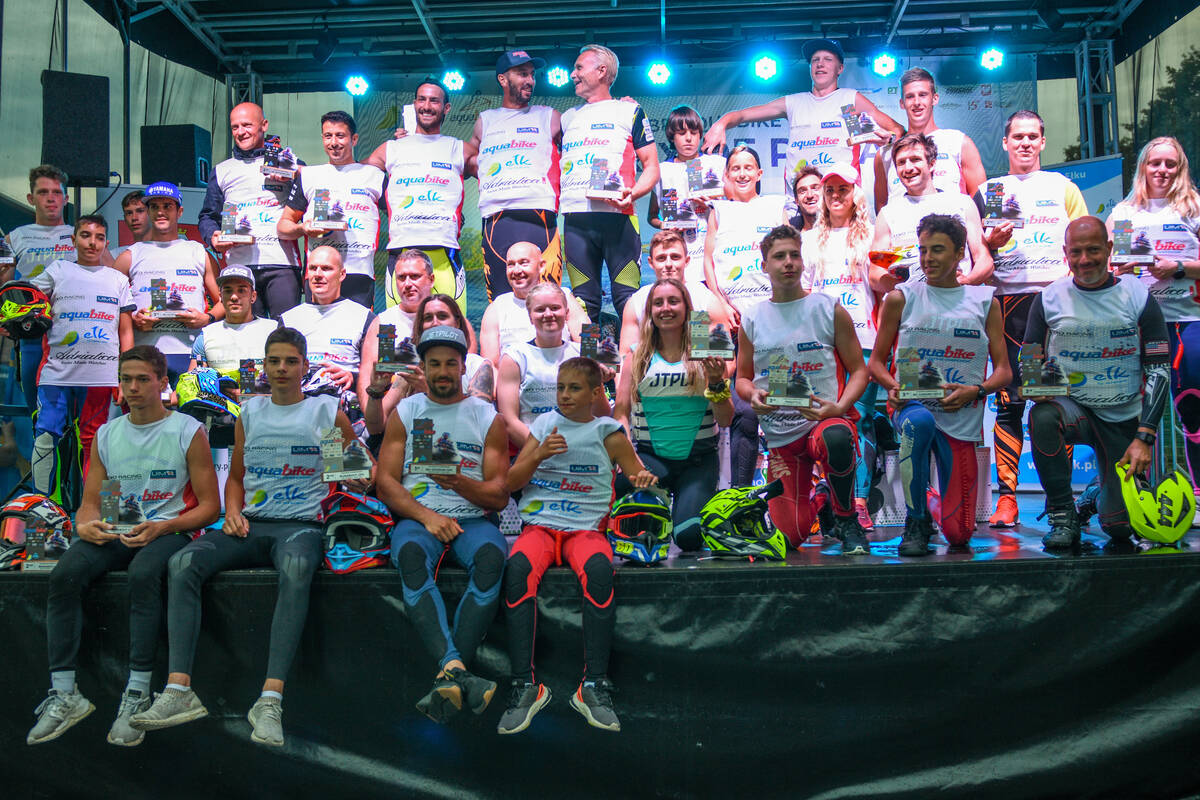 05 July 2021
PODIUMS PLACES DECIDED IN THRILLING FINAL DAY IN ELK
Monday, 5 July, Elk (Poland): A thrilling final day at the Grand Prix of Poland in Elk, the opening round of the UIM-ABP Aquabike European Championship produced some standout performances to decide the podium places.
In Runabout GP1 France's Jeremy Perez once again stamped his authority over the rivals to claim victory while a commanding final performance in Moto 2 and 3 of "home eroe", Andrzei Wisniewski leapfrogged the Polish rider from seventh to start onto the second step of the podium 2 points ahead of Rasmus Koch Hansen, with defending Champion Marcus Jorgensen only fourth.
Kevin Reiterer was the standout rider of the weekend in SKI GP1 cruising to his second win of the day (after a second place in Moto 1) and taking overall victory from Marten Manni with Spain's Nacho Armillas in the final podium place.
Podium completely Swedish in SKI Ladies GP1: Emma-Nellie Ortendahl rounded off the perfect start to the defence of the first position finishing 07.22s ahead of Jonna Borgstrom with younger Borgostrom's sister, Sofia, in third.
In SKI GP2 Matias Reinaas dominated winning all three Motos to take GP honours but it was also Andrea Guidi's consistency over the 3 Motos that earned the Italian the second place.
One more success for Hungarian rider Barnabas Szabo sealing overall victory with his second win of the weekend in SKI GP3.
Juniors Hungarian Csongor Jaszai and defending champion Estonian Ander-Hubert Lauri both claimed their third victory in the Grand Prix in the final Moto putting respectively on the top step of the podium of SKI JUNIOR GP3.3 and GP3.2.
First place in Moto 3 sealed the overal top spot in Runabout GP2 to Estonia's Mattias Siimann taking overall victory from Hungarian Gergerly Harsfalvi and Estonia's Valeri Trujevtsev with another Estonian Erki Laiakask winner in Runabout Veterans.
Standout performance and double victory for Spanish rider Cristina Lazarraga: first place in Runabout Women GP4 and firstplace in Runabout GP4.
European Champion Roberto Mariani sealed the overall Grand Prix victory in Freestyle winning all Motos with fellow countryman Massimo Accumulo taking the runners-up spot from Portuguese Matteo Valente.
The second round of the UIM-ABP Aquabike European Championship takes place in Nyiregyhaza-Levelek in Hungary on 15-18 July with the UIM-ABP tour heading soon to Italy , in the iconic island of Sardinia, for the opening round of the UIM-ABP Aquabike World Championship on the 3-5 September in Olbia.