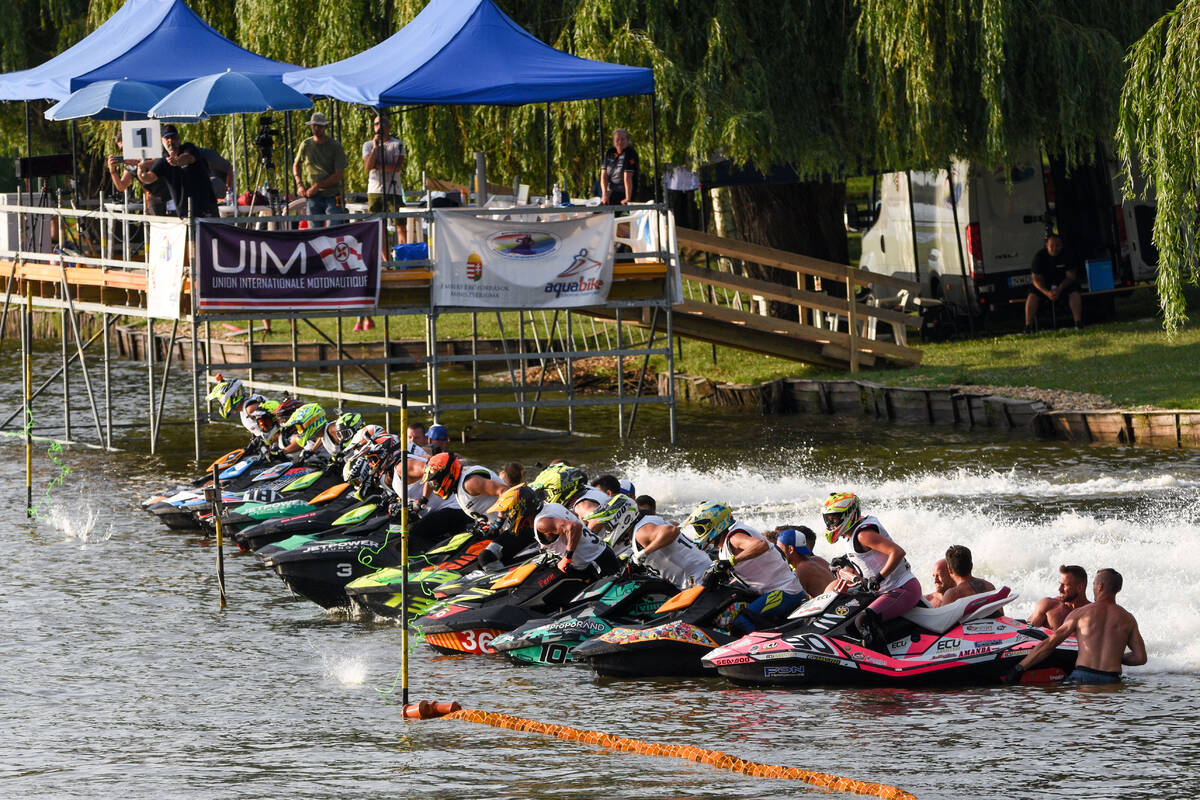 17 July 2021
POLE FOR S. JOHANSONN, REITERER AND J.BORGSTROM
*Ski GP3 Juniors fight for World and European titles
Saturday, 17 July, Nyiregyhaza-Levelek (Hungary): More than 100 riders will battle it out over the next two days at the UIM-ABP Aquabike European Championship Grand Prix of Hungary in Nyiregyhaza-Levelek, with titles up for grabs in Runabout GP1, 2 & 4, Runabout GP4 Ladies, Ski GP1, GP2, GP3, Ski GP1 Ladies, Ski Veterans, Freestyle and Ski Juniors who will also be fighting for the world title.
Swedish Samuel Johansonn topped the times sheets in Runabout GP1 with a best lap of 1:42.53, outpacing Hungary's Marcus Jorgensen by 0.43s with danish Rasmus Koch Hansen taking the third place.
In Ski GP1 Kevin Reiterer kicked-off his weekend posting the fastest time in yesterday's pole position, outpacing Swiss Alec Enderli by 1.39s, with Czech Lukas Binar third quickest.
In the Ladies division Swedish speedster Jonna Borgstrom was 2.59 seconds fastest than points leader Emma-Nellie Ortendahl with France's Estelle Poret third quickest. Estonian Jasmin Ypraus, second best time, was disqualified for running in the wrong direction.
Estonian Mattias Reinaas, estonian Mattias Siimann and spanish Cristina Lazarraga all confirmed their leadership in the respective categories: Ski Gp2, Runabout GP2 and Runabout Ladies GP4 taking the pole position, with Hungary's Zsolt Cseke fastest in Runabout Veterans.
Moto 1 for 4 categories followed pole position late in the afternoon.
During pole position Ski GP3 Norway's Dag Martin Drange posted a best lap to snatch pole from overall points' leader Barnabas Zsabo who was anyway the fastest in Moto 1, almost 8 seconds faster than same Norvegian rider.
Hungary's Marcell Major is the winner of Moto 1 in Runabout GP4 Moto 1 with Ander-Hubert Lauri and Csongor Jaszai confirming their leadership with the first place in Moto 1 in Ski Junior GP3.2 and 3.3.