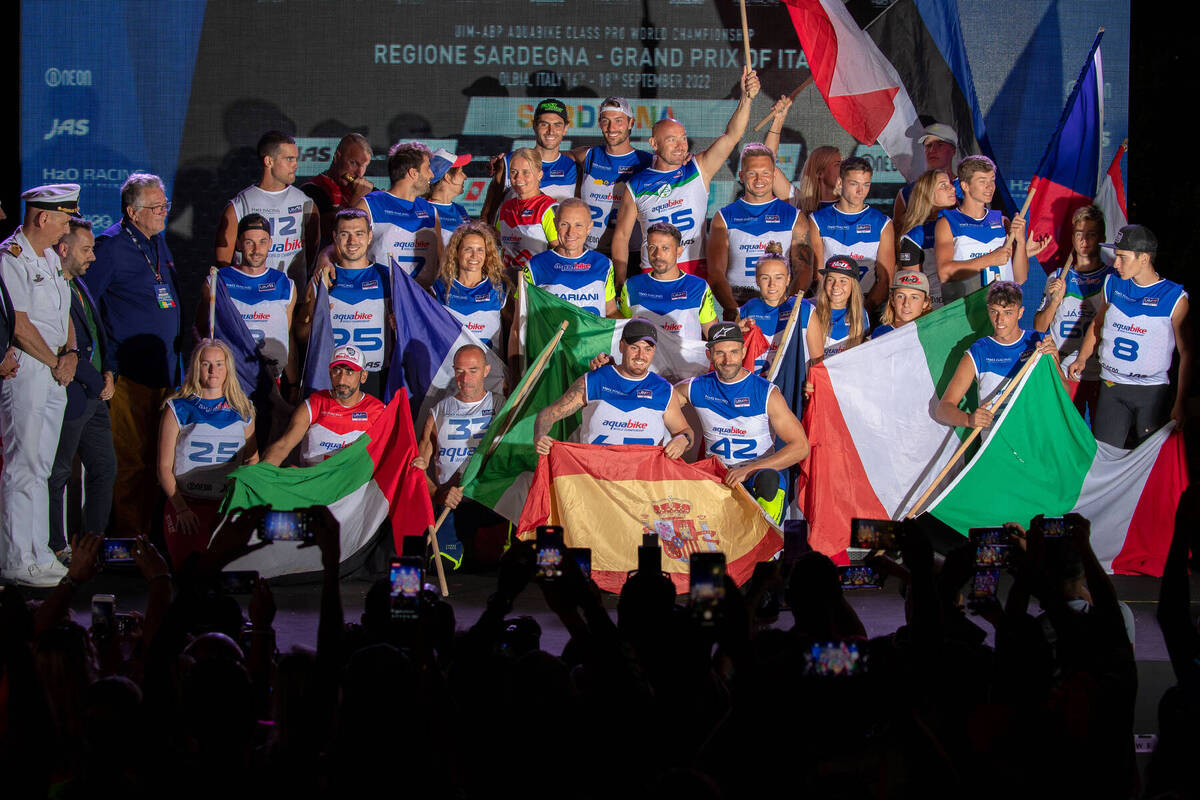 19 October 2022
AQUABIKE WORLD CHAMPIONS CAN REFLECT ON ANOTHER EXCITING SEASON
Wednesday, October 19: With another thrilling season of UIM-ABP Aquabike World Championship racing now drawing to a close, competitors will be waiting anxiously for forthcoming news about the international calendar for 2023.
Meanwhile, the newly-crowned World Champions in the various categories can look back on a successful season of thrilling racing that took many of them to the Spanish island of Ibiza in mid-May and on to a finale at Olbia in Sardinia last month, with Hungary hosting three junior races at the start of September
World number four Marcus Jorgensen topped the Runabout GP1 standings and won the world title by 12 points on the back of two maximum points' scores in Ibiza and second and third places at the two Olbia races. The experienced French duo of François Medori and Jeremy Poret were his closest challengers in a season where the talented Kuwaiti Yousef Al-Abdulrazzaq finished a close fourth and Spain's Alejandro Molina rounded off the top five.
Valentin Dardillat earned Ski Division GP1 success by five points from fellow Frenchman and world number one Axel Courtois. Dardillat was consistent over the six points-scoring rounds, the highlight being maximum points in Moto 2 at the Grand Prix of Italy. Morgan Poret finished third and earned a win and a second place in Moto 1 and 2 in Sardinia.
Estonia is becoming one of the most active countries in the sport and world number one Jasmiin Ypraus claimed victory in each of the three Ibiza races and a first, second and third in Sardinia to comfortably clinch the Ski Ladies GP1 title. French racer Jessica Chavanne finished 22 points adrift in second and Sweden's Jonna Borgström was third.
Abu Dhabi racer Rashid Al-Mulla was again the class of the Freestyle field and his spectacular control and aerobatics was rewarded with a clean sweep of four victories in Ibiza and Sardinia and a maximum 100 points. The Italian duo of Roberto Mariani and Alberto Camerlengo were the Emirati's closest challengers.
Three maximum scores enabled Portugal's Gonçalo Oliveira Rodrigues to fend off challenges from Italy's Andrea Guidi and Estonian Mattias Reinass to clinch the Ski Division GP2 title. Reinass exacted revenge to top the standings in Ski Division GP3, with his Portuguese rival in second and Hungary's Csongor Jászai finishing third. He also beat Italy's Lino Brusadin to the Ski Division GP4 title.
Three Hungarian races at Levelek decided the outcome of the Ski Junior GP3.3 category. Estonian rookie Ander Hubert Lauri won Moto 1 and Moto 3 and finished second in Moto 2 to amass 70 points and finish five clear of local rider Lajos Komonyi. Csongor Jászai was third.
Ski Junior GP3.2 was also fought out at Levelek and Hungarian riders shone through with Zeko Puskás winning all three Motos to earn 75 points and beat fellow countryman Marvin Bohuslav. Emirati Suuod Al-Awadhi finished third.
Estonia was on the top step of the podium again in Runabout GP2 with Mattias Siimann winning five of the six Motos to top the group by 24 points from Sweden's Linus Lindberg. Spain's Ruben Jimenez Riquelme and Ismael Rojas Garcia were tied on 111 points, with the former securing third on countback. Siimann also claimed the Runabout GT4 title from Czech rider Petr Dryjak and Italy's Davide Pontecorvo.
Two wins, a pair of second places and two thirds were sufficient for Italian Naomi Benini to win the Runabout GT4 Ladies title. France's Clara Muchembled and Czech Nikola Dryjakova were separated by just two points in second and third.