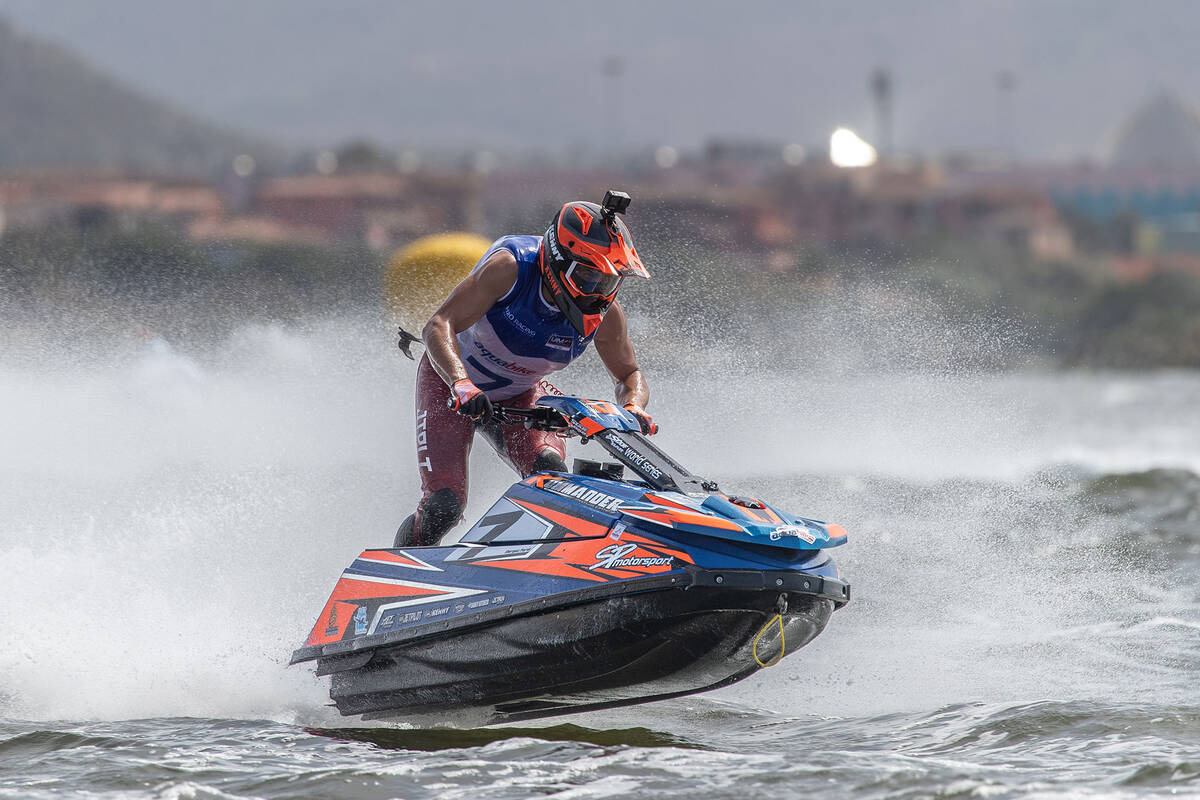 17 September 2022
HIGH WINDS ADD CHALLENGE TO A TIGHT POINTS WORLD COMPETITION
Podiums for the Benini and Poret siblings
Saturday, 17 September OLBIA (Italy): A strong wind welcomed this morning the riders of the UIM ABP Regione Sardegna – Grand Prix of Italy in the waters of Molo Brin in Olbia.
But the aquabike riders enjoy wind and big wawes and fun is guaranteed!
It was all about "french speaking riders" the first Moto in Ski Division GP1 with Morgan Poret coming from fourth to take the chequered flag in first position 3.89 faster than pole sitter Belgium's Anthony Beernaut with Axel Courtois confirming his third position of the Pole.
Valentin Dardillat improved from the sixth position in Pole to fourth with older Poret brother, Mikael finishing fifth. Usa's James Wilson closing the top six.
In Ski Ladies GP1 Estelle Poret, fully recovered from her injury, enjoyed a perfect "late start" of her Championship after taking her first win of the year in the first Moto of the weekend at the UIM-ABP Aquabike Regione Sardegna - Grand Prix of Italy .
Second place went to defending Champion Jonna Borgstrom, with points leader and pole sitter Jasmiin Ypraus coming home third.
The race turned on lap 7 when race leader Jessica Chavanne hit a big wave and came to a sudden stop and the french rider dropping over 40 seconds with Poret taking full advantage to hit the front and going on to win by 1.80s.
Despite the big impact Chavanne kept going to take fourth spot, with Benedicte Drange coming home in fifth and Emma-Nellie Ortendahl in sixth.
Starting from 3 in Pole, Italy's Matteo Benini is enjoying a great start to the Grand Prix with a brilliant performance in the first Moto in Ski Division GP2 at the UIM-ABP Aquabike Regione Sardegna - Grand Prix of Italy to take victory by 1.95s from the Pole sitter Andrea Guidi.
Defending champion and current points' leader Mattias Reinaas finished third.
Defending Champion Mattias Siimann led from start-to-finish to win the first of today's two Motos in Runabout Gp2.
Starting from pole position the estonian rider made a perfect start and extended his lead lap-by-lap to run out a comfortable winner by 17.98s from Spain's Ismael Rojas who improved by 2 steps his position in Pole.
Great performance of Poland's Marcin Senda who, after starting eleventh, finished third.
Sweden's Linus Lindberg took fourth place ahead of the 2 italians Pierpaolo Terreo and Giuseppe Greco, fifth and sixth.
Alessandro Fracasso dominated Moto 1 in Runabout GP4 winning the opening moto of the day with ease.
The Italian rider was both master and commander, leading the field of 20 from pole position and stretching his lead lap-by-lap and going on to take the chequered flag on lap 9 to win by 13.92s from Portugal Adrian Albuera Cobos in second place.
Defending champion Mattias Siimann lost the second place he had in the Pole and came home third with a gap of 16.42s from the winner.
Petr Dryjak made up ground from fifth spot to finish in fourth ahead of Davide Pontecorvo, with Alejandro Prats Palau rounding out the top six.
It is a battle for the title in Runabout GP4 ladies: the pole sitter Naomi Benini simply outclassed the field of 9 to take her second win of the season in the opening Moto at the UIM-ABP Aquabike Regione Sardegna - Grand Prix of Italy. She made a blistering start from pole to run out a winner by 23.91s from Estonian Annemarie Randla.
Points leader Nikola Dryjakova lost ground after starting from P2 and despite pushing hard she had no answer to the exceptional pace of her main rival and was third and she has now 4 points less than the italian rider.
In the last session of yesterday evening, Portugal's Goncalo Rodrigues eased to victory in the first Moto in Ski GP3 going to take the chequered flag and win by 1.18s over the Pole sitter Mattias Reinaas with Hungary Csongor Jaszai in third.
Moto 1 win for Reinaas in Ski GP4.
For full results/classifications: https://www.aquabike.net/results