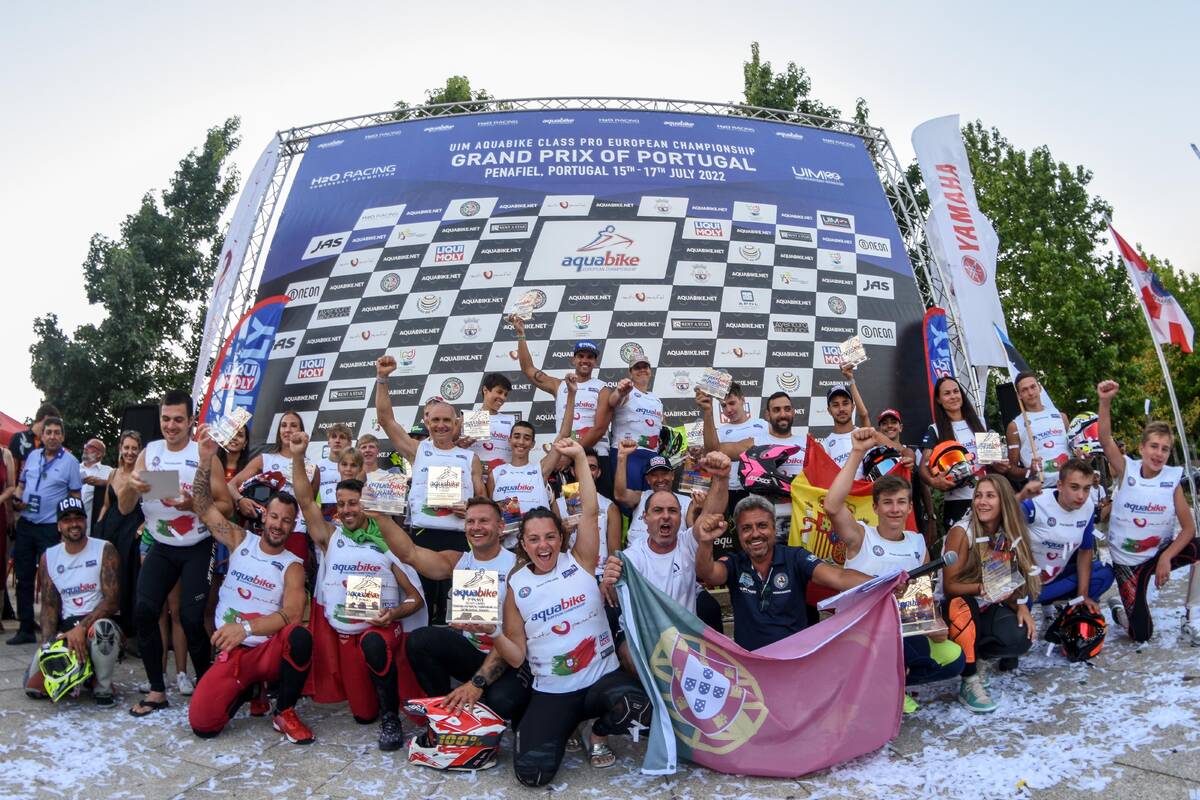 18 July 2022
PORTUGAL'S ARAUJO GRABS HOME WIN IN RUNABOUT GP1
Grand Prix titles for Courtois and Ypraus – Double podium for Rodrigues
Sunday, 17 July, Penafiel (Portugal): Lino Araujo flew the flag for Portugal with an impressive performance, leading from start-to-finish to win the third Moto in Runabout GP1 and with a perfect score the Grand Prix of Portugal in Marina Entre-os-Rios/Penafiel.
Sweden Samuel Johansson, the pole sitter of the Grand Prix, finished second with Estonia's Mattias Siimann third ahead of Patrick Agostinho and Ruben Jimenez with Andrzey Wisniewski completing the top six.
In Ski GP1 Axel Courtois made it two wins out of three to take his first title of the year and move ahead in the title race by three points from runner-up Anthony Beernaut with Mattias Reinaas joining them on the podium.
Jasmiin Ypraus was again the leader in the ladies Division and maintained her perfect record and on top in all sessions, winning the Grand Prix and the final Moto from runner-up Virginie Morlaes, with Joana Graca third overall.
With a perfect score Estonia's Mattias Siimann confimed his leadership winning, as it is always happened in the last races, both title in Runabot GP2 and GP4.
Double podium in the Grand Prix for Portugal's Goncalo Rodrigues: he won the title in Ski GP2 with a perfect score ahead by 11 ponts of his fellow countryman Matteo Valente with Estonia's Mattias Reinaas completing the podim.
In Ski GP3 three riders were tied up with 65 points but the best positions in the three Motos gave the title to Rodrigues with the other portuguese Diogo Barbosa in second spot and Mattias Reinaas third.
Second consecutive Grand Prix title for Petr Dryjakov in Runabout GP4 Juniors and Nikola Dryjakova in Runabout GP Ladies.
With due Motos win and a third place in the last one defending Champion Anders-Hubert Lauri grabbed the Grand Prix title in Ski Juniors 3.3.
The Freestyler Roberto Mariani is on track to confirm his European Title winning his second Grand Prix of the season ahead of Massimo Accumulo and Paulo Nunes.