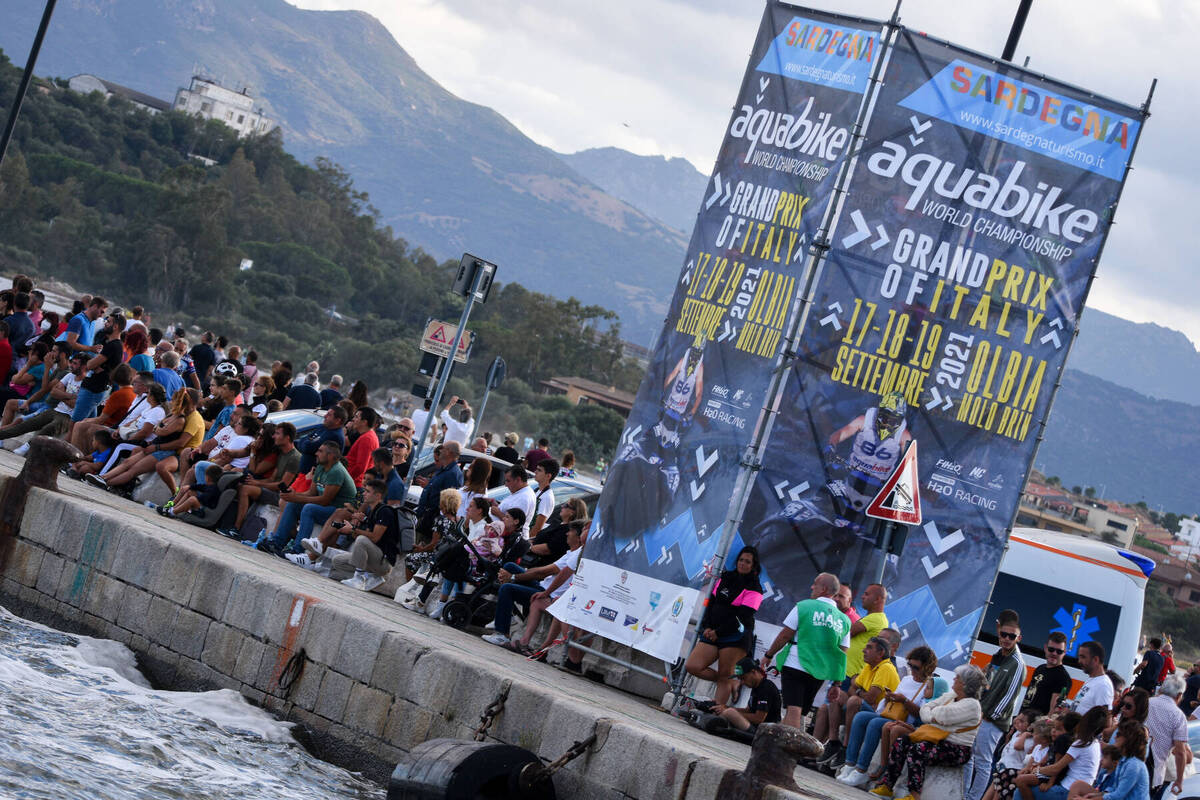 22 July 2022
REGIONE SARDEGNA - GRAND PRIX OF ITALY CONFIRMED ON 16-18 SEPTEMBER
Friday, 22 July: Aquabike Promotion is pleased to announce that the second and final round of the 2022 UIM-ABP Aquabike World Championship will be held in Olbia, Sardinia, Italy, on 16-18 September.
The event will be based at usual at Molo Brin in Olbia's harbour and is expected to attract an international line up of riders competing in all classes: Ski Gp1, GP2, GP3, Ski Ladies, Runabout GP1,GP2, GP4, GP4 Ladies and Freestyle.
But the Grand Prix of Italy will reserve a surprise this year: the first and single round of the new class of Ski Division GP4.
"It has been the most natural choice for Aquabike and UIM to launch this new category in Olbia – said Raimondo di San Germano, General Manager Aquabike Promotion- as this Grand Prix was the first one to host all the classes and to have year after year a new category added to the list, as it happened for Runabout GP4 ladies in 2021. This format of Grand Prix has become an example followed by other locations, like Ibiza for the Grand Prix of Spain in May. This is the result of the longlasting partnership and great collaboration we have with the local organizers and authorities of Olbia and Sardinia".
"We are very happy to have Aquabike World Championship back in Olbia after the great success of the past editions and after the first round of 2022 season in Ibiza – added the Mayor of Olbia, Settimo Nizzi – The fact that Balearic Islands, worldwide recognized as capital of the events, decided to copy our format is for us a reason to be proud and we are sure we will have in the future the opportunity to collaborate with the Administration of Ibiza. We really believe that Aquabike will give again a strong support to Olbia and to the the island of Sardinia in term of visibility and development of Tourism thanks to the Media return of the event all over the world and it will bring economic results due also to the great help Regione Sardegna gave us for this event.
"Like every year we are at the traditional appointment with the Aquabike World Championship in Olbia – concluded Vincenzo Iaconianni, President of FIM- Italian Powerboat Federation- and I am pleased to announce that a race of the Italian Championship of the young category Spark will take place during the Grand Prix. This is a class reserved to young riders who just embarked on this exacting powerboat speciality.
The beauty of the place and its perfect suitability to host such events, together with the ability of the organizers, will be for sure the recipe for the success of this Grand Prix of Italy".
More infos to follow.