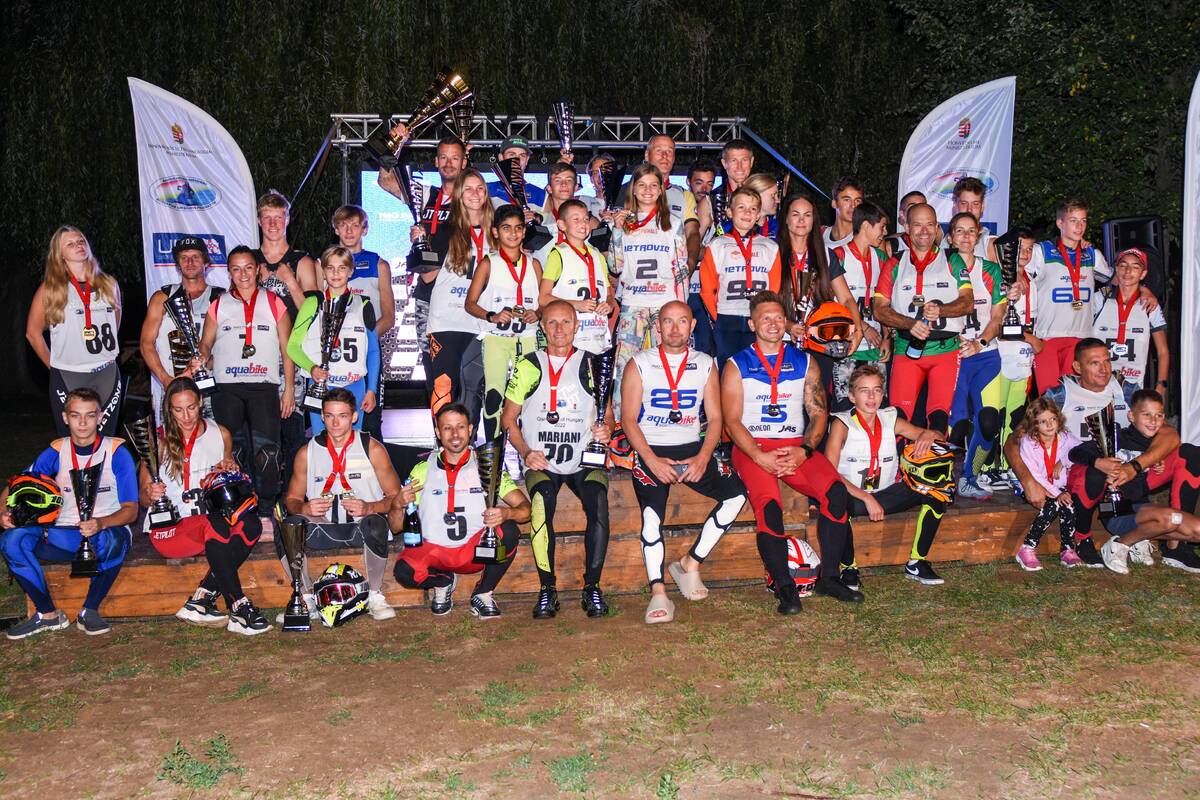 04 September 2022
SAMUEL JOHANSSON TO LIFT RUNABOUT GP1 EUROPEAN TITLE
Double title in Run GP2 and GP4 for Siimann – 2 podiums for the Drjyak siblings
Sunday, 4 September: Nyiregyhaza-Levelek (Hungary) Sweden's Samuel Johansson with 3 second place in The Grand Prix of Hungary completed a remarkable fight to win the Runabout GP1 UIM-ABP Aquabike European title in the fourth and last round of the UIM-ABP Aquabike European Continental Championship Season 2022.
The 20-year-old from Stenungsund after a great performance in qualifying and the Pole Position was lying in second place in all the 3 Motos overall following the Grand Prix winner Geotge Kaska with Andrzej Wisniewski completing the Grand Prix podium.
With 190 points he overtaked by 11 points in the Championship the polish Wisniewski with Portugal's Lino Araujo on the third step of the European podium.
Mattias Siiman capped a great series for Estonia winning the Runabout GP4 championship despite missing out on a podium slot in Hungary and finishing fourth, the Grand Prix title going to Marcel Mayor with Henri Koppas and Petr Dryjak completing the [Grand Prix] podium.
But the great score from the previous Grand Prix gave him the European title with 31 points advantage from the runner up Henry Koppas with Petr Dryjak third.
Runabout GP2 European Title confirmed for the defending Champion Mattias Siimann ahead of Poland's Marcin Senda and Lituania Jaciauskas.
"Despite some technical probles I faced in this Grand Prix- said Siimann- I am very happy to have been able to keep the title and it gives me a great satisfaction to win against riders much younger than me".
The Grand Prix title went to Sweden's Linus Lindberg with Tomas Gurksnys second and the new crowned European champion on third place.
The 19 years old Czech Nikola Dryjakova was the undisputed leader in Runabout GP4 Ladies in this Championship : taking both Grand Prix of Poland and Grand Prix of Portugal and The Grand Prix of Hungary today she is crowned new European Championship ahead of the estonian duo Ester Rosin and Carmen Roosma.
The second step of the podium in the Grand Prix was enough for Dryjakova's brother Petr Dryjak to claim the Championship title in Runabout GP4 Juniors with the winner of the Grand Prix Arti Molter finishing second and Karl Keskula on third spot.
In Runabout GP1 Veterans the European title went to Hungary Zsolt Cseke ahead of Attila Keri and Tomas Gurksnys with a mirrored Grand Prix Podium.