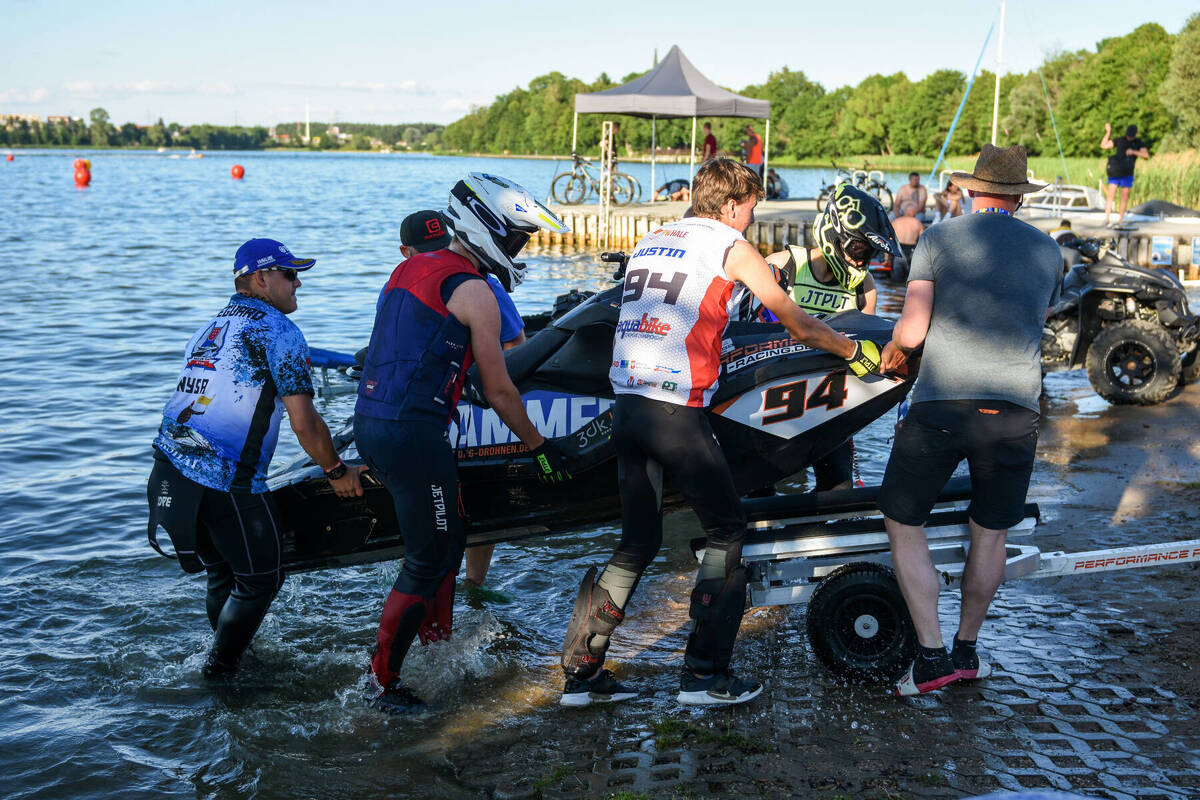 24 June 2022
SAMUEL JOHANSSON TOPS TIME SHEETS IN RUNABOUT GP1
Salonen and Ypraus on pole in Ski GP1 and Ski Ladies
Friday, 24 June, Elk (Poland): Samuel Johansson was the best of the field of 16 in Runabout GP1, topping the time sheets and qualifying on pole in the first day of the Grand Prix of Poland in Elk.
The Swedish rider's good form, he was third in the Grand Prix of Spain in Ibiza, continues being the quickest in practice and grabbing the pole with 1:17.64 from Hungary Gyorgy Kasza by 4.93s, Portugal's Lino Araujo third quickest 0.03s back.
Home rider Andrzey Wisniewski will start tomorrow's Moto 1 in sixth position.
Polish rider Konrad Wrobel was the quickest in Runabout GP2 with a best lap of 1:24.80 taking pole by 1.71s from defending Champion Mattias Siimann with his fellow countryman Marcin Senda third quickest with 1:28.64.
Defending Champion Mattias Siimann set the pace in the 15 riders strong line up in Runabout GP4 from Henry Koppas and Justin Patzner.
Best time in Runabout GP Ladies for Janina Johansson who was faster than the winner of the last Grand Prix of Spain Nikola Dryjakova with Amanda Karasek in third position.
Zsolt Cseke is the pacesetter in Runabout GP1 Veterans with Petr Dryjak quickest in the new category Runabout GP4 Juniors.
It was a mixed race in Ski Division GP1 with the riders of the category competing together with the girls of the ladies Division but with a separate final classification.
In Ski Division GP1 Finland Severi Salonen qualified comfortably in pole for Moto 1, more than two seconds quicker than Belgium Anthony Beernaut with the other finnish rider Tommy Olin third.
Estonia's Yasmiin Ypraus was the fastest in Ski ladies ahead of France's Virginie Morlaes with Swedish Janina Johansson third.
"Racing together with our collegues of Ski Division is more challenging and also means to have a more fun" – said Ypraus.
Mattias Reinaas was the quickest in Ski GP2 by a mere 1.88 s from Portugal's Matteo Valente, and he was also the pacesetter in Ski GP3 ahead of Csaba Suli and Diego Barbosa and confirmed his leadership winning Moto .
In Ski Juniors 3.2 Hungary's Marvin Bohuslav was the quickest while in Ski 3.3 Hungary's Komonyi Lajos with 1:42.06s best lap edged out former Ski Juniors 3.2 world champion Ander-Huber Lauri by just 0.04s.
Late in the afternoon Moto1 took place for same categories.
Mattias Reinaas confirmed his leadership winning Moto1 in Ski Division GP3 with the junior Marvin Bohuslav winning Ski Juniors 3.2.
Mattias Siimann won the first Moto in Runabout GP4 ahead of Alejandro Prats Palau who improved his position from Pole with young Czech Petr Dryjak, pole sitter in Runabout GP4 juniors, finishing third whilst his sister Nikola Dryjakova is the winner of Moto 1 in Runabout GP4 Ladies.
Moto 1 for all other categories will start tomorrow at 9.30 local time followed by Moto 2 from 15.00.