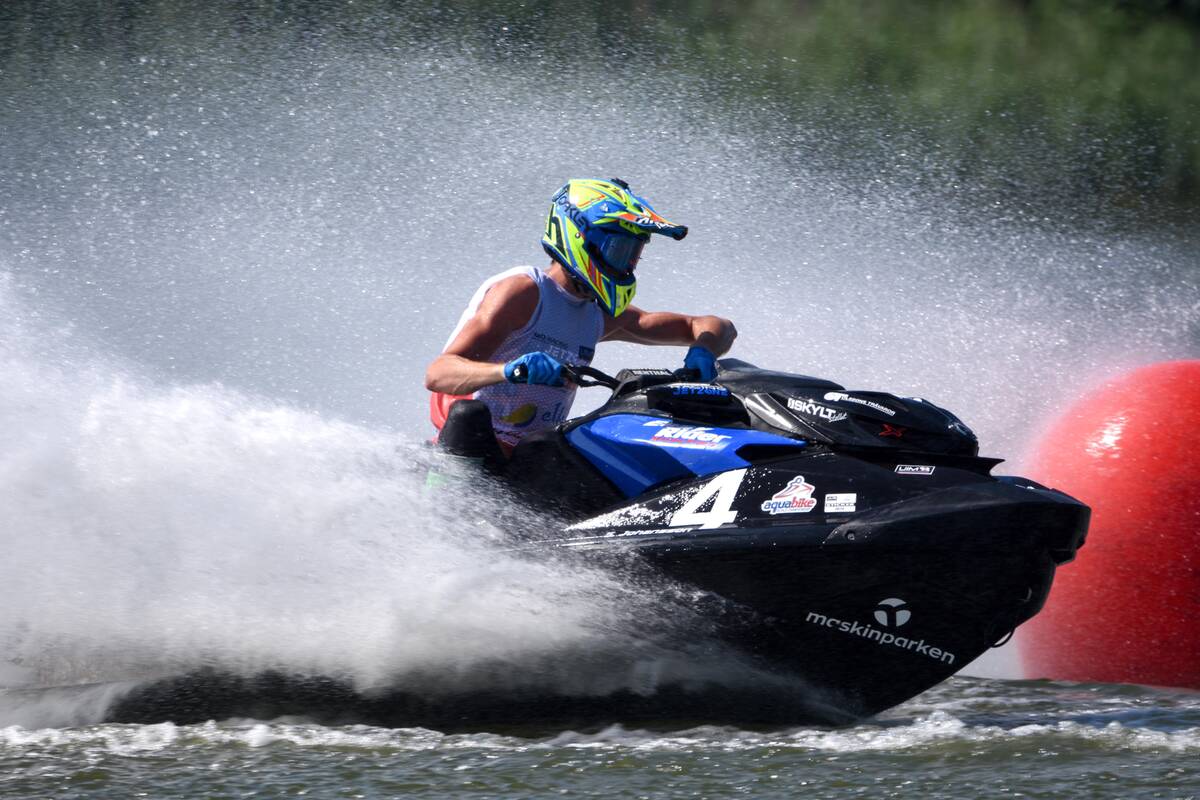 25 June 2022
SAMUEL JOHANSSON WINS MOTO 1 IN RUNABOUT GP1
Salonen and Ypraus first in Ski GP1 and Ski Ladies
Saturday, 25 June, Elk (Poland): Second day of the UIM ABP European Championship Grand Prix of Poland in Elk with the riders of all categories going into 2 of the 3 Motos of the Grand Prix in a sunny day with a light wind on the Elckie Lake.
Samuel Johansson made another virtuoso perfomance in Runabout GP1 leading the opening Moto of the Grand Prix to start to finish winning confortably by 7.12 ahead of Hungary's Gyorgy Kasza with Portugal's Lino Araujo third.
Home driver Andrzej Wisniewski improved his position from Pole moving from sixth to fourth place with France's Francois Medori finishing fifth.
The first 3 places of Pole Position in Ski GP1 were confirmed in the first Moto which, as yesterday, ran together with Ski Ladies Division. The pole-sitter Severi Salonen came home with an easy victory almost 24'' ahead of Belgium's Anthony Beernaut with Finland's Tommy Olin finishing third.
Jasmiin Ypraus was the first coming home with a commanding victory in Ski Ladies Moto 1 with Virginie Morlaes who made a very good start classified second ahead of Sweden's Janina Johansson who is racing in 2 categories in this Grand Prix: Ski Ladies GP1 and also Runabout GP4 Ladies.
With the time of 16:56.96 Ypraus was faster than her collegue winner in the men category.
Estonia's Mattias Reinaas made the perfect start to the defence of his UIM-ABP Ski Division GP2 european title, easing to a comfortable win in both Moto 1 and Moto 2 ahead of Portugal's Matteo Valente with the other estonian rider Henri Koppas third.
In Ski GP3 Reinaas came from behind to seize advantage and winning Moto 2. At the green flag Csaba Suli did a great start ahead of Reinaas but 2 laps only have been enough for the defending Champion to took the first position and keep it till the chequered flag ahead of Diogo Barbosa and Csaba Suli.
Mattias Siimann won a thrilling opening Moto in Runabout GP2, with Poland's Marcin Senda finishing in second ahead of Sweden's Linus Lindberg.
Siimann made a sensational start to lead Moto 1 till the end. He was facing immediately a challenge from Egidijus Kirilevicius and held him off for 4 laps when a mistake by the Lithuanian, who flipped between 2 buoys ,cost him the race with Marcin Senda moving into second.
Siimann, winner of yesterday Moto 1 in Runabout GP4 confirmed his leadership also in Moto 2 with a surprising European Champion in Freestyle, Italy's Roberto Mariani finishing second with a great perfomance ahead of Spain's Alejandro Prats Palau.
The unstoppable Nikola Dryjakova, winner of Moto 1 in Runabout GP 4 Ladies took the top spot also in Moto 2 with Estonian Annemarie Randla in second place and Poland's Amanda Karasek third.
Among the Juniors two Pole Sitters, Petr Dryjak and Komonyi Lajos, confirmed their leadership with the first place in Moto 1 and Moto 2 respectively in Runabout GP4 Juniors in Ski Junior GP 3.3 with Hungary's Marvin Bohuslav the winner of yesterday's Moto 1 in Ski Juniors GP 3.2 going to win also Moto 2.
Double win for Lithuanian Nerijus Juodis who took the first place in Moto 1 and Moto 2 in Runabout GP 1 Veterans.