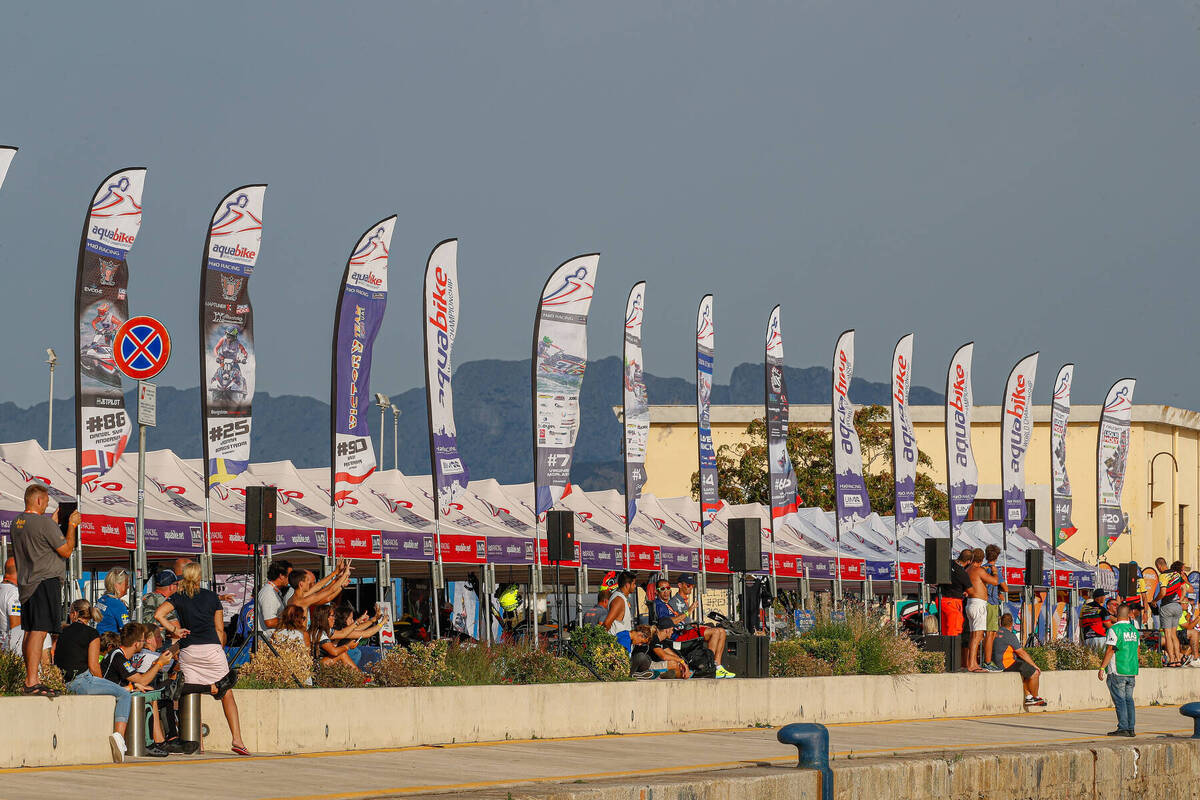 14 September 2022
SARDINIA SET FOR UIM-ABP AQUABIKE TITLE SHOWDOWN
Wednesday, 14 September, Olbia (Italy): Riders will resume rivalries when the UIM-ABP Aquabike World Championship plays out its final act of the year this weekend at the Regione Sardegna-Grand Prix of Italy in what promises to be a thrilling season ending finale on the Mediterannean sea of Sardinia.
Aquabike Promotion and the Olbia organisers are preparing for another bonanza programme of non-stop action with the elite riders in Runabout GP1, Ski GP1, Ski GP1 Ladies and Freestyle joined by a large influx of riders competing in UIM-ABP Aquabike World Championship for Runabout GP2, GP4, GP4 Ladies and Ski GP2 and GP3 contested over three Motos.
The Regione Sardegna- Grand Prix of Italy will also host for the first time the single round of this year new entry Ski GP4.
The title race continues and is tight at the top in Runabout GP1 with Marcus Jorgensenn on top with 50 points followed by Yousef Al Abdulrazzaq and the newly crowned European Champion Samuel Johansson both with 40 points with the defending world champion Jeremy Perez in fifth position with 36 points ready to do all the best to defend his title in the 2 Motos of the Grand Prix.
In Ski GP1 with defending Champion and Points Leader Nacho Armillas out of the game for his injury as well in the ladies division and in all the other classes the battle to end the year as world champion will be fought out over three motos and with 75 points on offer the coveted UIM-ABP world titles are all still wide open and up for grabs.
First practice for all classes will take place on Friday morning with qualifying in the afternoon, with Moto 1 for GP1 and Motos 1&2 for GP2, 3 & 4 on Saturday, with a second practice session and final Moto in all classes on Sunday.
Qualifying and all Motos will be streamed live on aquabike.net.
RACING CATEGORIES:
Ski Division GP1, GP2, GP3, GP4
Ski Ladies GP1
Runabout GP1, GP2, GP4
Runabout GP4 Ladies
Freestyle
More infos to follow.