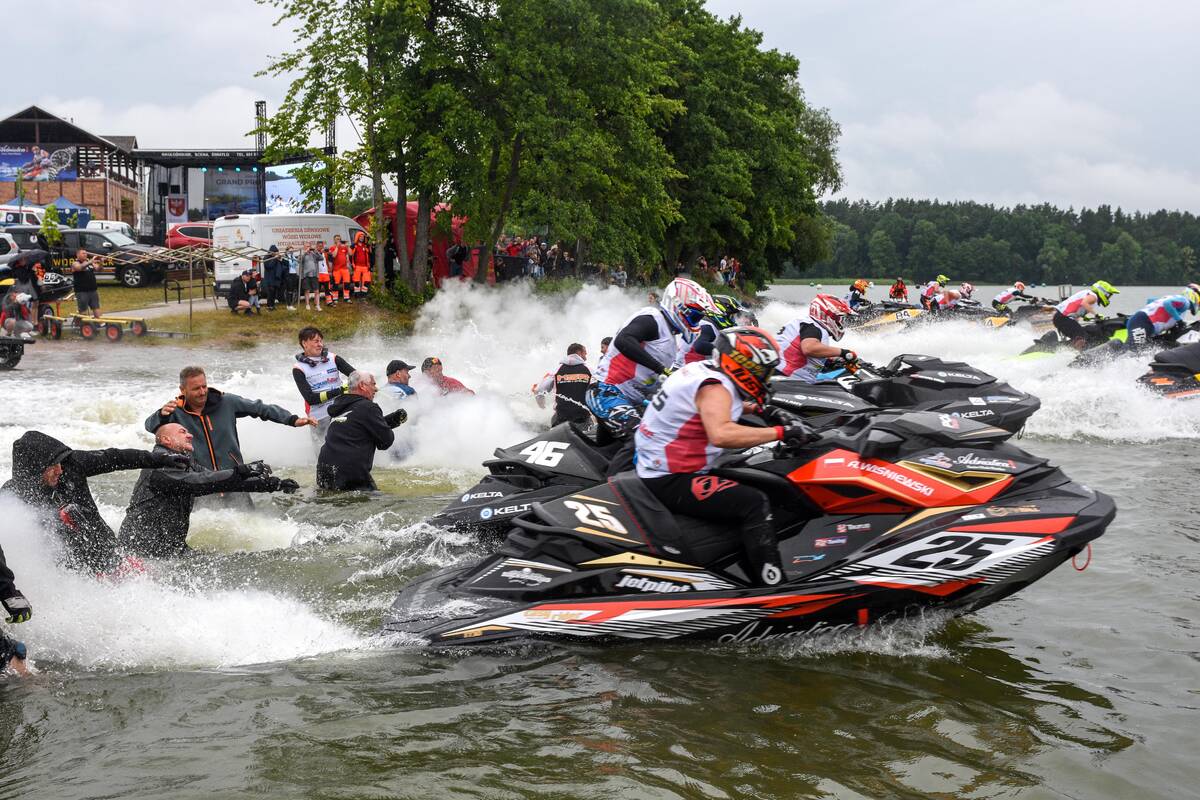 24 June 2022
UIM ABP AQUABIKE EUROPEAN CHAMPIONSHIP: THE GRAND PRIX OF POLAND GETS UNDERWAY
Friday, 24 June, Elk (Poland): For the third year running, Poland is primed for Aquabile season, hosting the Grand Prix of Poland, round of the UIM-ABP Aquabike European Championship.
Elk the largest city and unofficial capital of historical Masuria has now become a traditional appointment for Aquabike with the Grand Prix of Poland running along side the Elckie Lake this weekend June 24-26 with riders lining up in all the categories across the racing spectrum.

In Runabout GP1 home champion Andrzej Wisniewski is looking to hold off the challenge he is likely to face from Samuel Johansson and Lino Araujo while in Runabout GP2 Estonia's Mattias Siimann will be try not only to extend his European Championship Lead but also to get anothet podium in GP4 with an expected battle with Alejandro Prats Palau.
In the ladies division of Runabout GP4 Czech's Nikola Dryjakova will fight for her second podium of the season after her victory in the World Championship Grand Prix of Spain in Ibiza.
A huge number of riders is registered in the entry list of Runabout Veterans GP1 with the new entry, in the European Championship, of the category of Runabout Juniors GP4.
Estonia's Mattias Reinaas, defending Champion in Ski division GP2, is not only eager to confirm his title but also looking to extend his leadership in other 2 categories: Ski division GP1 and GP3.
In the Ladies division the title race will be a three-way affair between Virginie Morlaes, Janina Johansson and the winner of the last Grand Prix of Ibiza Jasmiin Ypraus.
Roberto Mariani looks to be on course for his sixth successive title in Freestyle.
Ski Juniors GP3.3 and GP 3.2 will close the line up.
Registration and technical scrutineering took place yesterday.
The Grand Prix kicks-off today starting at 10.30 a.m. with joined sessions for all categories: 10' free practice + 10' qualifying/pole session. The qualifying session will also determine the line-up for Moto 1.
Motos 1 (for Ski Gp3, Ski Junior 3.2, Runabout Gp4, Runabout GP4 Ladies) will be this afternoon from 17.30-20.00 (local time).
Moto 1 for the other categories and Moto 2 will take place on Saturday and Sunday morning with the final Moto on Sunday afternoon.
RACING CATEGORIES
Ski Division GP1, GP2, GP3
Ski Ladies GP1
Ski Juniors GP3.3/GP3.2
Runabout GP1, GP2, GP4
Runabout GP4 Juniors
Runabout Ladies GP4
Runabout Veterans GP1
Freestyle