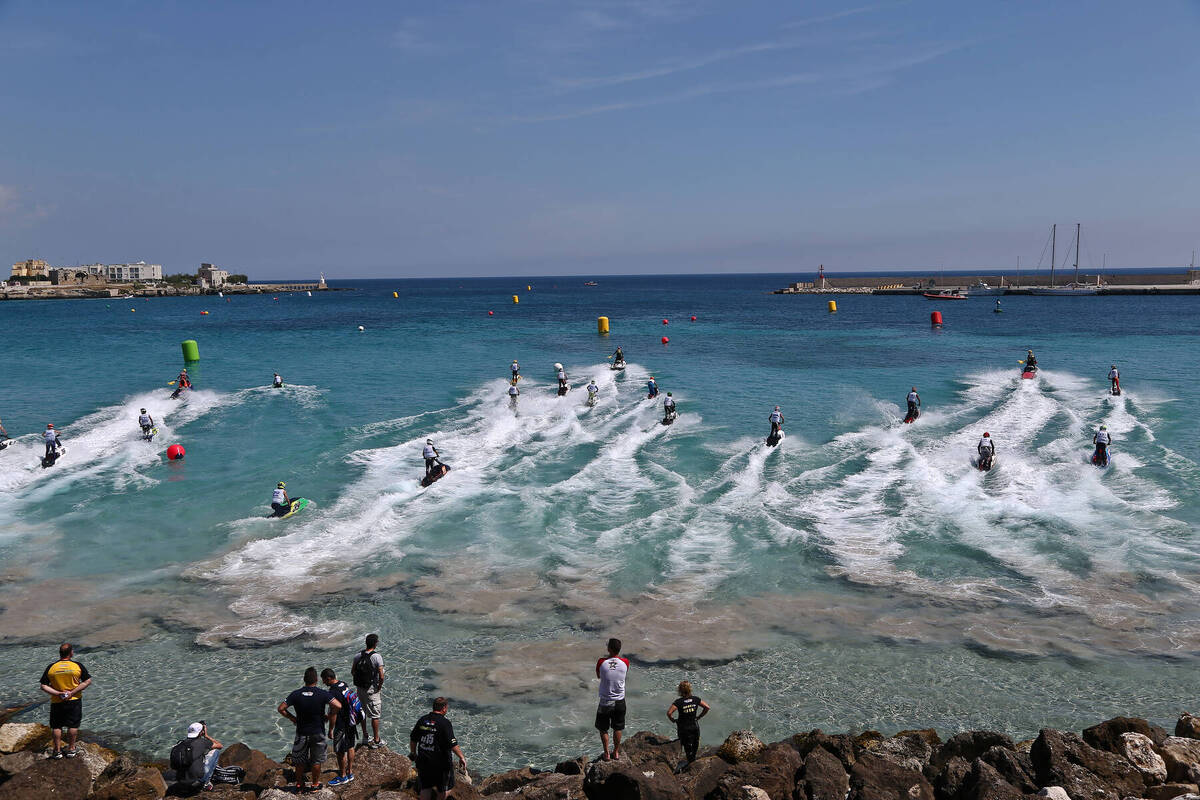 29 April 2022
UIM - ABP EUROPEAN CHAMPIONSHIP SEASON OFFICIAL START WITH THE GRAND PRIX OF ITALY
Friday, April 29th, Otranto (Italy): Three days of top-flight competition will start in Otranto, Italy this weekend when , the picturesque city of Salento, in the south east of Italy, will host the opening round of the 2022 UIM-ABP Aquabike Class Pro European Circuit Championship.
The Grand Prix of Italy will run in the cristal water of the Adriatic sea and competitors will line up in all the categories across the racing spectrum: Runabout GP1, GP2, GP4, GP4 Ladies, Ski GP1, GP2, GP3, Ski Ladies, Freestyle and for the first time in the European Championship Runabout GP4 Juniors.
In the Ski GP1 the battle is open among all the riders while Mattias Reinas will try to defend his title in Ski GP2 and to earn another podium in Ski GP3.
Ski Ladies GP1 European Champion Emma-Nellie Ortendahl will be looking to extend her european championship lead .
In the super competitive Runabout GP1 and with defending champion Rasmus Koch Hansen absent Marcus Jorgensen will be the target but he knows that he will have to produce and maintain his best as he again sets out to take on a handful of rivals who are capable of winning, including Andrzej Wisniewski and Samuel Johansson. Mattias Siimaan will defend his title in Runabout GP2 and also looking to hold off the challenge he is likely to face in Runabout GP4 from Juan Carlos Palau Martin, Alejandro Prats Palau and also Cristina Lazarraga one of the strong ladies of Runabout GP4 Ladies together with Nicola Dryjakova.
Roberto "Superman" Mariani's absolute dominance is expected to continue in Freestyle.
There will also be great interest and huge attention in Runabout GP4 Junior: the new entry in the European Championship.
Riders registration and technical scrutineering took place yesterday.
Free practice is currently underway with first pratice from 10 am with qualifiyg position followed from 14.30 pm by qualifying heat.
Motos 1 (for Runabout GP4 Junior, Ski Gp3, and Runabout Gp4 Ladies) will be this afternoon from 17-19.30 (local time).
Moto 1 for the other categories will take place on Saturday morning while Moto 2 will be split between Saturday and Sunday morning with the final Moto starting on Sunday at 12.00.
RACING CATEGORIES:
Ski Division GP1, GP2, GP3
Ski Ladies GP1
Runabout GP1, GP2, GP4
Runabout GP4 Ladies
Runabout GP4 Junior
Freestyle