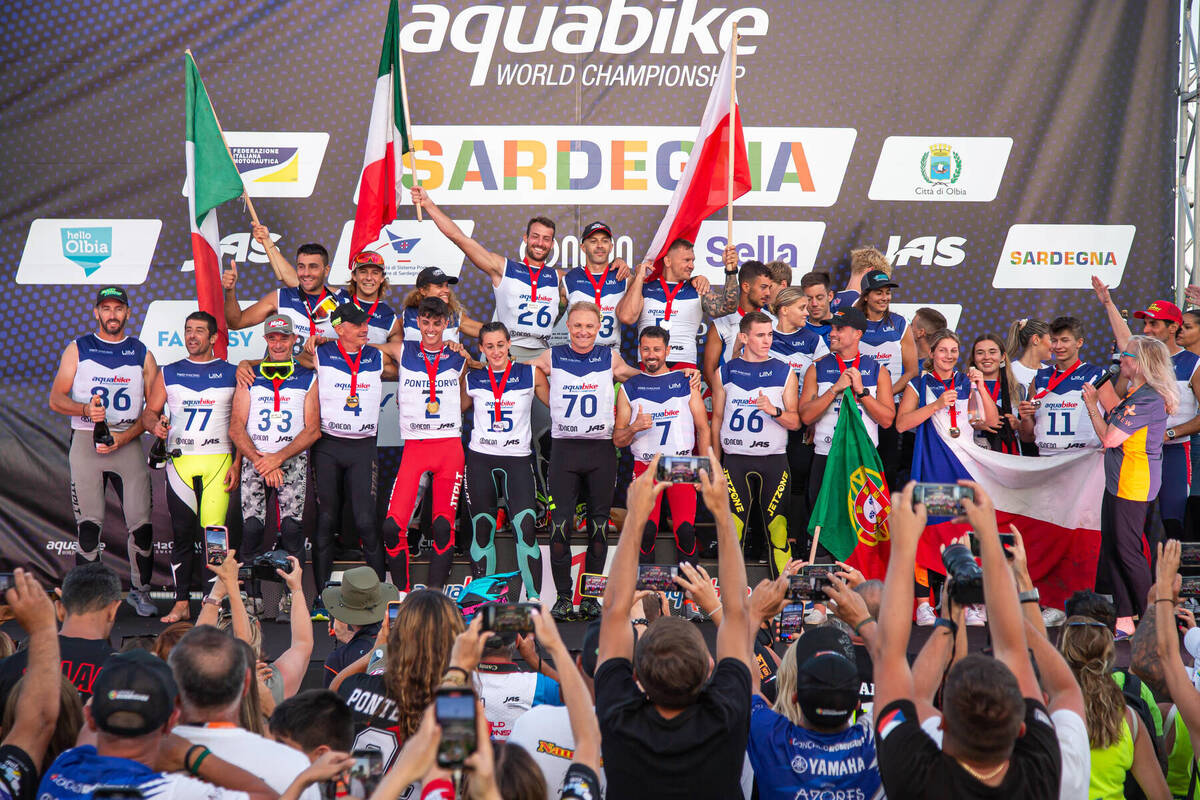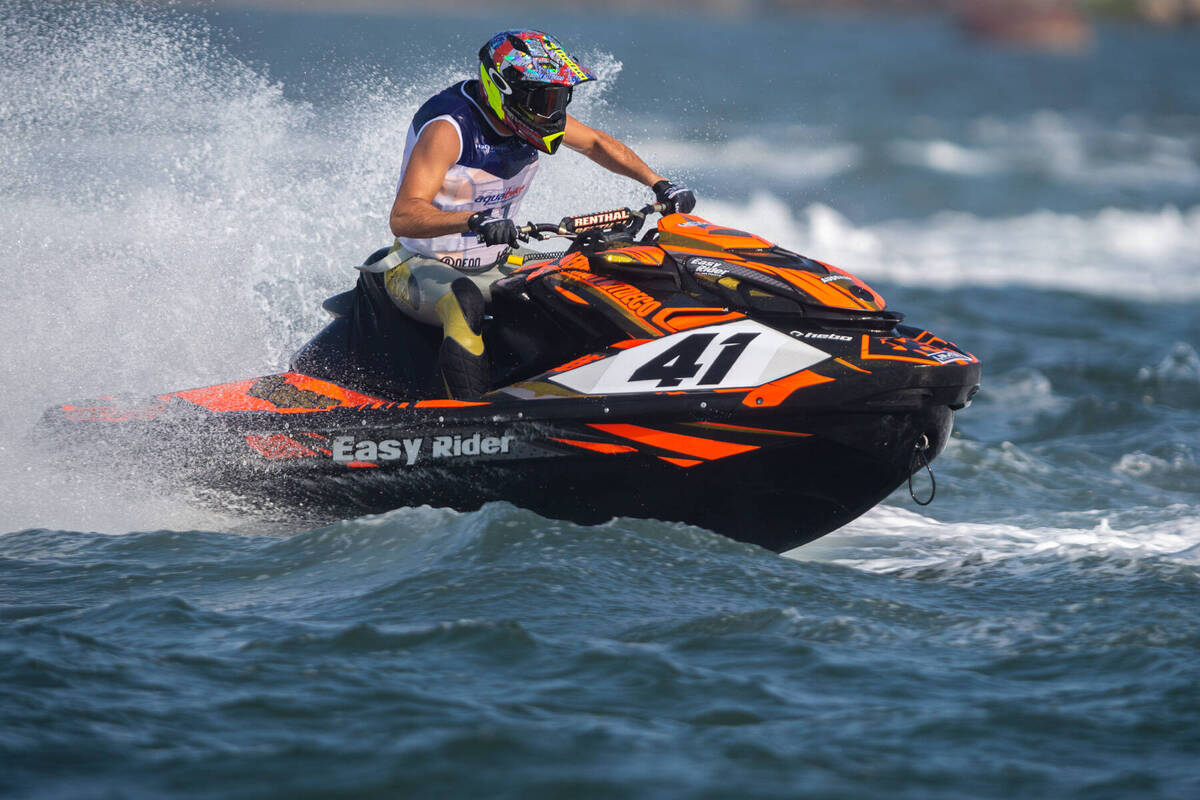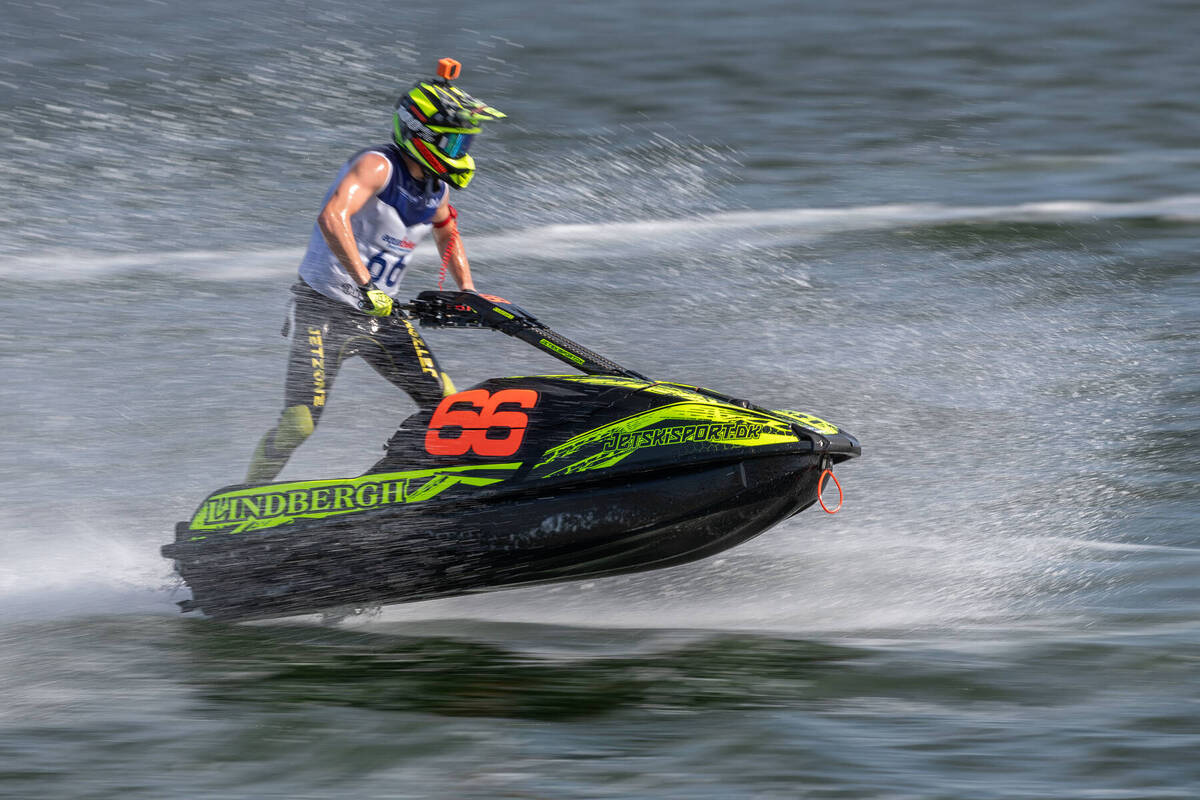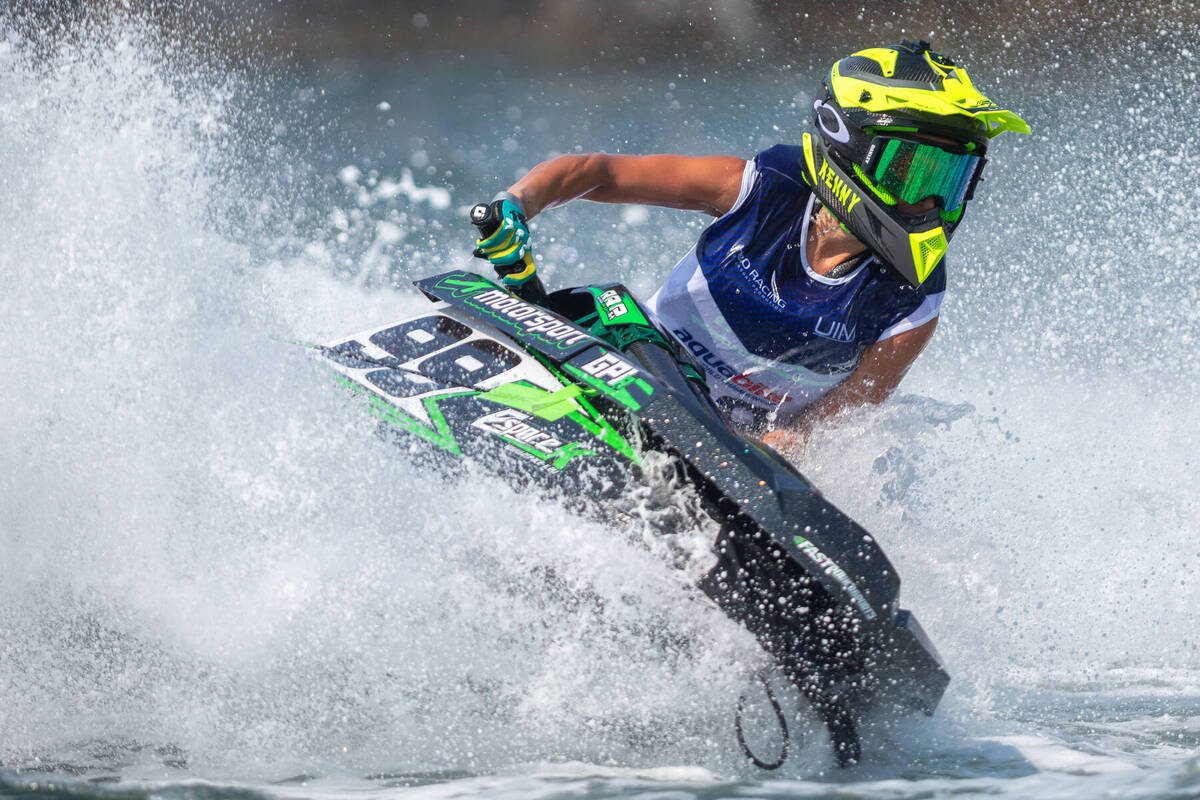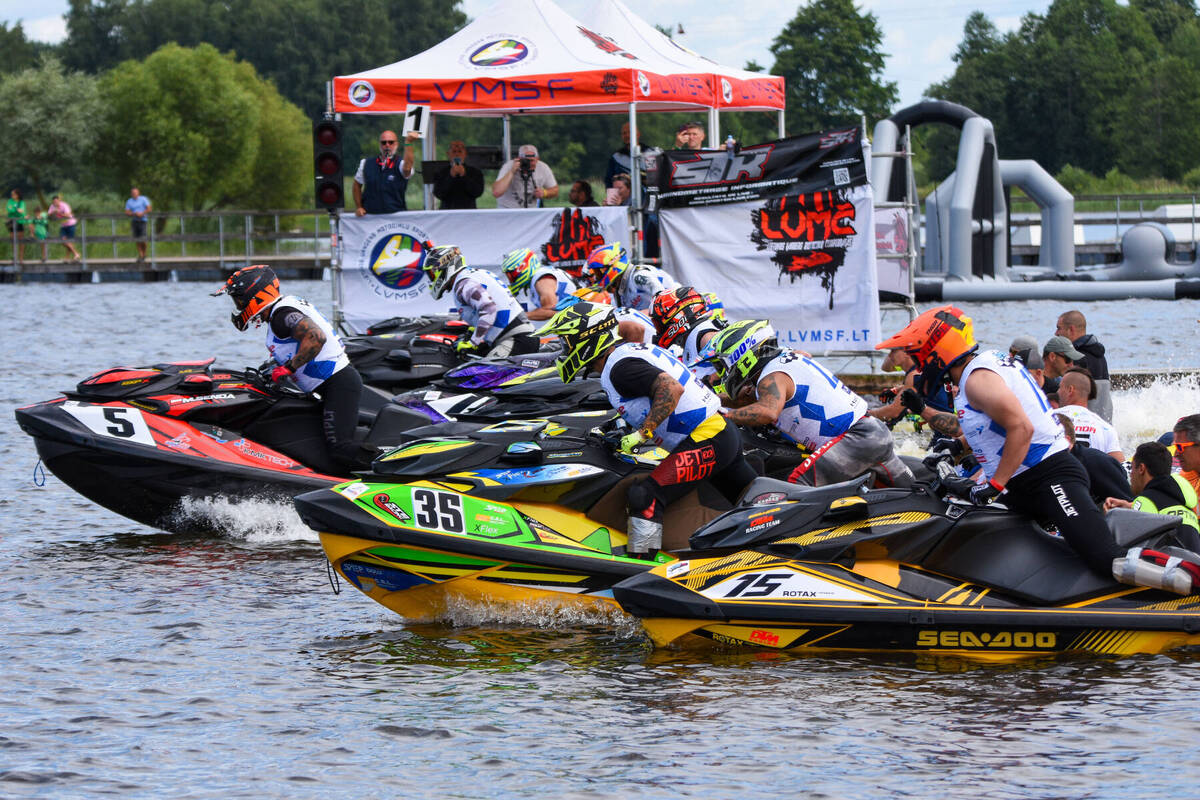 16 August 2023
2023 UIM-ABP AQUABIKE WORLD CHAMPIONSHIP – THE SEASON SO FAR
Wednesday, August 16: As riders competing in the 2023 UIM-ABP Aquabike World Championship regroup and prepare for what promises to be a spectacular finale on Sumatra's volcanic Lake Toba in Indonesia on November 25th-26th, we take a look at the season so far and the current standings in the various categories after mid-June's Regione Sardegna Grand Prix of Italy in Olbia.
Experience is paramount in the competitive Runabout GP1 class and world number four François Medori claimed back-to-back Moto wins in Sardinia to lead the championship by eight points from French rival Jeremy Perez. France currently occupies all three places on the podium, with the runner-up spot in Moto2 in Olbia pushing Jean-Baptiste Botti above Kuwait's Yousef Al-Abdulrazzaq into third. Spain's Alejandro Molina Miranda is a distant fifth.
Three Ski Division GP1 Motos were held in Sardinia and Dane Oliver Koch Hansen amassed 67 points from a third, a second and a heat win to lead the category by two points from Frenchman Mickael Poret. Fellow Dane Anders Keller is third and Nacho Armillas of Spain is well-placed to challenge from fourth.
Two Moto wins and a third enabled Jessica Chavanne to move into a four-point lead over Estelle Poret in Ski Ladies GP1. The French girl's other great rival Jasmiin Ypraus is a mere point adrift in third after winning Moto 1 and finishing third in the next two races. A hat-trick of fourth-place finishes sees Sweden's Emma-Nellie Ortendahl in a similar place in the rankings with Virginie Morlaes of France a distant fifth of the 11 girls who scored points in Sardinia.
Honours were shared between world number one Roberto Mariani and Abu Dhabi rival Rashid Al-Mulla in the Freestyle category. After carrying out a spectacular double back-flip on the second day of action in Sardinia, Al-Mulla finished behind Mariani in Moto 2 and the pair are now tied on 47 points, with Massimo Accumulo, Paulo Nuñes and Yassine Fadli trailing in their wake.
Portugal's Gonçalo Oliveira Rodrigues currently holds a three-point cushion over Italian racer Andrea Guidi in Ski Division Gp2, courtesy of a second, a third and a Moto win in Olbia. Matteo Benini is third, but Estonian Mattias Reinass could not follow up wins in Moto 1 and 2 with a finish in Moto 3 and slipped to fourth in the rankings as a result. Jerry Olin of Finland is a close fifth of the dozen drivers to have scored points so far.
Reinass has fared better in Ski Division GP3, however, and two Moto wins and a third place see him three points clear of the talented young Australian Jayden Richardson. Csongor Jászai of Hungary is a close third.
The Grand Prix of Hungary hosted three Motos that counted towards the Ski Junior GP3.3 World Championship and Croatian youngster Dorijan Jakopanec topped the standings on 72 points with two heat wins and a second place. Ander Hubert Lauri of Estonia and Dane Frederik Frandsen rounded off the top three. Leo Kete of Croatia claimed a 19-point cushion over Hungarian Marvin Bohuslav in the Ski Junior GP3.2 World Championship.
Victory in the first of the Sardinian Motos and a pair of second-place finishes have given Italian Manuel Reggiani a lead of four points over Poland's Marcin Senda in Runabout GP2. Pierpaolo Terreo leads a close fight for third with Mattias Siimann and Linus Lindberg. Fourteen riders scored points at the Grand Prix in Sardinia.
Two Moto wins and a runner-up spot enabled Ibiza-based Spaniard Alejandro Prats Palau to build up a three-point cushion over Moto 3 winner Petr Dryjak in the tussle for Runabout GP4 honours. The pair were the class of the 15-boat field in Sardinia, where local star Davide Pontecorvo claimed third place and Juan Carlos Martin Palau and Antonio Pontecorvo rounded off the top five.
Czech racer Nikola Dryjakova has a six-point lead in Runabout GP4 Ladies, courtesy of two Moto wins and a third place. Her nearest rivals are the tying Italian Arianne Urlo and German Michelle Dimov, while Naomi Benini of Italy and French girl Cyrielle Bramm are tied for fourth on 51 points.
A quartet of racers scored points in Ski Division GP4 and the spoils in Olbia fell to Gonçalo Oliveira Rodrigues with a trio of heat wins and a maximum 75 points. Three runner-up spots have given Lino Brusadin of Italy 66 points and second spot, with Juri Tiozzo Celi and Francesco Mancini rounding out the four.
Eight youngsters tackled three Sardinian Motos to earn the bragging rights in the Runabout GP4 Junior category and a hat-trick of wins earned Estonia's Arti Molter a maximum score and a comfortable 15-point cushion over nearest Latvian rival Volodymyr Kaliuzenyi. Molter's fellow countryman Karl Keskula and the Lithuanian duo of Dovydas Kutra and Grantas Gurkšnys are closely matched in the fight for third.
The Indonesian finale takes centre stage in Balige on the southern shores of Lake Toba with free practice, pole position heats and the first of the Motos on November 25th. The remaining Motos take place to decide the outcome of the respective UIM-ABP Aquabike World Championships on November 26th.