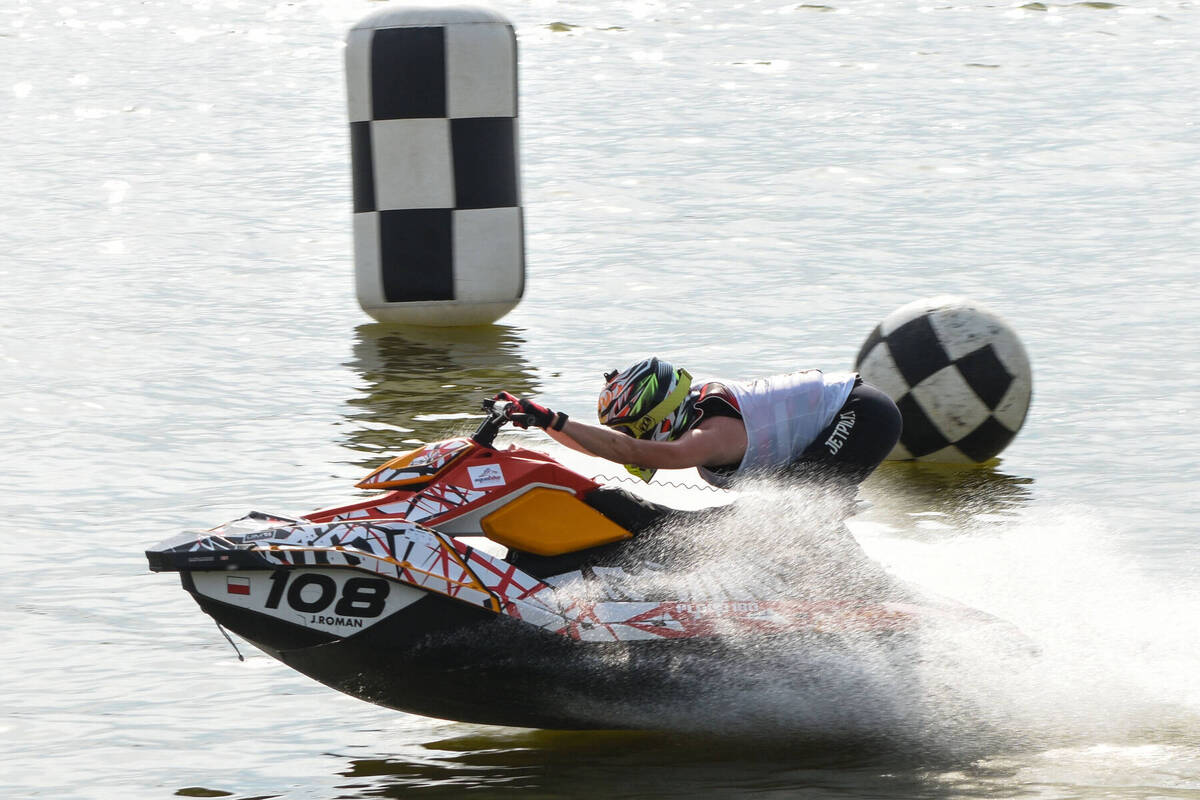 24 June 2023
JÁSZAI, ROMAN, DRYJAKOVA, TYCEL, JAKOPANEC AND GUIDI LEAD CLASSES AFTER SECOND MOTO HEATS IN HUNGARY
Saturday, June 24: Csongor Jászai, Juliusz Roman, Nikola Dryjakova, Igor Tycel, Dorijan Jakopanec and Andrea Guidi led their respective classes after Moto 2 heats at the Grand Prix of Hungary, round one of the 2023 UIM-ABP Aquabike European Continental Championship, on Saturday afternoon.
Hungary's ungary's Csongor Jászai claimed victory in the second of the Ski Division GP3 Motos with a 2.56-second cushion over fellow countryman Tomaz Kete. The Portuguese duo of Manuel Leite and Martim Marques finished third and fifth and were separated by the third Hungarian rider, Csaba Süli. Martin Sümegi retired his Kawasaki after the opening lap. Jászai has now claimed two Moto wins and takes a six-point lead over Kete into Moto 3 on Sunday.
Poland's Juliusz Roman held off the challenge from Ibiza-based Alex Prats Palau to claim victory in the second of the Runabout GP4 heats. He beat the Spaniard by 7.73 seconds with Petr Dryjak coming home in third and local racer Stefan Salath finishing fourth. Marek Laanisto withdrew from the heat after three laps.
Back-to-back Moto wins means that Roman takes an eight-point lead over Dryjak into the final heat on Sunday. Roman said: "It's great to win the two heats but now I will be resting. I am tired."
Czech racer Nikola Dryjakova dominated the second of the Runabout GP4 Ladies Motos and reached the chequered flag 4.34 seconds ahead of Markéta Hollerová. Estonia's Annemarie Randla was a close third and Pole Amanada Karasek was the best of the rest in a distant fourth. Dryjakova now heads into the final heat with a 10-point cushion over a tying Randla, Karasek and Hollerová in the points' standings.
Dryjakova said: "I so glad to win this heat for the Czech Republic. It was crazy. The girls are really pushing. Everybody wants to win. The second race was pretty easier than the first one but every time you don't know what will happen."
Igor Tycel held off Estonian Arti Mölter to win the second of the Runabout GP4 Junior Motos. The Pole crossed the finish line 5.16 seconds ahead of his rival, while Ukraine's Volodymyr Kaliuzhnyi snatched the final podium position. Karl Keskula and Grantas Gurksnys were fourth and fifth. Tycel now takes a two-point advantage over Kaliuzhnyi and a five-point lead over Mölter into Sunday's Moto 3 showdown.
Marvin Bohuslav and Dorijan Jakopanec won their respective Ski Junior GP3.2 and GP3.3 World Championship Moto heats on Saturday afternoon to set up the prospect of a grandstand finish on Sunday. Jakopanec said: "The race was exciting. I made a good start. It was a good race for me."
Andrea Guidi claimed a 3.34-second win over Marlon Tiik in the second of the Ski GP2 heats. Csongor Jászai, Manuel Leite and Jerry Olin rounded off the top five in the 10-lap race. Guidi now leads Jászai by eight points after two Motos.