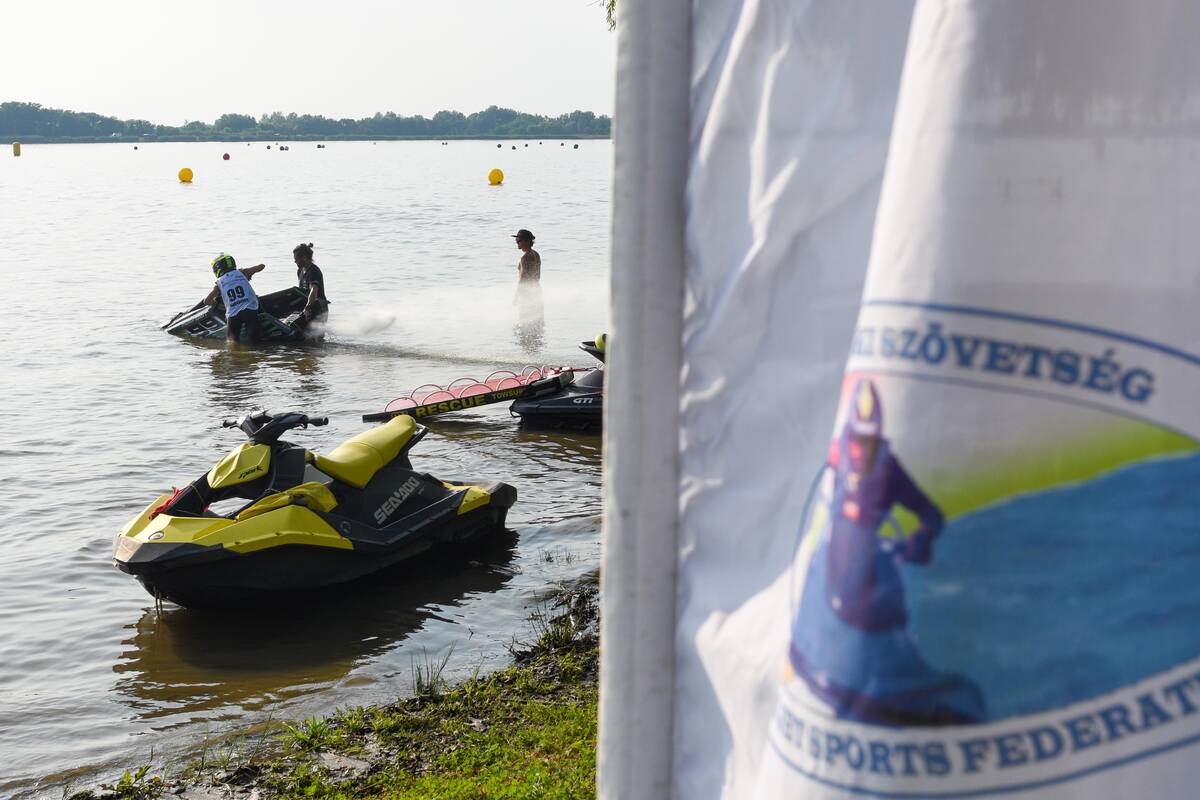 23 June 2023
KETE, RANDLA AND JAKOPANEC AMONG TOP QUALIFIERS FOR UIM-ABP AQUABIKE EUROPEAN OPENER IN HUNGARY
Friday, June 23: Tomasz Kete, Annemarie Randla and Dorijan Jakopanec were among the leading qualifiers for their respective categories at the Grand Prix of Hungary, the opening round of the 2023 UIM-ABP Aquabike European Continental Championship, in Nyíregyháza-Levelek on Friday morning.
Tomasz Kete topped the times in the Ski Division GP3 qualifying heat with a best lap of 1min 37.56sec on his Yamaha. Hungarians filled the top three places among the eight riders who started the session and Csongor Jászai and Csaba Süli qualified in second and third places. Martin Sümegi was the leading non-Yamaha rider on his Kawasaki.
Alex Prats Palau claimed pole position in a hotly-contested Runabout GP4 session that attracted 11 riders from seven nations. The Spaniard guided his Seadoo to the fastest lap of 1min 38.57sec to snatch pole by just 0.08 seconds from Poland's Juliusz Roman. Czech Petr Dryjak had raced well in the World Championship heats in Sardinia last weekend and he came home in third place. The Estonian duo of Marek Laanisto and Karl Keskula qualified in a distant fourth and fifth.
Nine female riders raced for pole position in Runabout GP4 Ladies and the fastest lap fell to Estonia's Annemarie Randla. The Tallinn rider carded a lap 0.12 seconds quicker than the one set by Pole Amanada Karasek to seal a favourable starting position for Moto 1. Czech Nikola Dryjakova came home in third.
Both the Ski Junior 3.2 and 3.3 World Championship qualifiers were merged into one heat. Dorijan Jakopanec guided his Yamaha to the fastest qualifying lap in Ski Junior 3.3, the Croatian beating Hungary's Lajos Komonyi by 2.434 seconds to claim pole. Hubert-Ander Lauri of Estonia came home in third. Pole position in Ski Junior 3.2 went to Marvin Bohuslav from Leo Kete in a Hungarian 1-2.
The morning session concluded with a qualifying heat for seven registered Runabout GP4 Juniors. Estonian Arti Mölter got the better of the Ukraine's Volodymyr Kaliuzhnyi and fellow countryman Karl Keskula very late in the session to snatch pole position on his Seadoo with a best run of 1min 38.429sec. Pole Igor Tycel qualified in fourth.
Ski Division GP1 and GP1 Ladies will race together in the same pole position heat on Friday afternoon. In addition, the session will see Ski Division GP2, Runabout GP1 and GP2 and Freestyle riders take to the water for the first time this weekend.