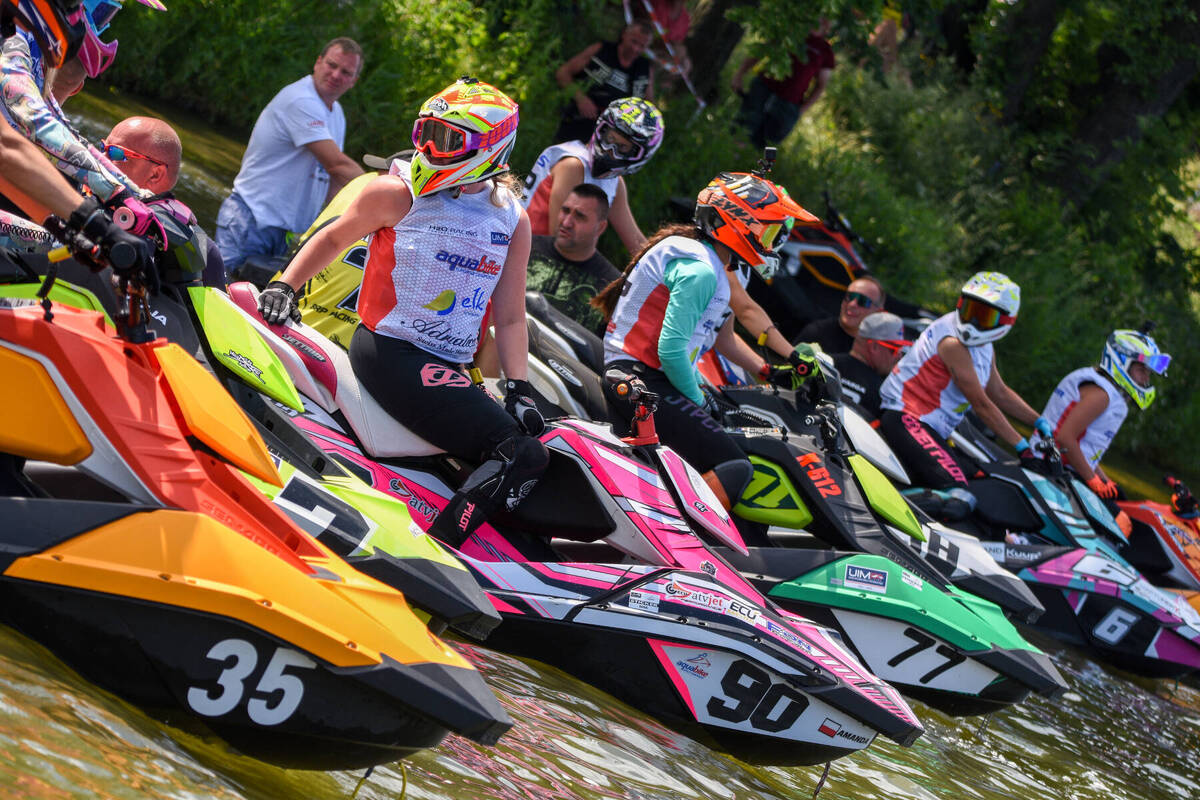 01 July 2023
KUPIŠKIS TO HOST SECOND ROUND OF UIM-ABP AQUABIKE EUROPEAN CHAMPIONSHIP IN LITHUANIA
Saturday, July 1: Final preparations are being made for next weekend's Grand Prix of Lithuania, round two of the 2023 UIM-ABP Aquabike European Continental Championship, which is based in the small town of Kupiškis in north-eastern Lithuania.
Kupiškis is named after the Kupa river and is situated on Kupiškis lagoon, which was formed by the damming of the River Lèvuo in 1984 and is the fourth largest artificial water body in Lithuania.
Less than two weeks ago, competitors took part in the opening round of the European series in Hungary. Gyorgy Kasza emerged victorious in the Runabout GP1 category in a frenetic weekend of action that saw Axel Courtois and Jessica Chavanne prevail in the Ski Division GP1 and GP1 Ladies classes, world number one Roberto Mariani come out on top in Freestyle and Andrea Guidi top the rankings in Ski Division GP2.
Hungarian racer Csongor Jászai was the class of the Ski Division GP3 field, the Polish duo of Marcin Senda and Juliusz Roman won the Runabout GP2 and GP4 Grand Prix, Nikola Dryajkova came out on top in Runabout GP4 Ladies and young Arti Mölter of Estonia won the Runabout GP4 Juniors category.
After final registration and technical scrutineering on Thursday (July 6th), free practice and pole position sessions in Lithuania get underway on Friday morning for seven of the 13 racing categories and run through after the lunch break until 16.30hrs for the remaining six groups. Day one action concludes with Moto 1 heats for Ski GP3, Ski Junior 3.2, Runabout GP4 and Ski GP4 entrants.
Saturday's (July 8th) schedule begins with the Moto 1 heats for eight of the remaining nine race categories and a pole position session for Freestyle entries. The lunch break precedes a further eight Moto 2 heats that round off the day's action.
Sunday (July 9th) morning sees a further five Moto 2 heats and Moto 3 action for Ski GP3 and Ski Junior 3.2 riders. A hectic final session on Sunday afternoon sees another 10 Moto 3s, starting with the Runabout GP4 finale and ending with Runabout GP1 and the second of the Freestyle Motos.