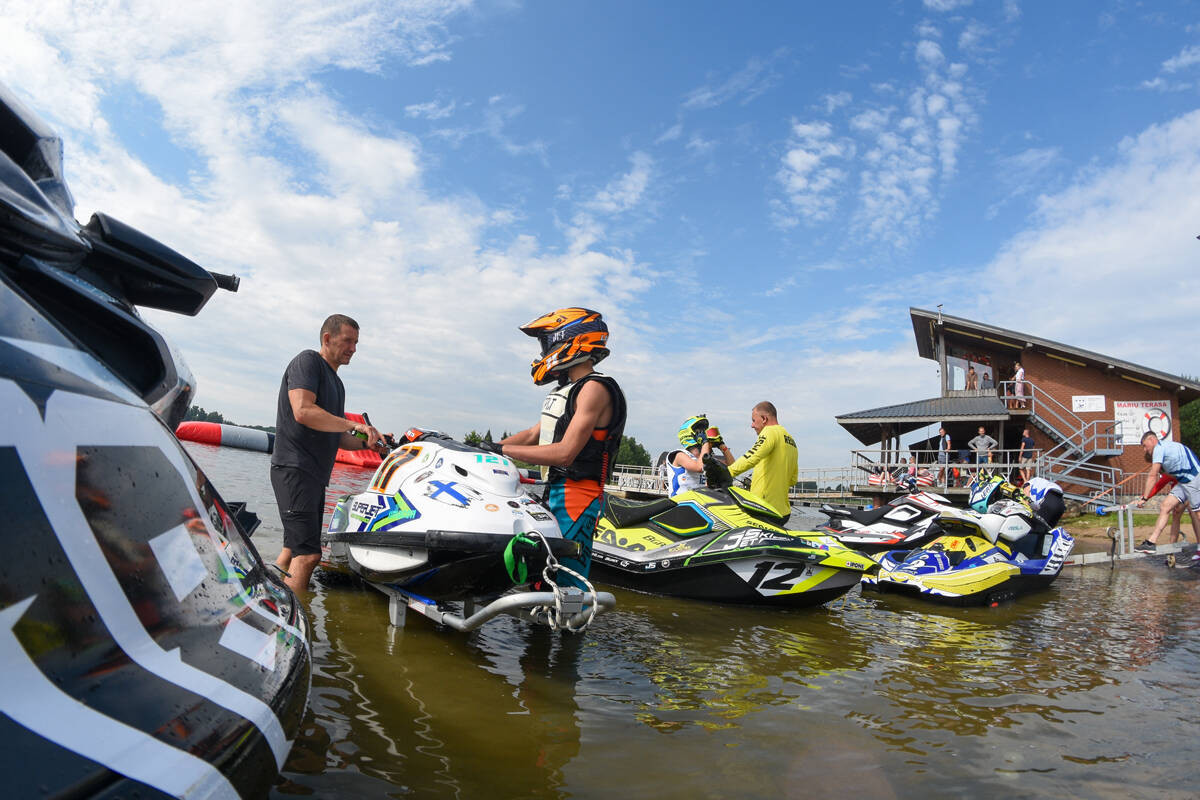 07 July 2023
POLE POSITION QUALIFYING KICKS OFF ACTION IN KUPIŠKIS FOR GRAND PRIX OF LITHUANIA
Friday, July 7: Free practice and pole position qualifying for the Grand Prix of Lithuania, round two of the 2023 UIM-ABP Aquabike European Continental Championship, took place in Kupiškis in north-eastern Lithuania on Friday morning to a similar format used at the opening meeting in Hungary two weeks ago.
Ski GP3 entrants were first on the water and Hungarian racer Csongor Jászai topped the qualifying times with a lap of 1min 53.61sec to claim pole position from fellow countryman Suli Csaba. The Portuguese duo of Manuel Leite and Martim Marques qualified in third and fourth, with Estonian Marten Tiik down in fifth.
Petr Dryjak opened his Lithuanian account in style by claiming pole position for the first of the Runabout GP4 Motos. The Czech carded a tour of 1min 55.93sec to beat Ibiza-based Alejandro Prats Palau to the best time in the 12-man heat. Local rider Lucas Baguckas came home in third but Italian Alberto Santini was disqualified for running in the wrong direction on the circuit.
Two Yamaha riders duelled for honours in Ski Division GP4 and Latvian Daniils Potrivailo got the better of Lithuanian Mindaugas Skarbalius to claim pole position.
Nikola Dryjakova topped the times in an eagerly-contested Runabout GP4 Ladies heat with a time of 2min 44.14. That was sufficient for the championship-leading Czech to beat Hungarian Amana Karasek by 0.11 seconds to claim pole. Estonian's Annemarie Randla pipped Reeta Rintanen of Finland to third place.
The pole position heats for the Ski Junior GP3.2 and 3.3 World Championship categories were next on the morning's agenda and Yamaha racer Lajos Komonyi prevailed in GP3.3 with a pole-winning lap of1min 54.150sec. That gave the Hungarian a comfortable 3.425-second cushion over Estonian Ander-Hubert Lauri, with Frederic Frandsen of Denmark coming home in third. Mio Petrovic was entered in GP3.2 and carded a best lap of 2min 12.737sec.
The Grand Prix of Lithuania was also a counting round for the Runabout GP4 Junior World Championship and eight racers from Lithuania, Estonia, Ukraine and Montenegro lined up for free practice and pole qualifying. Karl Keskula of Estonia had dominated free practice but the bragging rights in the pole position heat went to Ukraine's Volodymyr Kaliuznyi with a lap of 1min 54.760sec. Keskula qualified second and local rider Grantas Gurksnys was third.
The day's timetable began with a rider's briefing, which was held in the presence of Grand Prix organiser Tomas Gurkšnys, President of Lithuania Sport Federation Moto (LVMSF).
After further qualifying action, day one action concludes with Moto 1 heats for Ski GP3, Ski Junior 3.2, Runabout GP4 and Ski GP4 entrants on Friday afternoon.