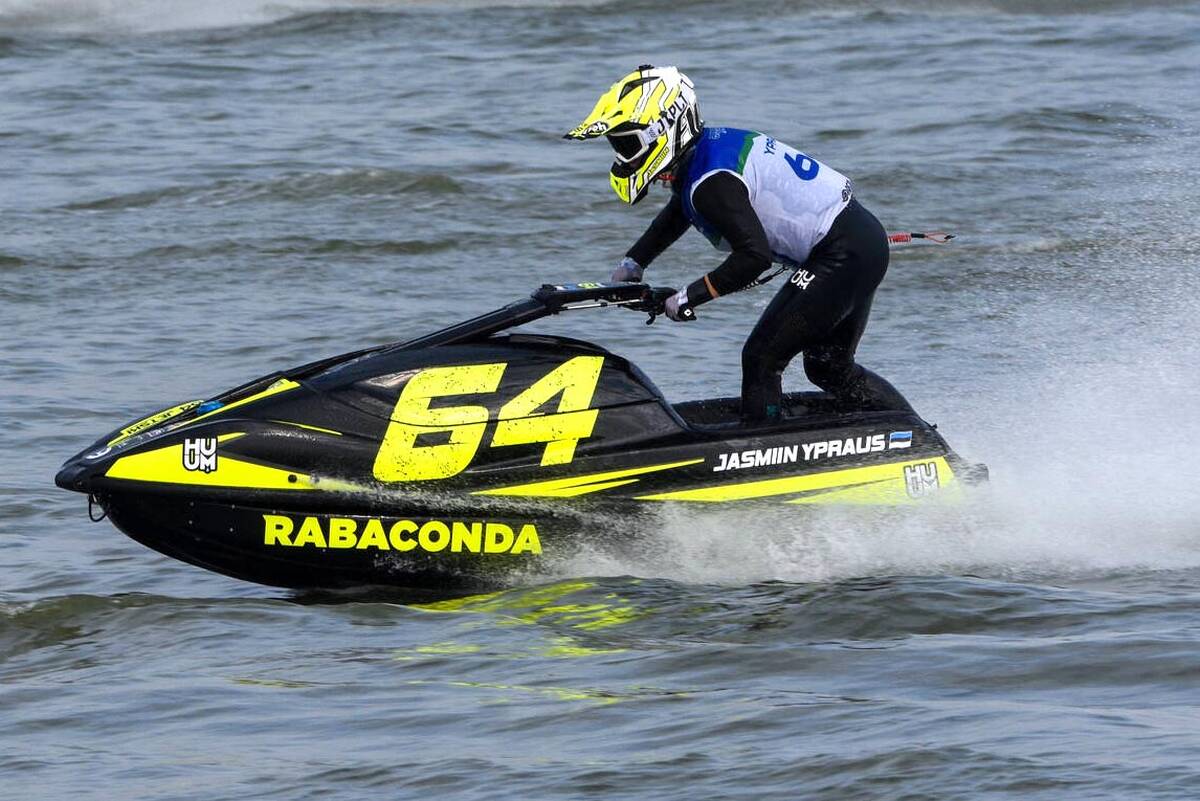 23 June 2023
POLE POSITIONS IN HUNGARY FOR GUIDI, SIIMANN, YPRAUS, COURTOIS AND KASZA IN AFTERNOON HEATS
Friday, June 23: Andrea Guidi, Mattias Siimann, Yasmiin Ypraus, Axel Courtois and György Kasza claimed pole positions in Friday afternoon's second qualifying stint at the Grand Prix of Hungary, round one of the 2023 UIM-ABP Aquabike European Continental Championship, in Nyíregyháza-Levelek.
Andrea Guidi topped the times in the Ski GP2 category that got the afternoon action underway after the lunch break. The Italian beat Finland's Jerry Olin to top spot by 0.32 seconds on his Kawasaki. Hungarian regular Csongor Jászai qualified in third, ahead of Portugal's Manuel Leite and Estonian Marlon Tiik. Matteo Valente was a non-starter.
Estonia's Mattias Siimann benefitted from last weekend's World Championship experience in Olbia to claim pole position for the first of the Runabout GP2 Motos. The Seadoo rider carded a best lap of 1min 23.40sec to snatch pole from Polish rival Marcin Senda by 3.61 seconds. Hungarian Marcell Major, Germany's Justin Patzner and Lithuania's Amas Jakucionis were third, fourth and fifth quickest of the 13 starters.
Ski GP1 and GP1 Ladies entrants shared the course for their free practice and pole position stint. Jessica Chavanne followed up last weekend's Grand Prix of Italy success with second place in the pole position tussle in GP1 Ladies on her Kommander. The French girl clocked a best lap of 1min 32.41sec and looked set for pole until arch rival Yasmiin Ypraus of Estonia pipped her in the dying seconds with a run of 1min 30.0sec.
Frenchman Axel Courtois (1min 26.08sec) got the better of Dane Oliver Koch Hansen by 0.14 seconds in the men's Ski GP1 section to claim pole. Andrea Guidi was third.
Six riders were registered for the Runabout GP1 category and took to the water before the Freestyle competitors. Hungarian György Kasza claimed pole on his home Grand Prix with a best lap of 1min 14.12sec. That was sufficient to beat Martin Doulik Junior by nine-tenths of a second. Poland's Andrzej Wisniewski came home in third with Estonia's Mattias Siimann down in a surprising fourth place for the first of the Motos on Saturday morning. Martin Doulik and Attila Kéri rounded off the six qualifiers.
The Italian duo of world number one Roberto Mariani and Massimo Accumulo and Portugal's Paulo Nuñes wrapped up the session with their first Freestyle free practice stint.